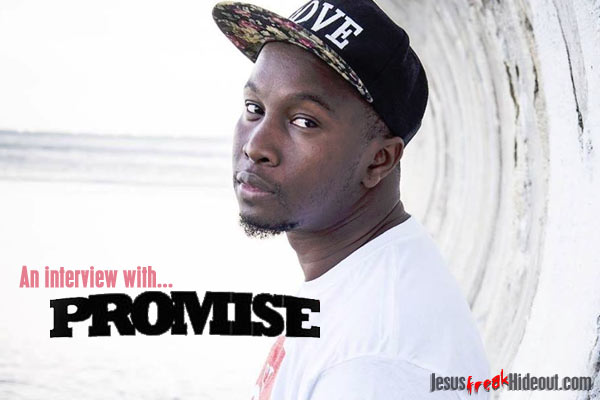 Months after releasing his latest EP,
TellAVision
, emcee
Promise
took some time to answer some questions from JFH's Kevin Hoskins. Read on to see some behind-the-scenes on the new EP, and to see what Promise thinks about his role as a Christ follower in the music industry...
This interview took place in October, 2016.
JFH (Kevin Hoskins): Thank you for taking the time out of your schedule to sit down with us.
Promise: No problem, thanks for reaching out!
JFH (Kevin): Tell me a little about yourself and how you got into the music game.
Promise: Well, I'm a hip hop/soul artist based out of Toronto, Canada. I started out doing creative writing, poetry, etc. Then in high school, I was scouted at a young age into a Wu Tang-esque group who started recording a project whilst being pitted against older emcees to battle rap (a lot of people don't know any of that). Many people also don't know that I'm an avid songwriter, and I actually write more songs than raps.
JFH (Kevin): Why don't you tell our readers what your focus or goals are in making music.
Promise: My goal is to make great music. I always strive for excellence in sound, songwriting, etc. With the content itself, I focus on doing my best to provoke thought and draw people out of a hopeless way of living into the good life that was meant for them.
JFH (Kevin): How do you differentiate yourself from the rappers in the CHH scene today?
Promise: I'm very different. I'm new to this whole CHH thing. I've been around a while and I haven't changed. I've been "swimming in the mainstream," making fishers of men when it wasn't cool to do. And not just by what I say from the stage, but how I live my life, building genuine relationships and being a light in this dark world. I remembered when an A-list Christian rapper once asked me how it was/how I felt being a believer surrounded by secular artists, and I told them "I don't know what you mean really. I'm just doing me." I have no particular strategy to infiltrate the world of entertainment, I'm just wired this way. My mission has always been to be a light to the lost.
JFH (Kevin): Tell me a little about the EP: the writing process and how the production was created.
Promise: Half of the project was actually written a long time ago. "Alleyway" is almost a decade old. I finished writing "Clichés & Trends" in Philly with a few friends last year, and finished the whole production back in Toronto. I wrote "Right Now" on the beach in Barbados about a year or two ago and re-produced it back home with my production partner Giangelo in Toronto.
JFH (Kevin): You have a lot of featured artists that are well known in CHH on this EP. How was it collaborating with the likes of MC Jin, Montell Jordan, and No Malice?
Promise: Montell is actually a good friend of mine. We've known each other almost a decade now since our first collab. I then connected with the Jordan family out in Atlanta a few years back. Not sure if anyone caught the whole concept of "Who You Are," but all the emcees on that joint come from very similar backgrounds: we all originated in mainstream hip hop (I'd love to do a remix with Datin and Gemstones). There's an underlining concept tying together the journey we are on and trying to find our ourselves in life, our career choices, and the struggle of dealing with the pull to stay in the same genre or to switch our focus on becoming distinctively Christian artists. I personally believe a lot of these guys just need the right support to go back to the platforms they once had and be lights in the industry. We have plenty of artists now that are speaking in the Christian hip hop space but very few Christians that have the ability to make an impact with a mainstream music audience. I think all of us share the same heart and mind as it relates to that. But it was great collabing with all of them, and it's even greater when it stems into a beautiful friendship and you are able to build a mutual respect for lyricism, artistry, and delivery.
JFH (Kevin): When can our readers check out some live stuff? Are you doing any touring any time soon?
Promise: I've got a lot of great stuff in the works I can't quite speak on yet, but follow me everywhere online (@ipromisemusic) and you'll find out.
JFH (Kevin): Anything else you can leave our readers with?
Promise: Don't be afraid to talk to me! I really try to make it a point to connect with the people who have found a connection in my music. If you like the music, chances are we have a lot in common. But other than that, please get the EP, let me know what you think about the music, and if you like it, share it with your people.
JFH (Kevin): Thank you for your time.
Promise: Absolutely! I appreciate the love.
Promise's EP TellAVision is available now!