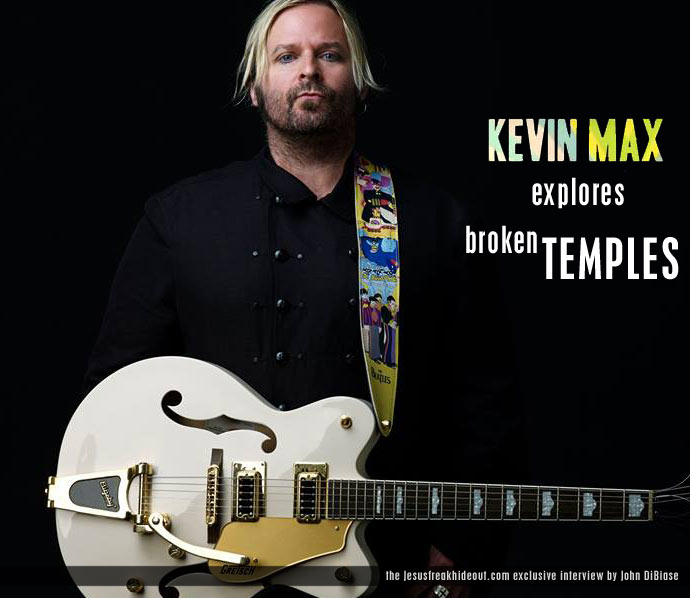 On the heels of having just left his role as lead singer of the band Audio Adrenaline, Kevin Max chatted with Jesusfreakhideout.com founder John DiBiase about his upcoming solo album,
Broken Temples
, what he learned from his tenure with AudioA and more as he prepares for the release of the album's first single "
Infinite
" on June 10th.
This interview took place on: 6/3/14.
JFH (John DiBiase): For the past two years, you've been the frontman for Audio Adrenaline. But it looks like this year will be your last. When are you officially stepping down? Are you doing any more shows with the band?
Kevin Max: I have officially stepped down already. We had a meeting two weeks ago that pretty much solidified the situation. It is a very amicable decision; I love the guys and we have been through a lot together, but after much prayer, counsel and a leap of faith, I have decided to go my own way once again. There won't be any shows with the band in the near future, but you never know. We remain great friends and I am definitely involved in The Hands and Feet Project with Mark [Stuart], and hopefully writing for any projects they do as well.
JFH (John): Why did you decide to leave Audio Adrenaline?
Kevin: It was brought to my attention through management that they wanted to move into more of a 'worship music' mode and that the band was also to be kind of a house band for the Acquire The Fire events. I felt like I didn't really fit the worship music leader mode and they agreed. Also, the fact that the music that I was writing for this album was decidedly more alternative or indie pop rock and they wanted more 'vertical' type songs, it became pretty apparent that we were on separate paths when it came to musicality and creativity. From a missions and live standpoint, we were hitting our stride finally, so it was a bit tough to see this all happening. Again, I count it a huge honor to fill Mark's shoes, and it was an epic 2 years of travel.

To add to that, I wanted to push the envelope with the band musically. I wanted to create art on the level of The Killers, Switchfoot, Coldplay, U2, etc. I think that eventually, the band was at a place where it needed to evolve. Management decided to go a different direction... I had to be honest and realize that I probably didn't fit what they wanted to do.
JFH (John): So for your new solo project, were some of these songs written for potential new AudioA music but ended up becoming "Kevin Max" songs instead?
Kevin: Yes, almost all of them. That is the reason I felt called to go this route; the songs were there. I spent a good half-day with my pastor explaining to him that I felt that God wanted me to put these songs out regardless of if it was with a band or solo. Also, a lot of my close friends, and absolutely my wife, agreed that these songs needed to see the light of day.
JFH (John): That's awesome! Is it an EP or full album?
Kevin: Full album.
JFH (John): Can you talk about the album title Broken Temples?
Kevin: About two years back, when I moved to Franklin TN, Mark and Will told me about the church they were going to called Journey. I went and was blown away by the transparency of the pastor, Jaimie George. Jaimie and I met up and I realized he was a Liberty grad as well. We had a lot in common. About two months ago, he was giving a sermon on Sunday and he used the term 'broken temples' -- as in: we are a bunch of wandering temples in need of the Spirit to indwell us. Without the Spirit, we are empty and in need of repair. I loved that image.
JFH (John): Oh wow... I really like that analogy! Would you say that your experience with AudioA has influenced or changed your solo direction?
Kevin: Great question. Without a doubt, it has given me more perspective. Getting back into the touring model at the age of 47 has opened my eyes to what it takes to work the marketplace these days. Being a solo artist for over a decade, as well as being in two of the biggest bands in Christian music, has shaped me and given me some interesting tools. But, to be honest, it has just made me also realize my limitations. I am really adept at creating music and writing, but it is another art altogether in being a front man in front of thousands of people. I have done both and I think I actually like being a solo artist. It gives me time to create a show that is unique and independent. I also think that I am more interested in creating music than touring it. I realize that touring is essential, but I think it should be done in moderation and it should be an event. It should stand out from all of the other acts. I am big believer in authenticity and originality.
JFH (John): I understand. With that said, do you have any plans to tour the new solo material?
Kevin: Yes -- working on that now, actually. I've had a few bands that know the deal reach out to me, but I am gonna lay low for a bit and make the right decision. Again, I want to make playing live an event, not just a gig.
JFH (John): The first single is called "Infinite." Can you talk a bit about that song -- and the special guest vocalist on it?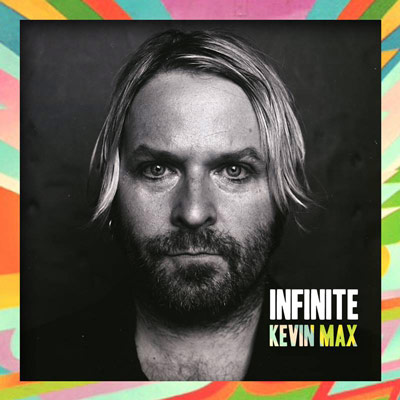 Kevin: Right, "Infinite" was the much-debated first song out of the bunch. It is easily the most retro song from the album. But it had a radio quality to it. It's extremely simple, yet it sounded universal to me. I love The Beatles quality of it. It reminded me of something Lennon would have done. The lyrics are about how I believe God blows away any myth or proportion we throw on Him. Whatever you think He is, He is Infinite. Rachael Lampa sang on the song as well. I wanted a singer that could give me a run for my money---- well, she did that for sure. Hopefully it won't cost me lots though. haha
JFH (John): Can you talk about any of the other new songs on Broken Temples?
Kevin: The rest of Broken Temples runs the gamut from my brushes with Electronica to Alternative Pop. I love its unconventionality. I love albums that bounce all over the place. I feel that I have succeeded in that. "Infinite" is not like the rest of its parts.

I wrote a song called "Clear" which reminds me of early Simple Minds, but with more of a modern Electronic stance. There is a song called "Light Me Up" which I wrote with John Steingard from Hawk Nelson which is a radio monster. I also wrote a couple songs with Brent Kutzle from One Republic, but my favorite songs are the ones I wrote with Josh Silverburg. There is one called "Just as I Am" that feels like classic A-HA, a rocker titled "Good Kings Highway," and a reggae jam about Haiti. It is nothing, if not diverse.

Lyrically, it is what I do; I haven't altered much when it comes to that. Being back in the industry, though, has given me a good handle on the language of the times. I still think nobody has beaten Larry Norman at combining spirituality, social events and politics. I am more of a poet than I am a traditional songwriter, so it is pretty imaginative.
JFH (John): Is there anything else you'd like to share about the album?
Kevin: Broken Temples is a defining album for me. I have done a lot of experimenting, and sometimes I think it has come off as side project material. This is definitely in the mold of an old school album. I have really pushed myself to let only the best of what I am up to come through. I have also been pretty intentional on where I am going lyrically. I don't want to lose anybody, but I also don't want to play the game. As we have cited from the early dc Talk days, "If it's Christian, it ought to be better." I really do believe the art of lyrics have faltered in this industry. I want to create something that is classic, but is also dynamic and imaginative. I truly believe that is the heartbeat of God: Pure Imagination.
JFH (John): Amen! I agree about the compromise in artistic integrity in music and lyrics in the industry today. Especially when it comes to mainstream Christian material. Do you still have plans to release a second Fiefdom of Angels EP?
Kevin: Yes. I am making plans to release A LOT of things. This chapter of my life is about invention and imagination... RELEASE THE KRAKEN!!!!
JFH (John): Haha! While I wasn't personally at the K-LOVE Fan Awards this past weekend, I heard about the faux-DC Talk "reunion" on Sunday. How did that come together?
Kevin: Matthew West called me up last minute and said he needed more material [for hosting the show]. He came up with the whole idea to dress as TobyMac and make the reunion happen in front of the whole Opry crowd. He did a good job of hosting in my opinion, but I get embarrassed with things like that. I guess it came off well; people laughed and clapped. Toby was backstage, though. He did tell me later he thought it was funny. I am off my horse about dc Talk now. It's up to the other guys now. But I do believe the fans deserve something...
JFH (John): Thanks for the chat, Kevin. Any last comments?
Kevin: I want to make it known that I respect all of the guys in the current band of Audio Adrenaline and I support them and pray for their own journey. Will [McGinniss] was a blast to tour with again. Jared [Byers] was as solid a drummer as he was a character and Dwayne Larring is the tried and true rock star!
Kevin Max's latest album, Broken Temples is available July, 2014!