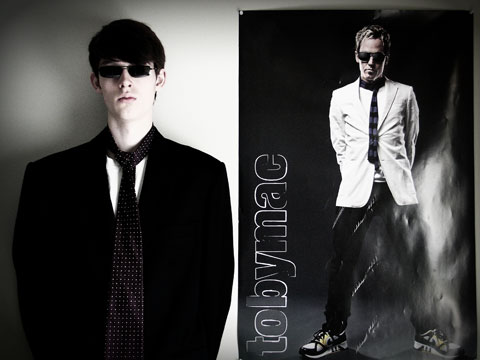 Joshua Clarke and his TobyMac poster

Favorite Band/Artist: TobyMac
Featured Fan: Joshua Clarke
Location: Washington State, USA
When/Where Was The Above Photo Taken: My bedroom
What About This Artist's Music Speaks To You: Toby makes great music. It's as simple as that. He has great lyrics, catchy beats, and he keeps up with the "mainstrem sound" so his songs always stay fresh and interesting. Personally, I think he could be a big star in pop culture, but instead he stays humble and keeps singing for God -- and that's what makes him my favorite Christian artist.
Favorite Album by This Artist: Tonight
Favorite Song by This Artist: "City On Our Knees (Golden Snax Remix)"
Number of Times Seen This Artist Live: Only 1 :( Get over to the NW, Toby!
Favorite Live Show Experience: In Abbotsford, BC, Canada. It was awesome when the Diverse City band poured water bottles all over the stage and slid around!
Favorite Piece Of Merch/Item You Own From This Artist: My epic poster (aww yeahhh)
Website: http://www.facebook.com/djsaviar

Submit your photo and reasons why YOU'RE a fan for a chance to be featured here!