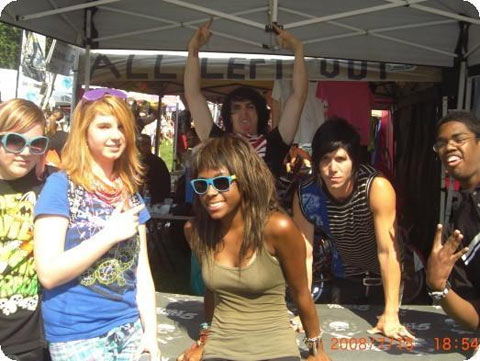 Family Force 5, some old friends... and Darius (far right)

Favorite Band/Artist: Family Force 5
Featured Fan: Darius Sanchez
Location: Waldorf, MD
When/Where Was The Above Photo Taken: Warped Tour 2008
What About This Artist's Music Speaks To You: Their music never fails to put me in a very good mood. Musically, they have a style that capitalizes on fun. The mix of hip hop and rock is very well crafted with catchy melodies that blow me away every time I listen. The fact that they are not afraid to experiment with different sounds, leaves me to wonder what they are capable of pulling off next. Lyrically, they are a breath of fresh air from all of the negativity heard on the radio today. Even compared to CCM radio, it's nice to get away from the cliche in exchange for music that's fun, but positive, and at most, spiritually uplifting, yet creative.
Favorite Album by This Artist: Business Up Front, Party in the Back
Favorite Song by This Artist: "Kountry Gentleman"
Number of Times Seen This Artist Live: Once (unfortunately)
Favorite Live Show Experience: Warped Tour 2008
Favorite Piece Of Merch/Item You Own From This Artist: Autographed Poster
Website: N/A

Submit your photo and reasons why YOU'RE a fan for a chance to be featured here!