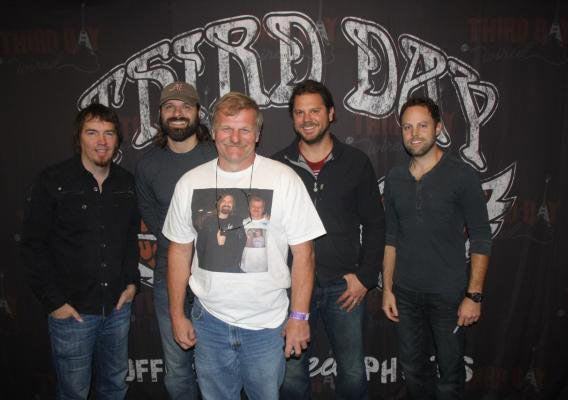 Don with Third Day

Favorite Band/Artist: Third Day
Featured Fan: Don Elliott
Location: Brookline, VT.
When/Where Was The Above Photo Taken: Tampa, FL. Dec. 2010
What About This Artist's Music Speaks To You: A lot of bands' music drowns out the voice and lyrics of the singer. Not so with Third Day. Mac's voice is heard clearly in each song, and the combination of worship and rock music is great. This is one of the first bands i started listening to when i got saved in 1998. If you look at my T-shirt in the photo, you will see Mac and I, and the T-shirt i was wearing also has Mac and I from an earlier concert.
Favorite Album by This Artist: Offerings 2
Favorite Song by This Artist: "Offering"
Number of Times Seen This Artist Live: 10-12
Favorite Live Show Experience: Albany, N.Y. , 2007
Favorite Piece Of Merch/Item You Own From This Artist: my T-shirt i am wearing in this picture
Website: N/A

Submit your photo and reasons why YOU'RE a fan for a chance to be featured here!