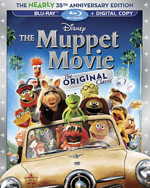 The Muppet Movie


Director:
James Frawley
Starring:
Mel Brooks, Charles Durning, Steve Martin, Dom DeLuise, Bob Hope, voices of Jim Henson, Frank Oz, Dave Goelz, Jerry Nelson
Running Time:
1 hour, 35 minutes
Theatrical Release Date:
June 22, 1979
Blu-Ray Release Date:
August 13, 2013 (
Amazon.com
)
Plot Summary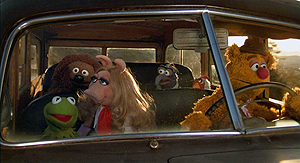 See how the Muppets began, with the nearly 35th Anniversary Special Edition of the original, classic that started it all-The Muppet Movie, produced by the cultural icon and Muppet creator himself, Jim Henson! Witness the hilarious origins of everyone's favorite Muppets--Kermit the Frog, Fozzie Bear, Miss Piggy, Gonzo, Animal, and the rest-as they embark on an inspirational and laugh-filled road trip to follow their Hollywood dreams. And now for the first time, you and your family can see the Muppets make the "rainbow connection" in vibrant Blu-ray Hi-Def. (from Click Communications)
Film Review
With the success of 2011's The Muppets, which served as a sort-of reboot for the franchise, while simultaneously paying homage to the movies and television series that preceded it, it's no surprise that Disney would re-release the 1979 feature film The Muppet Movie on Blu-Ray so close to its thirty-fourth anniversary. A sequel to the 2011 film is slated for release in March, titled Muppets Most Wanted, so the timing for this couldn't be better. The Muppet Movie launched the series of feature films that would continue with The Great Muppet Caper (1981) The Muppets Take Manhattan (1984), The Muppet Christmas Carol (1992), Muppet Treasure Island (1996) and Muppets From Space (1999). I have fond memories of watching the movies and some of the TV shows as a kid, particularly the animated series Muppet Babies (1984), and I found myself thoroughly enjoying the 2011 entry. So, naturally, I was interested in revisiting the original film that started its successful transition from the small screen to the silver.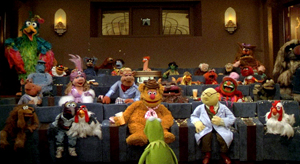 The Muppet Movie opens with The Muppets gathered in a private movie theater to watch a screening of The Muppet Movie, which is expected to play out like an unofficial beginning for the team's break into Hollywood, including how they all met each other. Once the movie starts, we see Kermit The Frog strumming a banjo and singing "Rainbow Connection" in his natural swamp habitat. Suddenly, Dom DeLuise rows over in a canoe, playing a Hollywood agent who tells Kermit he's got talent and could make it in the business. This encourages Kermit to leave the lily pad and head out across the country. Along the way, Kermit keeps meeting our favorite Muppets, starting with Fozzie Bear, and they all end up joining him in his quest to make it in Hollywood. However, the story is not without its villain. Kermit comes in contact with Doc Hopper early on, a man who's starting his own chain of frog legs fast food restaurants (think KFC, but frog legs instead). He desperately wants Kermit as the face of his restaurant, but obviously the Muppet wants nothing to do with it. This doesn't stop Doc, however. This just encourages the madman to pursue Kermit and his new friends all over the United States.
After seeing more recent Muppets theatrical ventures, some may be surprised by how tame The Muppet Movie is. It's much slower paced than you might expect, and there really is only one human actor that appears throughout the whole film (and that's Charles Durning as Doc Hopper). It was nice to have the focus be solely on The Muppets this time, whereas the 2011 film focused a great deal on Jason Siegel and Amy Adams' characters, telling it from their perspective more than, say, Kermit's. The celebrity faces that pop up throughout the movie are mostly still recognizable almost 35 years later, but most young audiences won't recognize any of them. Steve Martin may be the most recognizable, with Mel Brooks and the legendary Bob Hope being next in line. And any fan of the Ocean's heist film trilogy will recognize Elliot Gould's brief role here as well. Other notables include James Coburn, Milton Berle, Richard Pryor, Telly Savalas and Orson Welles. It's a great trip down memory lane for anyone who's familiar with entertainment from the 70s, 80s and even earlier. The plot is pretty simplistic -- it's really just Kermit trying to get to Hollywood and Doc Hopper trying to persuade him to do the commercial... and then planning on stopping him all together. The ending is a bit anti-climactic, especially by today's standards, but it's still a fun little road movie featuring those lovable Muppets.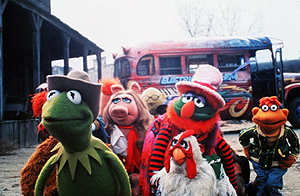 The content for The Muppet Movie is really pretty mild. The violence is all slapstick, with some talk from Doc Hopper of trying to kill Kermit, even going so far as hiring a frog killer. And Mel Brooks' Professor Max Krassman tries to fry Kermit's brain at one point. All of it is pretty light and not meant to be scary or menacing, however. There's a running joke about characters being lost and random characters will suggest "Have you tried Hari krishna?" Kermit then ends up at a church where there's a "Rev. Harry Krishna" on the sign outside, and inside they meet Animal and his band of wacky musicians (causing Fozzie to joke "They don't look like Presbyterians to me"). When Kermit meets Fozzie, it's inside a saloon where we see many characters drinking. Later, Steve Martin serves Kermit and Miss Piggy wine while they dine. Lastly, there's only a hint of any kind of sensuality, like Miss Piggy swooning for Kermit and a romantic montage between the two. We also briefly see a group of women at a fair in one-piece bathing suits (and being chased by a large Muppet). Overall, however, the film is rather tame.
The Muppet Movie is a fun look at how the Muppets made their debut on the big screen, while spinning an outlandish tale about how the characters first met. If you're a fan of the 2011 film (which makes reference to this movie in it), it's worth checking out, but keep in mind the fact that this movie was made at an earlier time for a different kind of movie-going audience. Still, the escapades of Kermit, Fozzie, Grover, Miss Piggy, and the rest of the gang remain fun to watch over three decades later.
-
John DiBiase
(reviewed: 8/11/13)
Blu-Ray Special Features Review
The Blu-Ray debut of
The Muppet Movie
arrives in the form of
The Muppet Movie: The Nearly 35th Anniversary Edition
, and includes a single-disc Blu-Ray disc and a downloadable digital copy. There is no DVD included here, however. The Blu-Ray transfer is good, but it isn't one of the clearer classic transfers I've seen. It may be due to the source film (as is the case with a lot of older movies), but, regardless, it still looks a little less dated thanks to its high definition form. Along with the feature film are just a few bonus features...
Intermission - If you pause the movie, it counts down from 5 until it starts a special intermission. When I paused it, it played the lyric video for "Can You Picture That" as it appears in the bonus feature "Frog-E-Oke Sing-Along."
Frog-E-Oke Sing-Along (8:39) - These are new lyric videos using footage from the film and animated lyrics over top for the songs "Rainbow Connection," "Movin' Right Along," "Can You Picture That." You can view them individually or through a "Play All" option.
Jim Frawley's Extended Camera Test (17:53) - This is the real gem of the extras on here. It's almost 18 minutes of the Muppets being filmed on location outside of the studio. And, through it all, they're playing themselves. There's no introduction to explain the footage, but my guess is, since it's the first Muppet movie, and it was to be taking them on the road out of the studio, this camera test was to see how they can pull off bringing the Muppets to life off of the stage.
Doc Hopper's Commercial (1:03) - This is Doc Hopper's full commercial as seen in the movie but not limited to just through the TV screen.
Original Trailers (5:46) - This is the Original Teaser and the Full Trailer for the film as seen back in the late 70s. You can watch them separately or with a "Play All" option.
Classic Bonus: Pepe Profiles Present Kermit - A Frog's Life (6:34) - This is a mockumentary about Kermit for his 50th Anniversary that was a DVD release of this movie in 2005. It just has clips from this movie and Pepe as the host, interviewing random celebrities as well as our favorite Muppets.
-
John DiBiase
,
(reviewed: 8/11/13)
Parental Guide: Content Summary

Sex/Nudity
: We see some girls in one-piece bathing suits; We see a romantic montage of scenes involving Kermit and Miss Piggy; A group of girls in one piece bathing suits flee a tent and then the big Muppet follows them.

Vulgarity/Language
: None. (Kermit says "What the--" once or twice and "What the hey" at one point)

Alcohol/Drugs
: We see people and Muppets drinking in a saloon; Fozzie, pretending to be a bartender, says the drinks are on the house and everyone goes up on the roof of the saloon and is disappointed when they don't find anything there; Kermit orders wine and Steve Martin gives it to them. Steve sips it and spits it out and then says it's perfect; Rowlf talks about drinking beers at home

Blood/Gore
: None.

Violence
: A muppet causes a small explosion; Kermit's bike is run over by a steam roller; We see James Coburn get thrown out of the front doors of a saloon; A man breaks a bottle on a table to prepare for a fight; The crowd throws Kermit and Fozzie around. Kermit gets stuck on a fan and thrown into the piano and Fozzie lands behind the bar; Fozzie bumps into other cars and a roadblock as he parks and leaves; Fozzie crashes into a billboard and then a huge pie hits a car and the Doc Hopper shoots balloons that Gonzo is holding and he falls onto Fozzie's car; We see that Miss Piggy was kidnapped and we see the kidnappers with a hand over her mouth; We see many gun barrels pointed at Kermit; We see Kermit and Miss Piggy tied up; Kermit is strapped into a machine that's supposed to fry his brain; We see an action sequence where Miss Piggy beats up a room full of thugs; Professor Max Krassman falls into the machine he was going to use to fry Kermit and acts like he gets fried (it's not gory or gross or even especially violent. It's meant to be silly); Some men shoot at a cardboard cutout of Kermit; The frog killer throws a trident-looking weapon at a target; Animal as a giant busts through the roof of a building; The film sets collapse and explode in sparks on a stage, blowing a hole in the ceiling.
Disclaimer: All reviews are based solely on the opinions of the reviewer. Most reviews are rated on how the reviewer enjoyed the film overall, not exclusively on content. However, if the content really affects the reviewer's opinion and experience of the film, it will definitely affect the reviewer's overall rating.
To find out why we don't typically review R-rated movies,
click here