CASTING CROWNS TAKES HOME 2011 AMERICAN MUSIC AWARD
Group Wins "Favorite Artist" in Contemporary Inspirational Category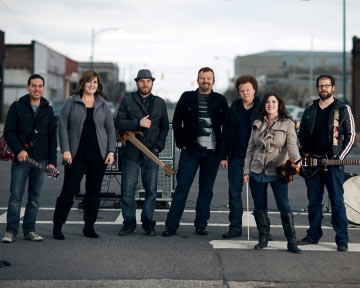 Casting Crowns (L-R): Hector Cervantes, Megan Garrett, Chris Huffman, Mark Hall, Brian Scoggin,
Melodee DeVevo, Juan DeVevo
Photo By: Allister Ann
NEWS SOURCE: Provident Music Group
November 20, 2011
(NASHVILLE, Tenn.) Nov. 20, 2011-- Platinum-selling, five-time Gospel Music Association Group of the Year, Casting Crowns adds another honor to its list of accolades with a 2011 American Music Award. The band won for "Favorite Artist" in the Contemporary Inspirational category, announced tonight during a live broadcast of the 39th annual AMAs on ABC.
Casting Crowns' second win, from six career AMA nominations, the group shared the category with other A-list Christian artists tobyMac and Third Day. For the fifth year, winners were determined by online voting. Fans voted in the categories of Pop/Rock, Country, Rap/Hip-Hop, Soul/R&B, Alternative, Adult Contemporary, Latin, and Contemporary Inspirational. For a complete list of tonight's winners, visit: http://abc.go.com/shows/american-music-awards.
The win comes on the heels of Casting Crowns' first new studio album in two years. Come to the Well, released Oct. 18, draws inspiration from the band's ministry efforts at its home church, Eagles Landing Baptist Church outside of Atlanta, where frontman Mark Hall serves as youth pastor. The project is filled with songs that both challenge and encourage believers in their walk. Hall collaborated on several of the tracks with top songwriters including Steven Curtis Chapman, Matthew West and award-winning country songwriter Tom Douglas.
The week of its release, Come to the Well sold 99,138 copies, making it the highest debut on Billboard's Top 200 at No. 2. The album additionally topped the Billboard Contemporary Christian Overall chart, while also claiming No. 1 on the iTunes Christian Albums chart and No. 3 on its Overall Albums chart. Lead radio single "Courageous" landed at No. 1 on the iTunes Christian Songs chart and peaked at a No. 1 on the Billboard National Christian Audience chart in just 10 weeks.
The band is currently touring new music from Come to the Well on a fall tour visiting 40 cities through early December. For a complete list of tour dates, visit: www.castingcrowns.com.
About Casting Crowns
Atlanta-based Casting Crowns released its fourth studio album, Come To The Well, on Oct. 18, 2011. The album sold 99,138 copies its first week making it the highest charting debut on the Billboard Top 200, with an overall chart position of No. 2. It also garnered the No. 1 spot on the Billboard Contemporary Christian Overall chart, followed closely by its November 2009 release, Until The Whole World Hears, at No. 4.
Come To The Well additionally climbed to No. 1 on iTunes Christian Albums chart and No. 3 on its Overall Albums chart. The record's lead single, "Courageous," was the No. 1 Christian single on iTunes while hitting No. 1 on the Billboard National Audience Chart after just 10 weeks. All of Casting Crowns' projects are RIAA certified, with a tally of three RIAA Platinum Albums, two RIAA Platinum DVDs, two RIAA Gold Albums, two Gold DVDs and two Gold digital singles. The group also claims an American Music AwardŽ, with six total nominations, three GRAMMY Awards, and 14 GMA Dove Awards.
Despite an unprecedented eight-year career with Casting Crowns, the seven band members remain active in student ministry in the Atlanta area and tour part-time around their local church duties. Serving his 18th year in youth ministry, lead singer/songwriter Mark Hall is the student pastor at Eagle's Landing First Baptist Church in Atlanta. As a testament to the band's impact, Casting Crowns performed for a second time in North Korea in April 2009, in partnership with Global Resource Services, as the band continues to forge invaluable relationships with the people in the D.P.R.K.
For more information on Casting Crowns and Come to the Well, visit: www.castingcrowns.com or follow Mark Hall's Twitter at twitter.com/markhallCC.
# # #
For more info on Casting Crowns visit the JFH Artists Database.