NEWSBOYS ANNOUNCE EXTENSION TO THEIR SUCCESSFUL
"GOD'S NOT DEAD TOUR," ADDING 35+ DATES IN FALL
Newsboys Will Be Joined By Building 429 And Luminate On Tour;

More Than 4,000 Children Already Sponsored Through Partnership With Compassion International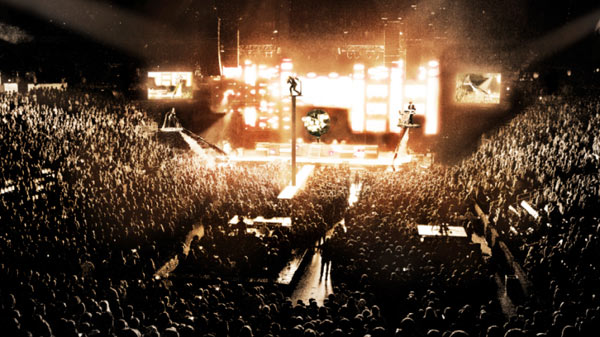 NEWS SOURCE: Merge PR
April 24, 2012
Nashville, Tenn - 24 April 2012 - Newsboys announced today they are extending their much sought after God's Not Dead Tour through the fall of 2012. Over the course of visiting 60+ cities this spring, the Newsboys' God's Not Dead Tour has impacted thousands of lives, both locally and internationally. Since the tour began in mid-January, a remarkable 31 venues have sold out and the tour is still hitting another ten markets before the spring leg ends May 6th in Williamsburg, VA.
Joining the fall leg of the tour will be Building 429 (Provident Label Group) and Luminate (Sparrow/EMI). Compassion International will continue their highly successful partnership with Newsboys in raising awareness and sponsorships for children overseas during the tour.
The God's Not Dead Tour is one of the most in-demand nights of worship, praise and celebration during this touring season. Over 4,000 children have been sponsored through the partnership with Compassion International, while 3,200 people have pledged to be "Second to One" through I am Second, and thousands more have indicated their desire to give their lives to Christ after hearing a message of hope from evangelist Bob Lenz of Life Promotions.
Testimonies have poured in following each show. One of the tour's promoters shared, "I wanted to tell you THANK YOU for giving us the opportunity to host the GOD'S NOT DEAD Tour with Newsboys. Of course the music was great, but this tour is so much more. We greatly appreciated the chance to host an evening where the Gospel was a part of the evening and was not shoe-horned in somewhere. To have the artists, especially Newsboys, speak about Jesus Christ in more than a passing comment was exactly what we think these evenings should be about."
Concertgoers will be sure to have an amazing time hearing some of the biggest hits currently at radio, led by Newsboys' hit single "God's Not Dead," which held the top spot on Billboard's CHR chart for seven weeks in a row and is currently rising up the AC chart, this week at No. 3 on Christian AC Indicator. They'll also hear Building 429's "Where I Belong," which has been No. 1 for an astounding eleven weeks (Billboard's National Audience chart and Christian AC Monitored chart).
The fall leg of the tour will visit more than 35 markets nationwide, with stops in major markets of Minneapolis, Seattle, Portland, Houston, and Nashville. The remaining tour dates for the spring leg of the God's Not Dead Tour are available at Newsboys.com and the tour's official webpage at GodsNotDeadTour.com.
About Newsboys:
This GRAMMY®-nominated and Dove Award-winning band has sold close to 8 million units, has garnered five Gold albums and 28 No. 1 radio hits. With the 2010 release of Born Again, its first week out was the largest street week of their careers! They sold an astounding 45,311 units and hitting No. 4 on Billboard's overall chart, charting above new releases from such artists as Justin Bieber, Sting and M.I.A. Its self-titled single topped the charts for 8 weeks, gaining close to eight million impressions to date. The CD also garnered three No. 1 hits.
Newsboys released their most recent CD release on November 15, 2011-the highly anticipated project, God's Not Dead. This rock-driven worship album finds front man Michael Tait and his band mates who've played together for two decades - Jeff Frankenstein (keys), Duncan Phillips (drums), and Jody Davis (guitar) -with some of today's most widely church-embraced modern worship anthems as well as several original and never-before-released worship songs written by some of today's biggest worship songwriters. It's title song, "God's Not Dead," topped CHR's charts for seven weeks in a row.
Renown for their heart-pumping live concerts, the tight knit Newsboys unit continues to headline gigs in the U.S. and around the world. Just last year they captured the headlining slot on the world's biggest tour, the Winter Jam Tour, playing to more than half a million people. Stay tuned to www.Newsboys.com for the most updated tour dates and latest information on the band.
About Compassion International:
Compassion International is the world's largest Christian child development organization that permanently releases children from poverty. Founded in 1952, Compassion successfully tackles global poverty one child at a time, serving more than 1 million children in 26 of the world's poorest countries. Recognizing that poverty is more than a lack of money, Compassion works holistically through local churches to address the individual physical, economic, educational and spiritual needs of children - enabling them to thrive, not just survive. Charity Navigator, America's largest charity evaluator, has awarded Compassion its highest rating-four stars-for nine consecutive years, placing Compassion in the top one percent of all charities. Compassion.com.
About Building 429:
Building 429 comprises Jason Roy (vocals), Jesse Garcia (guitar), Michael Anderson (drums), and Aaron Branch (bass). The band first broke through with its 2004 No. 1 hit "Glory Defined," which was named BMI's Christian Song of the Year in 2005. That same year, Building 429 was also named New Artist of the Year at the Gospel Music Association's Dove Awards.
The band has since amassed a dedicated fan following, playing over 150 live shows a year while developing its own touring brands "Winter Blast" and "Summer Blast." In the fall of 2011 the band went from a 30-city "Sounds of Hope" co-headlining tour with Leeland straight into the 47-city Winter Jam arena tour in 2012, reaching audiences of more than 500,000.
Building 429 released its fifth studio project, Listen to the Sound, May 10, 2011. Produced by Jason Ingram, Rusty Varenkamp (Tenth Avenue North, Sanctus Real) and Rob Hawkins, Listen to the Sound debuted at the top of iTunes' Christian & Gospel Albums chart, while its title track hit No. 1 on the CHR chart and top 5 on Billboard's National Christian Audience Chart. The follow up single, "Made For You," reached the top 5 on the CHR chart and most recently "Where I Belong" has continued to peak at No. 1 on Billboard's National Christian Audience chart and AC Monitored for 11 weeks. For more information on Building 429, visit www.Building429.com or www.facebook.com/building429.
About Luminate:
Tyler, Texas-based pop/rock band Luminate launched its first full-length, Dove Award-nominated Sparrow Records debut, Come Home, last year to wide critical acclaim. Luminate's passionate, stirring and worshipful songs encourages listeners to seek the redemptive purpose of God in their lives, even sparking Rhapsody to name the band the No. 1 Christian/Gospel pick of 2011. All Music Guide calls Luminate a "dynamic force" and Gospel Music Channel shares that the band's songs "are undeniably catchy and inherently hopeful." Produced by Paul Moak (Mat Kearney), Ed Cash (Chris Tomlin) and Ben Glover, Come Home opens with the lead radio single and title track, including the singles "Healing In Your Arms," "Shine," and "Innocent," which have received significant national airplay. A festival favorite, Luminate is gearing up for its sophomore album, Welcome To Daylight, to release this summer. For all the latest on Luminate, see www.luminatemusic.com.
For more info on Newsboys visit the JFH Artists Database.