Christian Music's Top Songwriter Jared Anderson to Release Debut EP for Centricity Music March 31, 2015 "Where I Am Right Now"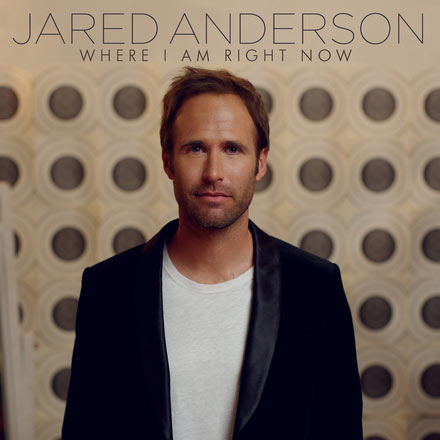 NEWS SOURCE: Bozeman Media
February 23, 2015
Nashville, TN (February 23, 2015) ---- One of Christian music's premiere songwriters, Jared Anderson, is scheduled to release his debut project for Centricity Music on March 31st. Where I Am Right Now features a combination of new material and songs that were made famous by other Christian artists, such as "Almighty" that was recorded by Chris Tomlin. Centricity Music will be releasing a 5-song EP that will be available at online music outlets and a full length 14-song album that will only be available at Anderson's concerts. (Song listings are below). Grammy award-winning producer, Seth Mosley, was at the production helm for Where I Am Right Now and the title track will be the first single going for adds February 20th.
"During the songwriting and recording of this project, I've come to realize that a genre of music exists because a lifestyle exists," explains Anderson. "People who write country music don't just write it, they live it. Christian music is the same. Our ears respond to our values. To be a disciple of Jesus is the highest job description anyone will ever have. I pray that my music will expand people's imagination about God."
With a mixture of strong ballads and rhythmic up-tempo songs, Where I Am Right Now spotlights such selections as "Forgiven," with lyrics that make you feel the embrace of Christ's love, while "Sweet Salvation" delivers a steady percussion backbeat with harmonies that are reminiscent of the 60's doo-wop groups, and "We Are Free," a pop infused thank you to Christ for his redemption. The title track delivers a powerful message of being content of where we are at the moment. I'm called to be Where I Am Right Now/In the middle of a storm but I have no doubt/You are here with me/You are here with me/I won't give in or second guess/I'm trusting you with every step/Father you are here with me.
For more updates about Anderson please visit online at www.jaredanderson.com, www.facebook.com/JaredAndersonOfficial, and www.twitter.com/jaredanderson.
About Jared Anderson
Jared Anderson began taking piano lessons at eight years old in his hometown of Colorado Springs, CO, and the love of music led to him graduating from Oral Roberts University with a degree in musical composition. In 2001, Anderson became part of the worship staff at his home church, New Life Church, where he also played in the Desperation Band. It was during this time that Anderson began writing worship songs that led to recognition on the CCLI Chart (Christian Copyright Licensing International) and having his music recorded by some of the biggest names in Christian music; Newsboys, Chris Tomlin, Phillips, Craig and Dean, among many others. Anderson released four solo albums before signing with Centricity Music in 2014 and releasing his debut project for the label, Where I Am Right Now. He lives in Colorado Springs, CO with his wife and six children.
About Centricity Music
Centricity was founded in 2005 with a commitment to artist development and stylistic diversity. Based in Franklin TN, artists include Aaron Shust, Andrew Peterson, Carrollton, Jared Anderson, Jason Gray, JJ Weeks, Jonny Diaz, Jordan Feliz, Lauren Daigle and Unspoken. The company's mission is to enable their artists to create life-changing experiences for the world. Providing label, management and publishing services, Centricity is a family owned organization and they like it that way. For more information on Centricity Music, please visit: www.centricitymusic.com.
Where I Am Right Now 5-Song Track Listing:
1. We Are Free
2. Where I Am Right Now
3. Almighty
4. Forgiven
5. Sweet Salvation
- ### -
For more info on Jared Anderson visit the JFH Artists Database.