Live on FOX & Friends, Elisabeth Hasselbeck Announces She'll Co-Host 2015 K-LOVE Fan Awards
Joined by Kirk Cameron will helm fan-voted award show live on May 31st from the Grand Ole Opry House in Nashville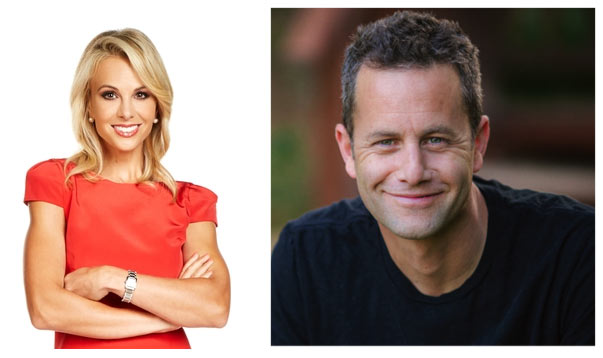 NEWS SOURCE: The M Collective
February 26, 2015
Nashville, Tenn. (February 26, 2015) - Live on cable's leading morning show, FOX & Friends, Elisabeth Hasselbeck, announced that she and Kirk Cameron will share hosting duties for the 2015 K-LOVE Fan Awards, presented by Pepsi. K-LOVE - the leading Christian music radio network with a weekly listenership of over 14 million people - will once again bring the only fan-voted award show in Christian music history to the Grand Ole Opry House in Music City on May 31, 2015.
"K-LOVE has always had a positive, encouraging impact on my day, and I am thankful to be a part of this year's award show," Hasselbeck said.
The show will be the pinnacle event of the K-LOVE Fan Awards Weekend and Ultimate Fan Experience, which includes tickets to the Awards show, a three-night stay at Opryland, dinner with the K-LOVE staff and friends, a weekend kick-off concert, a late night event, two breakfasts, encouraging speakers, access to the K-LOVE Fan Zone and more.
"I am very excited to be co-hosting the K-LOVE Fan Awards this year," Cameron shared. "I have heard a lot of great buzz on the event and am excited to come together with a great brand like K-LOVE to impact the culture through the arts."
Recently, nominees in eight categories were announced: Male Artist of the Year, Female Artist of the Year, Artist of the Year, Group or Duo of the Year, Song of the Year, Worship Song of the Year, Best Live Show and Artist to Appear on a 7UP Can. Additional categories are to be announced soon.
K-LOVE FAN AWARDS
The K-LOVE Fan Awards mission is to create a fan experience that celebrates and promotes artists, athletes, authors and entertainers who, with excellence, engage and impact popular culture for Jesus Christ. Previous hosts for the event include Phil & Kay Robertson and Jase & Missy Robertson from A&E TV's popular show "Duck Dynasty," Candace Cameron Bure and Matthew West. For more information on this year's exciting lineup and award show hosts, visit www.KLOVEFanAwards.com. The K-LOVE Fan Awards is a John Sanders LLC/World Hope Event.
ABOUT ELISABETH HASSELBECK
Elisabeth Hasselbeck currently serves as co-host of FOX News Channel's (FNC) FOX & Friends (weekdays 6-9AM/ET). Prior to FNC, Hasselbeck was a co-host on ABC's The View for 10 years. During her time on the daytime talk show, she and her co-hosts were selected by Time Magazine as one of the "100 Most Influential People in the World," and in July 2009, Forbes ranked The View as No. 11 on the list of "30 of the Most Influential Women." Until 2013, she had also been a contributor to ABC's Good Morning America since October 2010. Hasselbeck has interviewed Presidents George W. Bush, Bill Clinton and Barack Obama and was also a keynote speaker at the Republican National Convention in both 2004 and 2008. Additionally, as a woman with Celiac Disease, she works closely with the Celiac Disease Center at Columbia University to raise awareness about the autoimmune disease and has written two New York Times best sellers, "The G-Free Diet" and the cookbook, "Deliciously G-Free."
ABOUT KIRK CAMERON
Kirk Cameron is a television and film actor and producer, noted recently for his work in the family films SAVING CHRISTMAS and MERCY RULE, the documentaries UNSTOPPABLE and Monumental, and the inspirational film Fireproof. He is also known for his memorable roles on ABC's Growing Pains, the Left Behind movies, and co-host of The Way of the Master television series. Kirk spends much of his time producing new television and film projects and speaking to people around the country, teaching them how to share their faith and live out a gospel-centered marriage and family. Kirk and his wife Chelsea are the founders of Camp Firefly, a camp for seriously ill children and their families. Together, they live in California with their six children.
ABOUT K-LOVE
K-LOVE plays positive, encouraging contemporary Christian music with a message designed to draw people toward an authentic relationship with God while living out real life in the real world. The radio network has 446 signals in 47 states with an estimated weekly audience of over 14 million. Now with their Fan Awards, their mission is to create a unique and fun fan experience that celebrates and promotes artists, athletes, authors and entertainers, who, with excellence, engage and impact popular culture for Jesus Christ.
- ### -