INTEGRITY MUSIC PARTNERS WITH NATIONAL COMMUNITY CHURCH TO RELEASE NCC WORSHIP'S LABEL DEBUT, YOU ALONE, MARCH 31
Recording Uniquely Bundled As A Worship Resource Pack With Studio Plus Live Versions,
Live Videos, Teaching From Pastor Mark Batterson

Proceeds From Album Benefit DC Dream Center, Local Missions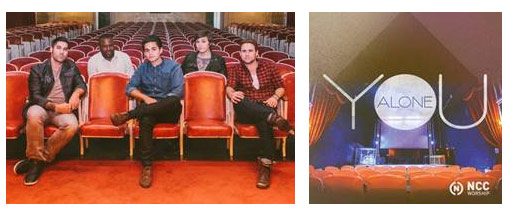 NEWS SOURCE: Hoganson Media
March 5, 2015
Integrity Music announces ministry partnership with National Community Church (NCC) and releases globally NCC Worship's first label-distributed recording, You Alone, March 31 as a digital-only Worship Resource Pack. National Community Church is a multi-site church that meets in theaters around the Washington, DC metro area. NCC and its worship team, NCC Worship, exist to make the name of Jesus famous in our generation. To that end, NCC, much like its nonprofit partner, Integrity Music, will donate proceeds from the recording to carry forward that mission.
Different from regular product configurations, You Alone is bundled as a five-song project with full studio recordings, stripped down, live versions of each song and videos of those live versions recorded at Ebenezers® coffeehouse. Meant to be a resource for other churches' worship teams, this Worship Resource Pack also includes lyrics and "mini teaching" messages from NCC lead pastor, Mark Batterson.
"The passion that drives the worship team at NCC is to engage the worshipper, and that is evident to anyone who visits any of their gatherings," says Adrian Thompson, VP, A&R Integrity Music. "That was a huge influence in creating this bundle. Together with NCC, we wanted to create a resource that focused on the songs with which their church connected while showing the different ways those songs can be used in worship."
Produced by Kurtis Parks and Kyle Lee (All Sons & Daughters, Pocket Full of Rocks), You Alone features lead vocalists/musicians Parks, Joel Buckner, Carolina Soto, Dan Rivera and Chris Douglas. Parks, who also serves as NCC's Worship Director, came to NCC via Nashville where he spent four years touring with his rock band, The Season, which led worship at camps, conferences and churches around the country. Buckner, who serves as NCC's Worship Leader, has been leading worship nearly all his life on many platforms across the country and around the world. See http://theaterchurch.com/about/staff/worship-ministry for more information on these and others on the NCC Worship team.

In addition to music, NCC's ministry in the nation's capital has seen them turn a crack house into a coffeehouse (Ebenezers), an old theater into a gathering place for worship (The Miracle Theatre), and this year alone, they will launch over 33 mission trips and give away more than $1 million to charitable causes around the world. In fact, all NCC's profits from the sale of You Alone will be used in the development of a local Washington, DC "Dream Center" (http://dcdreamcenter.com). Dedicated to meeting both tangible and spiritual needs in the city, the DC Dream Center will be focused on serving the poor and the disenfranchised while also serving as a place of peace, reconciliation and refuge for southeast DC.
"NCC is a community of people that believes in the power of God-given dreams," says Parks. "We believe that NCC is a dream-factory where people get a vision from God and go for it! We want to be a part of the personal dream God has given you, and we invite you to be a part of the corporate dreams God has given us..."
Like the church, Integrity Music is a nonprofit organization, with all sales beyond those used for administration and development going directly to its global mission division (http://globalchurch.com), which provides curriculum and worship resources to the developing church around the world, including specialized "children at risk" curriculum and Ebola-based learning resources for churches in West Africa.
The full NCC Worship You Alone track listing follows:
Studio recorded songs
1. Majestic
2. Christ The Lord Is Risen Today (He Is Not Dead)
3. You Alone
4. Eternal One (Psalm 145)
5. Where Would I Be
Live Versions (with companion videos)
1. Majestic
2. Christ The Lord Is Risen Today (He Is Not Dead)
3. You Alone
4. Eternal One (Psalm 145)
5. Where Would I Be
For more information on NCC Worship and National Community Church, go to http://theaterchurch.com/ and www.facebook.com/theaterchurch and follow NCC Worship on Twitter @NCC_Worship.
About Integrity Music:
Integrity is the worship music recording and publishing home to a variety of artists and ministries around the globe including: All Sons & Daughters, Paul Baloche, New Life Worship, Planetshakers, Worship Central, Covenant Worship, Life Worship, Dustin Smith, Desperation Band, Bluetree, Lincoln Brewster, Christine D'Clario, Stu G, Beth Croft, Sheldon Bangera, Danilo Montero, Jacobo Ramos, and Dove Award winning and nominated songwriters Jennie Lee Riddle, Israel Houghton, Jared Anderson, Michael Farren and Michael Neale.
Integrity Music is part of the David C Cook family, a nonprofit global resource provider serving the Church with life-transforming materials. Headquartered in Colorado Springs, Colorado, and Eastbourne, UK, Integrity is committed to taking songs of substance to the local church and its leaders around the world. Integrity currently controls over 7,000 songs, including the No. 1 radio hit "We Believe" (Newsboys) as well as church standards "Revelation Song," "Open The Eyes Of My Heart," "Your Great Name" and "I Am Free." Additional information can be found at www.integritymusic.com.
- ### -