MATTHEW WEST'S LIVE FOREVER RELEASES APRIL 28, AVAILABLE NOW FOR PRE-ORDER
West Honored With His Second ASCAP Christian Music Songwriter-Artist of the Year Award
NEWS SOURCE: Merge PR
March 31, 2015
NASHVILLE, TENN. - 31 March 2015 - Matthew West, the four-time GRAMMY®-nominated singer/songwriter will release his new album, Live Forever, on April 28 (Capitol CMG). Produced by Pete Kipley (MercyMe, Crowder), Live Forever continues West's mission to tell a story of a different kind with his music - to transform listeners' stories into life-changing songs.
Live Forever is now available for pre-order. The pre-order at iTunes includes two instant downloads - the album's first radio single, "Day One," as well as the title track. Additionally, two more instant downloads will become available leading up to the album's release. Those who have pre-ordered Live Forever will also receive "World Changers" on April 14, followed by "Grace Wins" on April 21. The album is also available for pre-order at Amazon and Google Play.
Live Forever came together by West digging deeper into more than 40,000 stories shared with him from people all over the world - stories that six years and three albums later have had a profound ripple effect - beginning with 2010's The Story of Your Life then followed by Into the Light in 2012. While preparing for the new album, West's greater goal was to create songs full of joy and life, not just life on earth - but life that is to come.
"It was important this time around to say that there is joy in this life," West shares. "With so much defeat all around us, people need to know there is victory. Maybe my job in reading a lot of these desperate stories is to extract the hope, to say 'God is a God of hope.' This was a very decisive album, in that way."
West also wanted to acknowledge that no one has a perfect story. "We could spend the rest of our lives on the past, or we could look ahead, trusting God to write the best parts of our story starting now," he explains. "I've always had this desire to connect to the hearts of people through the songs that I write. But the past six years have kind of ruined me for ordinary. It's at such a deeper level now because nothing is more meaningful than sitting down to write songs from these stories. And it's freed me up. I'm just not interested in songs for hits sake. As long as people write to me, I'll keep writing their songs, pointing people to the greater story."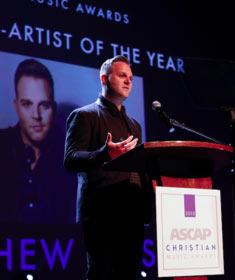 Photo courtesy of Ed Rode for ASCAP
During a quick break from touring, West attended last week's ASCAP Christian Music Awards held in Franklin, Tennessee. At the ceremony West earned his second ASCAP Christian Music Songwriter-Artist of the Year award. He first claimed the title in 2013. West also earned three ASCAP most-performed song awards, for his own chart-topping single, "Do Something," as well as for Josh Wilson's "Pushing Back the Dark" and Casting Crowns' "Thrive."
"What an honor to receive this recognition from ASCAP," West shared with the audience. "I am so proud to be part of this community of songwriters in Nashville, and thankful that I have the opportunity to share this music that I am so passionate about with the world. I'm also appreciative of the work ASCAP is doing to protect the rights of songwriters and look forward to partnering with them for many years to come."
At last year's ceremony, West was named ASCAP's top Christian Music Songwriter of the Year and earned the ASCAP Christian Music Song of the Year award for his single, "Hello My Name Is." Pictured here is West accepting his Songwriter-Artist of the Year award.
West is currently headlining his Live Forever Tour. The tour kicked off earlier this month and will run through the first week of May, the 40-city tour is presented by Compassion International. A special VIP ticket package is being made available on most dates in addition to the standard ticketing options. For more information, please visit his tour page at MatthewWest.com.
Live Forever track listing:
1. Live Forever
2. Day One
3. The List
4. World Changers
5. Grace Wins
6. Tryin'
7. Mended
8. Anything is Possible
9. Born For This
10. Oh, Me of Little Faith
11. Heaven Is The Hope
12. Day One (Acoustic)/bonus track
13. Homecoming (bonus track)
14. Untold (bonus track)
ABOUT MATTHEW WEST: Matthew West is a multiple-ASCAP Christian Music Songwriter/Artist of the Year winner, a four-time GRAMMY® nominee, and was awarded his first American Music Award (2013) and a Billboard Music Award (2014). Matthew West's discography includes acclaimed releases: Happy (2003), History (2005), Something to Say (2008), The Story of Your Life (2010) and GRAMMY-nominated Into The Light (2012). West was nominated for a Primetime Emmy® Award for Original Music & Lyrics for "The Heart of Christmas" from the film of the same name. His songwriting credits include cuts by Rascal Flatts, Billy Ray Cyrus, Diamond Rio and more. He spent much of late 2012 and early 2013 on a pre-headlining stint on WinterJam Tour Spectacular, the No. 1 tour in the world. He wrapped 2013 with his own headlining in the fall of 2013 and "The Story Tour" in December. During 2014, West toured with the "Hits Deep Tour" as well as his sell-out "Hello My Name Is…" acoustic tour.
- ### -
For more info on Matthew West visit the JFH Artists Database.