AMY GRANT'S THOUGHTS & REFLECTIONS ON BEHIND THE EYES (25TH ANNIVERSARY EXPANDED EDITION)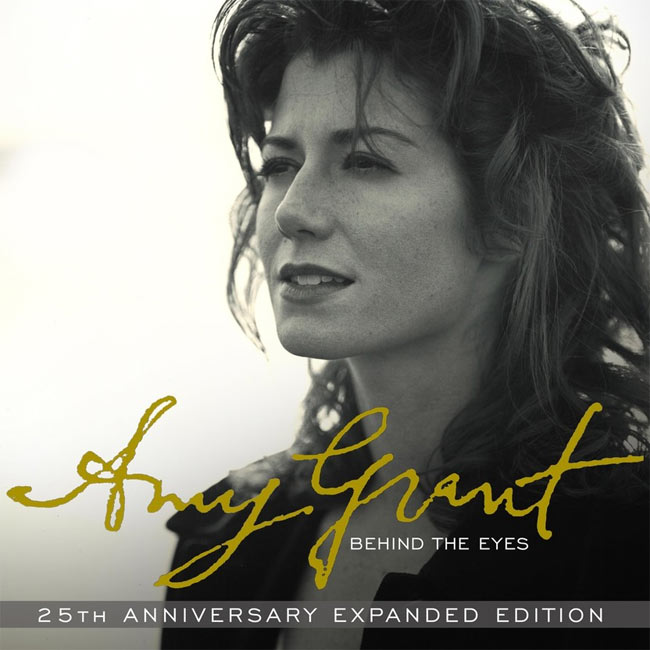 NEWS SOURCE: The Media Collective
September 9, 2022
The year is 1997. In the midst of music changes and life changes, Amy Grant released one of her most critically acclaimed albums, Behind The Eyes. It is considered one of her best collection of songs in her vast catalog. Working from a new musical palate with an organic approach making music vs. the layered pop-sounds of her previous two albums, Heart In Motion and House Of Love, Amy also approached the content of her songs with much more vulnerable and transparent lyrics reflecting her life during that time. Now, 25 years to the exact date, Amy re-visits Behind The Eyes with a 25th Anniversary Expanded Edition containing 30 songs including the original 12 remastered along with 18 unreleased tracks, demos, and re-imagined versions. Also, for the very first time, the original album plus the bonus material will be available on a triple-vinyl collection with narratives and stories behind the making of her iconic release.
This past spring of 2022, while collecting the material for the expanded edition, Amy reflected on the songs and that time in her life. "I think I was in the process of making Behind The Eyes for a long time…two years maybe?", says Amy. "I started writing that record in 1995 on the House Of Love tour with Wayne Kirkpatrick who was our band leader and the album came out in 1997. I felt like my life was derailing for a lot of different reasons in that season, but it was different than the hidden derailing in the 80's. I felt like it was derailing with my eyes wide open. I think that for whatever reason the part of me that thought I had to make everything ok with everybody all the time…I just threw in the towel. I was looking for a safe place to figure out what life looked like now. What was expected of me? What did I expect of myself? I felt the need to confront the structure of my life. So many of the people I trusted and loved were on the payroll. I think everybody knew I was struggling, but none of us knew how to create some healing space. Mostly, I needed to give myself permission to explore how I was internalizing the expectations of other people and how that was shaping my life. I would have to go through years of counseling to understand all those dynamics, but through songwriting I began to ask new questions…address the expectations…and give myself the freedom to fail. That's where the healing began."
When asked about the songwriting process and the vulnerability in the lyrics, Amy says, "As far as writing the songs, you can be feeling something and not even really know it until you sit down to write it in a song. I don't think I was trying to be controversial, but I think I felt very safe in my songwriting relationship with Wayne because I knew him so well. Wayne is such a quiet person and so easy to talk to. I'd felt like the House of Love record, which I was proud of, it felt like we were trying to do Heart In Motion 'second verse'. I thought to myself if I get the chance to make music it should be real. I'd like to look at it and recognize myself. So, every week Wayne and I would go to the cabin and write. Sometimes we'd get out there and just walk around and talk for hours and then out of those conversations would come a song."
Looking back 25 years later at the album, Amy reflects, "the writing of Behind The Eyes was a safe place to say what does life really look like? At some point, even though we were all a team, managers, record company, there comes a point in your life that you realize that whatever it is you're investing in the most is because no one can tell you what's really important. I saw that so many of my emotional needs were met through music and exterior working relationships. I honestly didn't know where it was all going to go. I was in the process of finding my way from the girl I had been to the woman I would become. In these songs I can still hear the pain, the struggle, the joy and the wonder of those years…of the road I took to get here."
Listening back to all 30 songs and especially the unreleased tracks from the original sessions, Amy says, "Snapshots of life…that's what these songs are. Rediscovering so many unreleased tracks was like finding an old roll of undeveloped film 25 years after taking the pictures!"
Amy's Thoughts On Specific Songs From Behind The Eyes (25th Anniversary Expanded Edition):
Turn This World Around
I was in LA and wound up sitting on a park bench in Santa Monica, overlooking the beach. A homeless man came up to me and asked me if I'd look after his bags while he went and looked for a bathroom. I said I would, and when he came back and sat down, we wound up talking for the entire afternoon. It was a Sunday and I'd gone to Los Angeles to work, but I wasn't supposed to start working until the next day. I think because we didn't know each other, when I asked him a question about his life, he told me everything, and it wasn't any kind of posturing, or trying to put your best foot forward. He asked me questions about my life, not as many as I asked him, but he asked me some, and I told him what my experience had been, what had really been good, and what I thought was going to be good, and turned out to be awful, what I thought was going to be awful and turned out to be good, etc.
I was really impacted by that conversation. For one thing, I think I was always kind of mystified, like how does somebody end up on the street? He was a very real person, and when I got up and left the bench, he said, 'Don't forget me,' and I said, 'I won't.' When I got back into my hotel room, I got a piece of paper and wrote down 'the shelter of each other' because I truly enjoyed his companionship that afternoon. Then, when it came to writing that song Turn This World Around', it wasn't supposed to be a kind of naive, 'Hey, let's get in there and save the planet', it was more the idea that as we respect ourselves and we're not afraid to embrace what's there, we are changed, one relationship at a time, and that's basically the song in a nutshell."
I Wanna Love You
I remember recording this at Capitol Records in LA. I met Joni Mitchell in the parking lot. The legendary Jim Keltner was on drums, Larry Kline on bass and these guys were playing on a song I'd written in my kitchen…it felt other worldly. Truly a banner day.
What Kind Of Love
I wrote this song with Chris Eaton. As a 61 year old, I see the hard work that I have done with multiple therapists to live a fully integrated life. No secrets. No silos. This song reminds me of part of that journey. I think most of us live in some form of dysfunction and this song was my way of trying to change that for me.
Crowded In Here
This is a song for all the introverts who love people.
Watching The Waves
I love this little song. I wrote it in Spain after a sleepless night.
Nobody Home
Abandoned buildings, old barns, small towns, yard sales and roadside antique shops have always fascinated me. The way it used to be is captured so beautifully in this song.
Come Be With Me:
My favorite memory is rehearsing with Keb' Mo' and the band in a hotel room. I was just getting to know Kevin and was a huge fan of his music. Everyone was a buzz about his newest record. We were preparing for the performance on The Tonight Show and it was so great being together and what a great way to get to know Kevin.
Come Into My World
I wrote this song on the road in a hotel room. It seems like many songs have been written on the road and this song I was just trying to find solid ground. When you walk by someone and say 'how you doing?' sometimes it's just a phrase you just throw out there but sometimes you have to be brave enough to dive deep…you never know what someone is going through.
Like I Love You
This is a love song I wrote for and sing to myself after looking at younger versions of me feeling I had abandoned myself. I was willing to come and stand beside that younger version with a little more wisdom and strength. Always be true to yourself.
Cry A River
Wayne showed up to a writing session with the first line of this chorus and asked me if I had any interest in this idea. I told him it felt like the story of my life.
The Feeling I Had
Years after I wrote this lyric, Brené Brown reminded me of Maya Angelou's belief that 'when you realize you belong to yourself, you belong everywhere.' It's one of my favorite lyrics I've ever written.
Missing You
I love how a simple song can capture a poignant feeling. It may not be a feeling you wish you were having. Writing it doesn't make the feeling go away but it provides companionship in the midst of it.
I Feel Fine
My favorite memory of this song was the recording the accordion part by John Magnie from the band The Subdudes. It was so much fun and I absolutely love the Subdudes
Every Road
Every road that leads me, leads me back to you…the question is who is the 'you'? Sometimes it's God, sometimes it's a person, sometimes it's myself.
Leave It All Behind
Have I mentioned we as people are always trying to avoid pain? This song about escape is a good invitation to take a friend along for the ride.
Somewhere Down The Road
I had the idea for Somewhere Down The Road quite early actually around Easter of 1995 and if it was written for one specific experience, it has long become a theme song for many in their journey. I had the chorus first, but that song was written from the perspective of my life at the time. I remember thinking I don't believe this all has to be such a mystery. I don't know why I can't find solid ground. That's the beauty and hope of songwriting. What may be written as a personal experience for the writer can become a lifeboat and applicable for other people, like a pebble thrown in the water, the ripple effect keeps on going. This song has created a circle of comfort for me in that one day this is all going to make some sense…even if it doesn't right now. I guess I was just trying to find an honest path through all that was going on in my life.
###
For more info on Amy Grant, visit the JFH Artists Database.