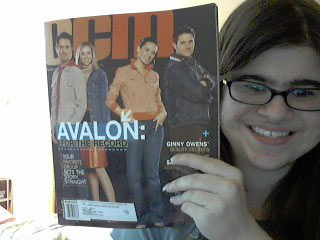 Anne with her Avalon CCM Magazine

Favorite Band/Artist: Avalon
Featured Fan: Anne Curtis
Location: Milford, MA
When/Where Was The Above Photo Taken: My room
What About This Artist's Music Speaks To You: Everytime I hear Avalon's music, it gets me focused on God. Their songs are really powerful, I like that about them!
Favorite Album by This Artist: Oxygen
Favorite Song by This Artist: "I Bring It To You"
Favorite Live Show Experience: Holden, MA
Number of Times Seen This Artist Live: 3
Favorite Piece Of Merch/Item You Own From This Artist: Walk On cassette tape!
Website: N/A

Submit your photo and reasons why YOU'RE a fan for a chance to be featured here!

Comments
1. Rewi said...
Hiya there Anne! So glad to 'meet' another Avalon fan! I absolutely LOVE Avalon too! Especially their pop stuff. "Oxygen" is my favourite album from them too! SO choc-a-block full of wonderful songs on that CD. Amazing that it's over 10 years old. I learned about Avalon late in their history when their first compilation "Testify to Love - the Very Best of..." came out. Ever since then I think they're the best! I've just ordered an old copy of their "The Glory/Make It Last Forever" limited edition CD single. Did you manage to get a copy of "Oxygen" CD with the bonus track 'Beyond the Clouds'?