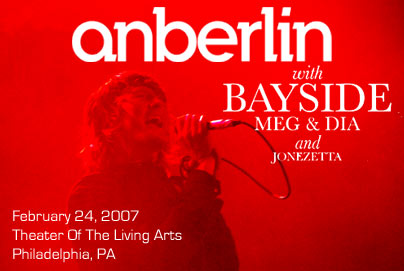 Anberlin, Jonezetta
2/24/07, at Theater Of The Living Arts, Philadelphia, PA
It's a stark contrast to go from a Disciple tour at a middle school on a Monday, the latest Newsboys tour at an arena on a Thursday, and top it off with an Anberlin show at a seedy bar/club in Philadelphia on a Saturday. The week begins and ends on two completely different ends of the spectrum. The Disciple show was booked by the promoters with the intentions of being an outreach, while Anberlin was simply there to entertain to a sell-out, partially intoxicated crowd. As I watched the evening progress inside the dimly lit aged theater, I couldn't help but ponder the different venues, artists, and audiences of the shows I'd attended in the week.
One of Tooth & Nail Record's newest acts, the party band Jonezetta, opened for the tour, providing their brand of catchy pop/rock music fashioned for a good time at a live show. The guys opened with "Welcome Home," and moved swiftly from "The Love That Carries Me" to "Popularity" and "Man In a 3k Suit." While Jonezetta's music is pretty benign, it unfortunately has very little lyrical substance to grab hold to. And while their closing songs "Backstabber" and "Get Ready (Hot Machete)" are infectious as anything, they're rather just empty fun. I was slightly disappointed in their set, enjoying it nonetheless. And I'd find that I would grow to appreciate every note this band emitted as the following two acts would play.
Doghouse Records duo Meg & Dia, accompanied by their band, was second in line, performing selections from their debut Something Real. Sadly, their show was terribly uninteresting at best, leading their set with "Indiana," a lyrically vacuous song to open a show with that monotonously found Dia Frampton repeating the lyrics "I can do whatever I want, like you." The rest of their set wasn't much different (or better), meandering seemingly aimlessly from one song to the next, feeling more like a dismissible entry to a local talent competition than an act on a sell-out nationwide tour. The group performed seven total songs, including "Roses," "Cardigan Weather," a cover of Jet's irritating hit "Are You Gonna Be My Girl," and ending with their single "Monster" (which showcases Dia apparently doing heir best Ronnie Martin impression, that is if Joy Electric were a boring indie rock band), but things didn't improve much from here.
NYC's Bayside was next, bringing their dull attempt at indie rock / pop/punk to the stage. Midway through their mercilessly long ten-song set, I would have taken Meg & Dia back any day. And I'm not sure what was more surprising about Bayside- the fact they played like they were just starting out despite having been around for seven years, or the fact that a good amount of the audience knew their songs and were singing along. The rock quartet played on, performing cuts from several of their albums, including "Duality," "The Walking Wounded," and "Don't Call Me Peanut." Bayside was new to me entirely, and shortly after I had begun pondering the triviality of their lyrics, vocalist/guitarist Anthony Raneri urged the crowd to take their songs seriously and hoped they would mean as much to those listening as it did to them. It couldn't get much better when, just as they announced "Masterpiece," Raneri yelled for the crowd to "Move your f-----g feet!" It was quite the motivator indeed (Thank God for cellphone games).
A brief, but welcomed intermission preceded the main reason we'd trekked to Philadelphia and waited til about 10:30 at night for the main event to begin. Orlando's own pop-flavored indie rock wonder Anberlin was why the majority of audience had showed up, evident in their reaction to the quintet when they finally came out on stage, launching their set with "A Whisper & A Clamor." Frontman Stephen Christian has an energetic and engaging stage presence, something the dual middle acts ultimately lacked. The musicianship of the Florida boys is also superior to the opening artists, which only makes them stand out from the rest even more. Their delightfully frenetic set continued with "Never Take Friendship Personal," the melancholy "Hello Alone," and the classic "Readyfuels." The super catchy "Adelaide" followed, along with "A Day Late," "Paperthin Hymn," and slowing it down for "The Unwinding Cable Car." The instrumental piece "A Heavy Hearted Work of Staggering Genius" inevitably preceded the moody "dance, dance, Christa Päffgen," before they moved into one of the many set highlights, "Dismantle. Repair." from their latest record Cities. Finally, the group closed with the new record's first single, "Godspeed," and left the stage, with Christian tossing out a thanks and a "God bless" to the audience. When the crowd chanted for one more song, the band returned for a surprising conclusion, choosing to encore with the epic but somber "(*Fin)."
An Anberlin show is a guaranteed great set of quality, infectious indie rock. However, the spiritual content will be nonexistent aside from a few soul-searching songs. While Jonezetta and Anberlin put on great shows with solid set lists, I can't say this particular tour is worth the visit considering the weak middle of the show. Wait for the band to come around with a better tour lineup and see them then. And if you're looking for the kind of show to take your unsaved friend to, this wouldn't be it...
--
John DiBiase
, 2/28/07
Anberlin Tour Photo Gallery
click on an image for a bigger size
Jonezetta
Anberlin
*all photos by
John DiBiase
and are the property of
Jesusfreakhideout.com