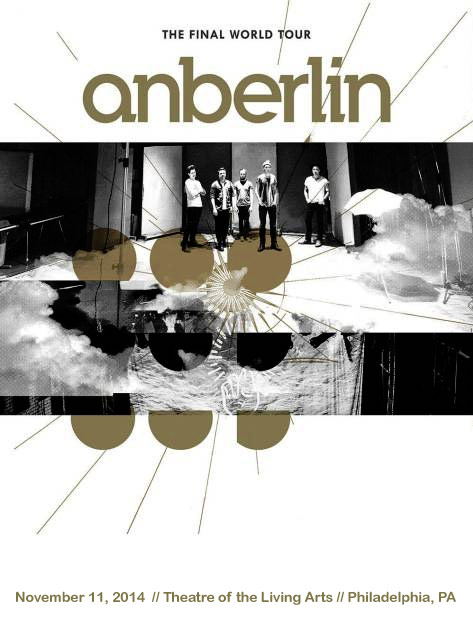 Anberlin: The Final Tour
11/11/14, at TLA in Philadelphia, PA
It's never easy to say goodbye. When it comes to being passionate about music, this is something you'll find you must do far too often to artists you love. Music tends to reach into the depths of our souls and touch us in ways few things can. Orlando rock band Anberlin is one of those bands that managed to entertain and move listeners -- often at the same time. Whether they were singing about the language barrier between the sexes ("Foreign Language") or mankind feeling like lost causes ("Fin"), or even the events from the book of Revelation ("Miserabile Visu (Ex Malo Bonum)"), Anberlin has always reached listeners on many different levels from many different walks of life.
At the beginning of 2014, Anberlin dropped the proverbial bomb that this year would be their very last as a band. They were taking their twelfth year to go out on their own terms and honor their fans with one last studio album and one final tour. The Final Tour is one they haven't skimped on either, trotting the globe playing extended setlists, waving a fond farewell to those who've supported them since the days of Blueprints for the Black Market--and before or beyond.
Anberlin's final bow to Philadelphia, Pennsylvania on November 15th sold out so fast that a second date was added, earlier in the week on the 11th. We took this second chance to attend the show to take part in their beloved send-off, as their music has come to mean so much in our lives as well. The opener for the night was indie rock act Gasoline Heart, which was a mixed bag of raw rock and candor. Frontman Louis DeFabrizio, a Brooklyn native, seemed to have no problem dropping the "F" word left and right or infusing the band's songs with occasional profanity. What was most odd, however, was that their lyrics seemed to mention Jesus by name more than some artists in the Christian music market, and DeFabrizio even made a sarcastic reference to meeting the Spirit of the Lord in his dressing room that told him that He liked Louis' band -- to which the singer joked that the Spirit thought they were another band and told Louis that Gasoline Heart actually sucks. References like these made it a bit ambiguous as to where DeFabrizio stood from a spiritual standpoint. It was strange and not the kind of evening opener to set the tone for a send-off of a band like Anberlin. DeFabrizio actually seemed to realize this too, however, and made frequent reference to Anberlin's greatness and how much his band paled in comparison (he mentioned so often to the point of it seeming far too insecure, and making it too easy to just agree with him). Overall, they musically weren't bad (although DeFabrizio's voice didn't seem strong enough to bear the intensity he was attempting to sing with), but it just seemed like Gasoline Heart was sorely misplaced being, not only on this tour, but the only other band on this stretch of dates (Although I did notice MxPx's Mike Herrera was appearing on some tour dates instead, including the November 15th Philadelphia date).


Short Clip of Anberlin performing "Dismantle. Repair."
November 11, 2014
About a half-hour set change followed before the lights went out fully once more for the main event. The audience was alive with immense cheering as Anberlin took the stage to the distorted sounds of the childrens choir from the song "Fin," and then opened with the title track from their sophomore album, Never Take Friendship Personal. It was an awesome way to open their evening, kicking off with something truly classic. The band barrelled through one song after another, opening with a heavy dose of their album-openers near the start of the set list, with "We Owe This To Ourselves," from Dark Is The Way, Light Is A Place, next, and then "Paperthin Hymn," the second track from Friendship, followed by the opener from Vital, "Self-Starter," before frontman Stephen Christian paused and stated that the next song goes out to those who've been following them since the beginning with Blueprints for the Black Market. With that, they performed "Ready Fuels" (that album's lead-off song), and then played the lone new song--and its first track--from their final album, Lowborn, "We Are Destroyer." The fast rocker "Someone Anyone" from Vital followed, with that song's predecessor on that album, "Other Side," right behind. This song served as a nice prelude to slowing things down a bit. "Symphony of Blase" from Friendship was the night's first true ballad, then Dark Is The Way's catchy "Take Me (As You Found Me)" was next, followed by Cities' fan favorite, "The Unwinding Cable Car," for which Christian turned the mike stand around to face the audience and encouraged them to sing along (and sing they did!). As they moved into "Impossible," Stephen raised the mike stand into the air over the crowd and encouraged them to sing the opening "Whoa-oh's" for a powerful chorus of voices that reintroduced the fast rock anthems the band offered so wonderfully. New Surrender's "Breaking" was next, and then Friendship's "A Day Late" was a real nice surprise. But the songs of love and loss only continued as they then played "Dismantle. Repair." with much enthusiasm radiating from the fans. Throughout the night, the band didn't stop and say a whole lot and just kept the songs coming one after another. The TLA's security seemed pretty lax this evening, to my surprise, as they didn't seem to mind the audience crowd-surfing or briefly standing on each other's shoulders to express their love right back to the band. It was like one huge farewell party and one of the most passionate audiences I've been a part of at a regular rock show in quite some time (with the exception of maybe any given Switchfoot show). The slower "Alexithymia," also from Cities, then preceded New Surrender's opener, "The Resistance." Anberlin then circled back to Cities for the rocking "Godspeed," already bringing the set list to 18 songs without slowing. You could tell, however, that there was a grand finale building, and while I assumed "Godspeed" was that finale, they busted out "Feel Good Drag"--from Never Take Friendship Personal and New Surrender--which is arguably the band's biggest song to date (which I never quite understood, considering its lyrical content and how it's just not as good as so many of their other songs). As the crowd roared with the song's conclusion, they waved goodbye and walked off the stage, but the crowd kept up the noise, and Anberlin returned for one last, swan song, the appropriate "(*Fin)" from Cities. The crowd sang along to every word, and as the night drew to a close, Stephen Christian raised his hand into the air, crossing his first two fingers--like on the cover art for Lowborn--and shouted the line "We'll live forever!" repeatedly, as from Lowborn's closing song, "Harbinger." It was a perfect finish and a spine-tingling one. Bittersweet to the last.
It's never easy to say goodbye. Anberlin touched fans on a level few seem to, and while frontman Stephen Christian looks to be continuing music beyond Anberlin with his side project Anchor & Braille and an announced forthcoming solo worship album, the Anberlin brand and song catalog will be remembered fondly by the band's fans. If you can see one of their final shows, please don't miss it. This alt rock staple will be sorely missed.
--
John DiBiase
, 11/13/14


Short Clip of Anberlin performing "Symphony of Blase"
November 11, 2014


Short Clip of Anberlin performing "The Unwinding Cable Car"
November 11, 2014
Anberlin Set List

01. Never Take Friendship Personal
02. We Owe This To Ourselves
03. Paperthin Hymn
04. Self-Starter
05. Ready Fuels
06. We Are Destroyer
07. Someone Anyone
08. Other Side
09. Symphony of Blase
10. Take Me (As You Found Me)
11. The Unwinding Cable Car
12. Impossible
13. Breaking
14. A Day Late
15. Dismantle. Repair.
16. Alexithymia
17. The Resistance
18. Godspeed
19. Feel Good Drag
Encore
20. (*Fin)
Anberlin: The Final Tour 2014 Photo Gallery
click on an image for a bigger size
**vertical images cropped for thumbnails**
Anberlin
*all photos by John DiBiase and are the property of Jesusfreakhideout.com