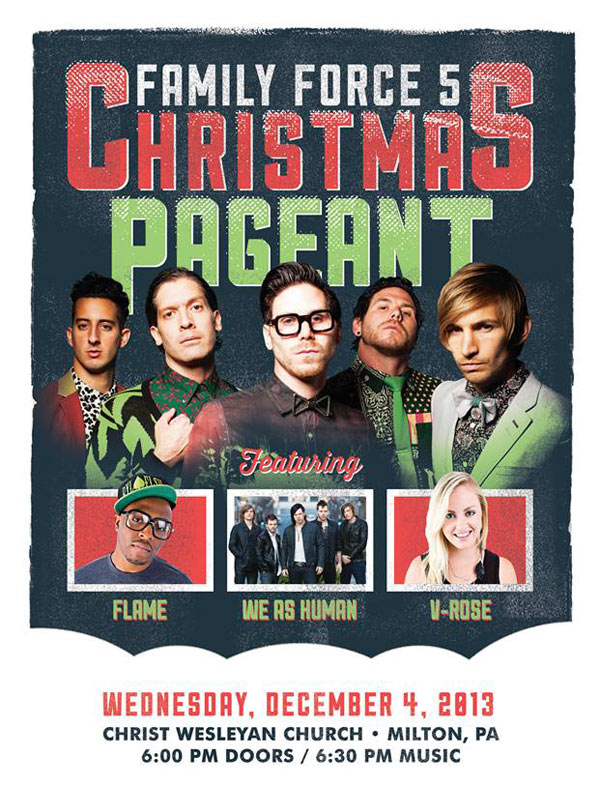 Family Force 5's Christmas Pageant 2013
Family Force 5, Flame, We As Human, V.Rose
12/4/13, at Christ Wesleyan Church in Milton, PA
For several years now, Family Force 5 has been bringing their "Christmas Pageant" show on the road, mixing their signature stage show with festive tunes centered around the holiday season. However, this year things are quite different. Just over two months ago, Family Force 5 announced that frontman and songwriter Solomon Olds would be stepping down to spend more time with his family and pursue a career in production in a more behind-the-scenes role in music. To replace him, the band's original drummer and brother to Solomon, Jacob "Crouton" Olds, stepped up to the microphone. At Soli's final show at Uprise Festival in Shippensburg, PA this September, Jacob took the mic for a couple songs as a sort of official/unofficial passing of the torch where audiences could experience first-hand what the band's new direction will sound and look like (unbeknownst to the audience that it was Soli's final show). The newest "Family" member, Teddy "Hollywood" Boldt made his debut at the same time too, and Family Force 5's Christmas Pageant 2013 marks the new Family Force 5's first official tour on the road together.
This year's Christmas Pageant lineup is certainly a unique one. Last year's was quite the dance party with every one of the acts bearing a distinct electonic pop/dance sound. Rapture Ruckus, Phenomenon, Capital Kings, and Everyday Sunday all had a solid dance pop vibe and it made for one strong, memorable show. However, this year is something more of a grab bag of musical flavorings. Young pop vocalist V.Rose opened the night at Christ Wesleyan Church in Milton, PA (also the second night of the tour) with a sound that may have been a bit out of place for this kind of show. But "diversity" seemed to be the theme when it came to musical styles because the polar opposite of V.Rose's sugary pop sound was brought to the stage when the hard rock outfit We As Human stepped forward. Discovered by Skillet's John Cooper (and exemplifying a sound not dissimilar to Skillet), We As Human offers a rough, raw rock show that felt more at home on a tour with the likes of RED or Love and Death than this one. Still, with the following act, Flame, also in the mix--a straight-up hip hop/rap artist--there proved to really be a little something for everyone on this year's tour.
Following a message from tour sponsor CURE, We As Human hit the stage as if it were any other heavy rock show. It's a shock to the system to hear a band like We As Human after the saccharine sounds of V.Rose, but the guys did their best to rock as hard as they could. Their set consisted entirely of songs from their full-length self-titled debut, opening with "Sever." "Dead Man" followed, complete with some earnest guitar shredding, with vocalist Justin Cordle pausing to talk to the audience a bit before performing "Zombie." He added that John Cooper of Skillet normally performs on the song so the audience had to sing along to compensate for his absence. He then dedicated the following song, "Take The Bullets Away," to anyone in the audience struggling or hurting. Cordle then also dedicated "I Stand" to the U.S. troops before the band closed with "Strike Back." It was a good rock set for fans of bands like RED and Skillet, but they, like V.Rose, just don't seem to gel quite as naturally with a band like Family Force 5.
Christ Wesleyan Church's own youth pastor then delivered a message about our sinful, "messy" nature, and God saving of us from it, before Flame and his sidekick, DJ Cho'zyn Boy, took the stage. For V.Rose's set, a sparkling, garland-clad frame stood behind her with her name spelled out in garland and lights. For Flame, the frame was brought back and his name was displayed instead. After a party-hopping intro, Flame performed his song "Move" before stopping in between songs to take a head count from the audience of who likes hip hop and then give a short version of his inspiring testimony. He then invited V.Rose to join him on singing "Read Em & Weep" from his latest album, Royal Flush. "Trap Money" from The 6th followed, then "Joyful Noise" from Our World Redeemed, before closing with just one more song.
Family Force 5's bassist Josh Olds then emerged to share from his own experiences about CURE before an intermission was underway. And in about 15-20 minutes or so, the night's main event began. The smaller stage setup didn't allow for Family Force 5 to get all of their gear on stage (including a second drum set), but limited stage space has never held these guys back. "Carol of the Bells" kicked the night off, with each of the boys donning a top hat to add a little Charles Dickens flavor to the night's mood. They then moved into "Kountry Gentlemen," which especially felt weird not having Solomon "Soul Glow Activatur" Olds singing lead. The "dirty dirty south" tune benefitted from Solomon's gritty, raspy vocals but the band's new form did its very best to compensate for his absence. As such, Nathan "Nadaddy" Currin substituted his own raspy rap vocals for Soli's and did an excellent job doing so. Still, having seen this song performed with Soli in the lead for 8 years now, it seemed almost wrong for him not to be there. Jacob "Crouton" Olds asked everyone to get their claws up for "Zombie" and had the audience dancing around with them for the next song. Xanadu, the band's stage manager, shared the stage with them briefly disguised in a gigantic abominable snowman suit, which of course garnered some laughs from the audience. Jacob then introduced the band, taking a moment to catch his breath, before performing FF5's Christmas original, "The Baby." Already, the show was taking shape with each succeeding song, with this new identity of Family Force 5 coming into its own more as the night went on. But this wasn't more apparent until they performed brand new songs that Jacob owned from a vocal standpoint. "Glow In The Dark" was the first, bearing a classic, dirty synth heavy dance vibe that just screamed "Family Force 5." The fan favorite "Earthquake" followed, and then Jacob took a breath again to talk about Jesus' love and how the band does what they do for Him. They then asked if the audience wanted presents and proceeded to toss wrapped boxes into the crowd to the pre-recorded tune of "Christmas Time is Here" (which Jacob seemed to spontaneously begin singing along to). They then performed another new one, the first radio single from their upcoming studio album, "Show The World My Love." It was a little more of a radio-friendly FF5 song, but it still had their characteristic sound. Then the bouncy, frenetic "Dance Like Nobody's Watching," the final new song of the night, followed before breaking out more fan favorites, leading off with "Supersonic." For "Wobble," the band picked a couple fans out of the audience and had two of them compete for which one of them knew how to do the "Wobble" dance. A young fan won and Jacob encouraged him to 'do the wobble' throughout the entirety of the song--and Xanadu's snowman made another appearance. One of the band's most recognizable songs, "Love Addict," was next, which also felt weird without Solomon and his "Hulk" gloves, but by this point in the show, it was feeling more natural with the lineup change. Just like at previous shows, they mixed their version of "Grandma Got Run Over" into the middle of "Love Addict," which was a nice treat for any longtime fans. At one point, Xanadu wheeled over Jacob's illuminated drum kit to the side of the stage and he briefly dueled with new drummer Teddy before hopping off the kit and jumping back on stage. Finally, they ended their set with "Cray Button," bringing a large red prop button on stage. A bunch of festively-dressed fans joined the guys to jump around and dance. After everyone left the stage, the crowd chanted for more and Family Force 5 returned for an encore. They reopened with an edgier, more rock-fueled version of the worshipful "Superhero," and then Jacob taught the "Chainsaw" dance to the audience before closing with that rowdy tune. More fans joined the band on stage to peform it with them.


Family Force 5 Performing "Dance Like Nobody's Watching"
December 4, 2013

Admittedly, I'm a music fan who struggles with big changes. If there's a band I especially enjoy, it's difficult for me to easily embrace something as significant as a lead singer change. However, in the situation of Family Force 5, it may take some time to adjust to a new kind of show, but the heart and feel of the band is still there; it doesn't feel like an entirely new band. This is still Family Force 5. And with the more they play together and continue writing new songs together, I think this new version of the band could very well be a real good kind of different.
--
John DiBiase
, 12/10/13
Family Force 5 Set List

01. Carol of the Bells
02. Kountry Gentlemen
03. Zombie
04. The Baby
05. Glow In The Dark
06. Earthquake
07. Christmas Time Is Here / Show the World My Love
08. Dance Like Nobody's Watching
09. Supersonic
10. Wobble
11. Love Addict / Grandma Got Run Over
12. Cray Button
Encore
13. Superhero
14. Chainsaw
Family Force 5's Christmas Pageant
click on an image for a bigger size
**vertical images cropped for thumbnails**
We As Human
Flame
Family Force 5
*all photos by John DiBiase and are the property of Jesusfreakhideout.com