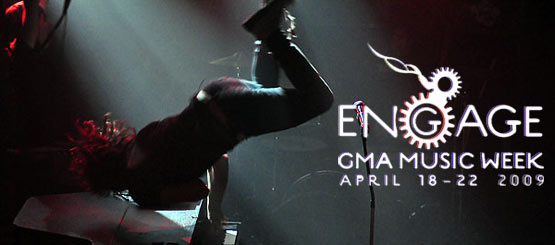 It was pretty disheartening to watch the hard times for the music industry, as well as the overall poor state of the economy, affect the biggest week in Gospel Music. GMA Music Week is the quintessential annual event for Christian music -- a week that begins with showcases, interviews, and conferences, and comes to an end with the GMA Dove Awards. This year, with everything being considerably "scaled back" from previous years, independent artists and companies took the opportunity to grab some spotlight, while record labels sought the most cost effective ways for uniting the music industry in Nashville, TN.

SUNDAY Our week began on Sunday when we attended the Tooth & Nail Records media luncheon. The event took place at One Eleven in downtown Nashville and featured acoustic performances from several BEC Recordings artists. Hip-hop artist KJ-52 opened the afternoon festivities with a brief talk about his upcoming album, Five-Two Television, and then previewed new tracks on his iPod for the room to hear (and they sure sounded pretty cool, I might add. He's changing things up a bit). From there, Seventh Day Slumber talked about the inspiration for their new worship album, Take Everything and performed an acoustic version of the title cut. Cameron Jaymes of Jaymes Reunion stepped up next to perform an acoustic version of "Fine" alone, sharing a bit about the song as well. Then just the frontman, Ben Crist, from The Glorious Unseen performed a new song from the band's upcoming sophomore album due out this Fall, called "All Around." It was surprising to see only one member of the band perform live, while Seventh Day Slumber managed to utilize the entire band for their performance. Phillip LaRue was next with "Chasing The Daylight," from his recent debut, Let The Road Pave Itself, which he also performed alone with his acoustic. Finally, Trevor McNevan from FM Static got up to talk about his side project's new, third album, Dear Diary, and admitted the band had never performed acoustically before. With that, they offered a strong acoustic rendition of the song "Take Me As I Am" to end the live music portion of the day. From there, the room split up for a series of individual interviews (which is where our interview with FM Static took place).
Poor economy or not, you're guaranteed to face the tough decision making of picking a showcase to attend each night from a list of several choices. Sunday night was typically the GMA Week kick-off night featuring an evening of worship, but we opted for a massive indie showcase down at 12th & Porter that featured our friends Wavorly in a special acoustic performance, Manic Drive, This Fire's Embrace, Children 18:3, Alakrity, White Collar Sideshow, and nineteen other artists. Utilizing two stages, the venue was a flurry of action all night, with live music playing almost nonstop. Wavorly debuted cuts from their upcoming release, albeit entirely acoustically, to open our personal night of music. We then waited around for Children 18:3, who always deliver an incredible live show. The sibling punk trio opened with "All My Balloons," and continued full-force with "LCM," "Stay Away," and "Time And Wasted Bullets." As expected, their set was a highlight of the night. We intermittently caught moments of other shows while waiting around for White Collar, with the highlight of that portion being Alakrity's cover of Petra's "Beyond Belief," for which they invited the legendary band's famous frontman John Schlitt on stage to sing with them. We stuck around through the metal onslaught of This Fire's Embrace (who hilariously covered the 80's staple "Love Is A Battlefield"), for the intense anti-addiction theatrics of White Collar Sideshow. We'd seen their show on The Fold's March N2 Madness Tour only weeks before, and the stage setup didn't quite allow for the band's full production. The main 12th & Porter stage offers plenty of room for the trio to do their thing as intended, so it was great to see these guys get to put on their horror-inspired sideshow right.

MONDAY Monday is usually the first true day for GMA Music Week. We started the day with a Word Records luncheon, which featured plugged-in one-song artist performances, emceed by BarlowGirl and assorted radio and industry personalities. One look at the attendance of the Renaissance Hotel Ballroom would suggest that GMA Music Week was anything but "scaled back," however, this event combined all facets of the industry into one -- radio, retail, media, promoters -- instead of them usually being split. As we were treated to a quality meal (with a killer chocolate cake dessert!), Group 1 Crew lead off the live music with "Movin'" from their latest release, Ordinary Dreamers. The diverse array of music continued with Remedy Drive's piano pop single "All Along," before two brand new acts were introduced. Satellites & Sirens were the first band, performing their single "Take Me Back," which sounds perfectly fashioned for radio... which is exactly what seemed underwhelming about them, and the following act, Sidewalk Prophets and their song "You Can Have Me." Neither act were bad, per se, but neither had anything about their stage presence or music that stood out from all other contemporary pop acts. The worshipful heart of Meredith Andrews helped get things back on track, with her song "New Song We Sing." Her charming performance was followed by Point Of Grace singing "Thank God I'm A Country Girl" (as sort of a joke), before getting more serious with a special video featuring each member's father talking about their daughters. With that, they played the heartwarming ode to their daddies, "Dance Me," and gave up the stage to country act Diamond Rio for "God Is There." Celebrated singer/songwriter and acclaimed storyteller Mark Schultz gave a tear jerking performance of a lovely piano ballad, but the afternoon ended up an upbeat note when newcomer Francesca Battistelli brought the house down with her incredible vocals on "Free To Be Me."
After some more media functions (including interviews), we returned to 12th & Porter that evening for Jesusfreakhideout.com's very own sponsored showcase event, "Hideout at 12th & Porter," which featured live performances by Danyew, The Listening, Abandon, Remedy Drive, and Seabird. For a full write-up on that event, including an extensive gallery of photos and a half-hour video montage of live footage from the show, click here.

TUESDAY I'm a night owl, so it's easy for me to stay up late, but that ultimately makes it pretty difficult to get up early. With that said, it was pretty tough getting up earlier than I'm used to in order to attend the Tuesday morning Provident Label Group breakfast at the Hard Rock Cafe in downtown Nashville. Still, it proved well worth our efforts as we were treated to live performances from several of the new Provident acts, including Phil Stacey, John Waller, and Matt Maher. It was structured somewhere between the Tooth & Nail and Word functions, but managed to utilize certain acts to serve as worship leaders (Maher), with even Waller giving a benediction over those in attendance before the event's end. The highlight was easily Jars Of Clay's acoustic performance of "Two Hands," and with this day also marking the release of the band's new album The Long Fall Back To Earth, the guys were honored with the presentation of a cake, which was shared amongst everyone later in the day. Another highlight was the introduction of new duo Tal & Acacia who performed their song "Clearview" acoustically, and showcased their vocal strengths and harmonic abilities. Following the breakfast, everyone proceeded over to the First Baptist Church close by for an afternoon of scheduled artist interviews.
On Tuesday afternoon, after our last interview, we attended part of the Centricity Music dinner in the Centricity suite at the Renaissance Hotel. While the media and artists shared an assortment of different kinds of pizza, brief acoustic performances were held in a corner of the room. Jason Gray started the festivities with his down-to-earth folk talents. Worship leader Matt Papa offered a sample of what people can expect from his upcoming release, and the all-brother country act High Valley felt just a bit out of place amongst their labelmates. Before we had to be on the move again, we caught a charming performance from Lanae' Hale with the title track from her upcoming full-length, Back & Forth. It was a nice little function to get acquainted with the label's family, but also probably the most upclose and personal of all of the label events.
That evening, we made a special trip to Rocketown to catch The Listening live for a second night in a row. The time limitations at the JFH showcase the night before hindered the band's ability to perform with full production, so this was our first opportunity to see the band live with this setup, and it proved well worth it. They opened once again with "Sweating Blood and a Game of Spin The Bottle in a Jerusalem Garden (The End)" and continued with "14 Nights and 23 Days (When)," but this time, a large TV screen positioned between the foursome displayed clips from various films and TV shows to go along with their songs. In a way, it was strange for the main focus to be visual clips instead of the band's performance, but it brought a different element to their live show. The highlight of this set, for me, was when the band closed with one of my all-time favorites, "I Love The Rain," a song that was first debuted while The Rock N Roll Worship Circus was transitioning into The Listening a few years ago. Several other acts performed that night at Rocketown, but we ended up mingling instead of watching any of the other performances.

WEDNESDAY & THURSDAY We were up relatively early on Wednesday for another day of interviews, but all major festivities were over, aside from a few additional indie showcases (which we opted out of). The next day marked the return of the GMA Dove Awards to Thursday, which extended Gospel Music Week another day.
For our moment-by-moment live blogging from the Dove Awards press room, click here.
Despite being drastically reduced in size and glitz for 2009, Gospel Music Week was still a great way for the industry to come together and for new music and talent to be shared. We'll certainly be looking forward to more gatherings like this one in future years.
--
John DiBiase
, 5/12/09
GMA Music Week 2009 Photo Gallery
click on an image for a bigger size
KJ-52 - Tooth & Nail Luncheon (Sunday)
Seventh Day Slumber - Tooth & Nail Luncheon (Sunday)
Jaymes Reunion - Tooth & Nail Luncheon (Sunday)
The Glorious Unseen - Tooth & Nail Luncheon (Sunday)
Phillip LaRue - Tooth & Nail Luncheon (Sunday)
FM Static - Tooth & Nail Luncheon (Sunday)
Wavorly - 12th & Porter (Sunday)
Alakrity w/ John Schlitt - 12th & Porter (Sunday)
Manic Drive - 12th & Porter (Sunday)
Children 18:3 - 12th & Porter (Sunday)
This Fire's Embrace - 12th & Porter (Sunday)
White Collar Sideshow - 12th & Porter (Sunday)
Group 1 Crew
- Word Records Lunch (Monday)
Remedy Drive - Word Records Lunch (Monday)
Satellites & Sirens - Word Records Lunch (Monday)
Sidewalk Prophets - Word Records Lunch (Monday)
Meredith Andrews - Word Records Lunch (Monday)
Point Of Grace - Word Records Lunch (Monday)
BarlowGirl - Word Records Lunch (Monday)
Diamond Rio - Word Records Lunch (Monday)
Mark Schultz - Word Records Lunch (Monday)
Francesca Battistelli - Word Records Lunch (Monday)
Tal & Acacia - Provident Breakfast @ Hard Rock Cafe (Tuesday)
Phil Stacey - Provident Breakfast @ Hard Rock Cafe (Tuesday)
Jars Of Clay - Provident Breakfast @ Hard Rock Cafe (Tuesday)
Matt Maher
- Provident Breakfast @ Hard Rock Cafe (Tuesday)
John Waller - Provident Breakfast @ Hard Rock Cafe (Tuesday)
The Listening - Rocketown (Tuesday)
*all photos by
John DiBiase
and are the property of
Jesusfreakhideout.com