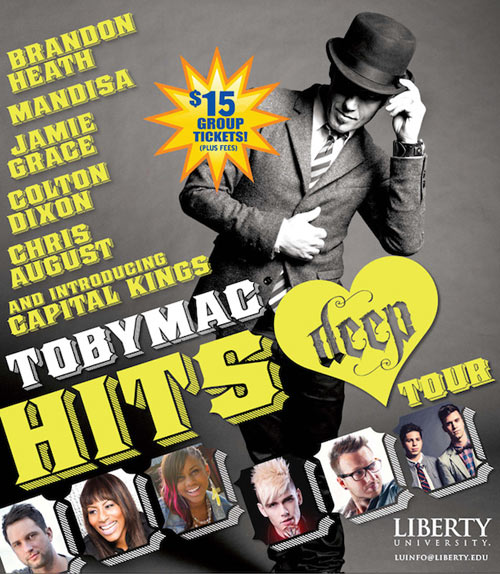 Hits Deep Tour 2013
TobyMac, Brandon Heath, Chris August, Mandisa, Colton Dixon, Jamie Grace, Capital Kings
12/5/13, at Santander Arena (formerly Sovereign Center) in Reading, PA
Last year, TobyMac debuted his Hits Deep Tour, a tour that united some of the top artists on AC Christian radio as they performed songs fans know and love from regular airplay. The tour integrated the artists with each other, offering rapid-fire performances that melded into each other. And Toby's own Diverse City band performed as the back-up band for every single act. It was a radio lover's dream, and it all capped off nicely with a full setlist from TobyMac and his band. For 2013, the Hits Deep Tour returned, starting in the fall (which has concluded by the time you read this) with plans to resume in the spring of 2014. This time around, only two artists on the roster are different and if you caught the show last year, you pretty much know what to expect this second time around.
By the time we parked in a parking deck near the Santander Arena in Reading, PA (which was previously dubbed the Sovereign Center until a recent name change) and made it inside, Capital Kings' set was well underway, having started earlier than the scheduled evening start time. As we took our seats, they performed their hit "Not Alone" before the duo left the stage. The set changes were pretty quick, and this allowed the music to just keep on coming rather quickly all night. A long catwalk extended from the middle of the stage, and each artist made good use of it throughout the evening. Word Records artist Chris August stepped up next, opening with "Starry Night" before performing "Center of It." Between the songs, he paused to get chatty with the audience and asked if anyone had any snacks to share, proceeding to accept a box of popcorn from a fan that offered. He ate some and then asked for something to drink to wash it down with. It was certainly an unusal interaction, but it was just as amusing. After "Center of It," he invited fans to talk to him after the show, especially about their lives and anything on their hearts, and then performed "Unashamed Of You," with a special guest appearance by Byron "Mr. Talkbox" Chambers.
August then introduced Colton Dixon, and Dixon emerged to sing "Never Gone" from his 2013 debut album, A Messenger. Colton then performed "You Are" while at his piano, and then talked some about his experiences on American Idol. He closed with "Love Has Come for Me" before introducing Jamie Grace and sticking around to sing "You Lead" with her. Once Colton left, Jamie shared openly about songwriting and suffering from Tourets Syndrome ten years earlier. She used it as a segue into her latest single, "Beautiful Day," from her forthcoming sophomore album, Ready To Fly. To close, TobyMac ran up on stage to sing his part in her hit single "Hold Me," and then the two candidly bantered a bit before introducing the next act, Brandon Heath.
Brandon Heath had just released a brand new Christmas album, titled Christmas Is Here, but he wasn't here to perform selections from that. Instead, Brandon opened with "Jesus In Disguise" from his latest, nonseasonal studio album, Blue Mountain, with Diverse City's Nirva Ready supporting on vocals. Mr. Talkbox then joined the duo to perform a special cover of TLC's hit "Don't Go Chasing Waterfalls," before using it to lead into "I'm Not Who I Was" from his 2006 debut, Don't Get Comfortable. The upbeat "Give Me Your Eyes" was next, and then Heath expressed his stern opinion on how he feels about not listening to any Christmas music before Thanksgiving. He then invited his friend Mandisa on stage to sing "He Paid It All" with him before exiting.
Mandisa stayed on stage for her set next, opening with "Redeemer," bringing an explosive dance vibe to liven up the night. All of the sets had been relatively laid back in comparison to Mandisa's bouncy stage presence and exuberant sound. "Stronger" was next, with "Overcomer" following closely behind. For the latter, the crowd rose to their feet and really got into it. To close her set and the first part of the night, all of the artists before her came out and joined her for the equally catchy and fun "Good Morning."
An intermission broke up the openers from Toby's set with a video from TobyMac promoting Liberty University, and then reps from the college came out to talk about it and throw shirts into the audience. The rest of the break time gave the crowd a chance to stretch their legs and hit the restrooms before returning for the grand finale.
While a lot of the night resembled last year's tour (save for the absence of Group 1 Crew and Britt Nicole and the addition of Capital Kings and Colton Dixon), Toby changed his set list up a little bit (but not a whole lot), as well as the stage layout. Gone was DJ Maj's towering platform in exchange for a lower stage profile altogether. Instead of opening with "Made To Love" (which he'd just perform later), the former DC Talk member and his Diverse City entourage opened with Eye On It's "Lose Myself" and then moved into the title track from Tonight. Cryogenic cloud bursts accented the song, as well as its follow-up, "Unstoppable," and then Toby stopped to talk to the audience. He joked about having talked to everyone's bosses and schools, giving permission to everyone in the crowd that they won't have to go into work or class until noon, and was then joined by Brandon Heath to perform "Steal My Show." Toby then talked about impacting others and how we have the opportunity to give life when interacting with people, or drain it, and used this to segue into Eye On It's "Speak Life." Toby and his crew kicked up the energy a notch for "Boomin'" and "Eye On It," with the latter featuring a marching band drum troupe from several of the Diverse guys, and then DJ Maj offered up his solo set to the tune of Toby's "Mac Daddy" interlude from Eye On It as a distraction to allow Toby, GabeReal and Tim Rosenau to make their way to the back of the arena for an acoustic set. When a series of large, glowing lightbulbs that descended from the ceiling illuminated above them, Toby's trio opened with an acoustic take on "One World" before talking about writing the next song, "Hold On," for his wife Amanda. He then talked about DC Talk and what the Reading, PA area meant to him and the history of his former band, and then performed an acoustic version of his seasonally appropriate original, "Christmas This Year." For this song, Jamie Grace joined the trio to sing Leigh Nash's part from the recorded version. They then broke into DC Talk's version of Charlie Peacock's original "In The Light," and invited Chris August on stage to sing with them. Toby then inserted the rap verse from the remix of "Jesus Freak" (that was on the 1995 single for the song) as a nice treat for old school fans. Toby then talked about rap in the CCM realm and Lecrae's impact on it, and began performing "Forgiveness," a song that featured Lecrae on the recorded version. They then pointed everyone's attention to a video on stage of Lecrae performing his rap verse as Toby, Gabe and Tim ran back to the stage to finish the song with the full band. Mandisa joined the band for the next song, the Gospel flavored "Lose My Soul," and then Jon from Capital Kings joined the band for "Get Back Up." The guest appearances didn't stop there, however, as Jamie Grace came back out for "Funky Jesus Music" (with DJ Maj playing a trumpet) to close the main part of Toby's set. But anyone who's seen Toby in concert knows that a sixteen song set probably would considered a short one to him, so Toby and his band re-emerged for a hefty encore that started with "Made To Love" (with Tim on the trumpet this time) and then a worshipful moment with "City On Our Knees" and "Bless the Lord O My Soul." But it just wouldn't be the Hits Deep Tour without a star-studded finale, and all of the artists in attendance joined Toby and the Diverse City band for his hit "Me Without You" and the confetti-laden closer, "Winter Wonderland" for the big finish.
The Hits Deep Tour is a great way to get a sampling of the top radio favorites in CCM all in one night of music. There's a lot of variety -- from pop to acoustic pop to dance pop and even hip hop -- but if you're not a fan of CCM radio, chances are even the diverse selection will leave you a bit wanting. I love the integrated format and quick sets and set changes, but I'd love to see a bigger change in the roster than just two artists (no offense to any of those on the bill, of course). Still, if you're a fan of anyone on the list, you won't want to miss this tour (just be prepared to see very short sets from everyone other than Toby on the night's lineup). The 2014 lineup, which launches in February, is set to exclude Jamie Grace, Chris August, and Colton Dixon, but substitute them with Matthew West and Matt Maher (and Capital Kings won't be on the last couple shows). You can keep tabs on it at www.hitsdeep.com.
--
John DiBiase
, 12/29/13
TobyMac Set List

01. Lose Myself
02. Tonight
03. Unstoppable
04. Steal My Show
05. Speak Life
06. Boomin'
07. Eye On It
08. Maj Solo / Mac Daddy
09. One World (Acoustic)
10. Hold On (Acoustic)
11. Christmas This Year (Acoustic)
12. In The Light (Acoustic)
13. Forgiveness (Acoustic/Full)
14. Lose My Soul
15. Get Back Up
16. Funky Jesus Music

Encore
17. Made To Love
18. City On Our Knees
19. Me Without You
20. Winter Wonderland
Hits Deep Tour
click on an image for a bigger size
**vertical images cropped for thumbnails**
Capital Kings
Chris August
Colton Dixon
Jamie Grace
Brandon Heath
Mandisa
TobyMac
*all photos by John DiBiase and are the property of Jesusfreakhideout.com