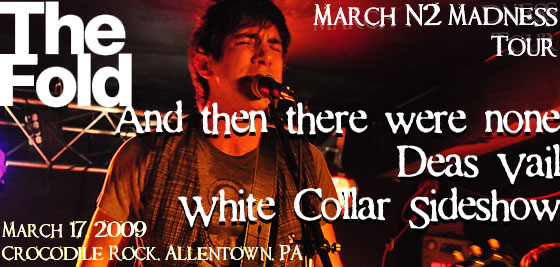 March N2 Madness Tour
The Fold, Deas Vail, And Then There Were None, White Collar Sideshow
3/17/09, at Crocodile Rock in Allentown, PA
The 2009 "March N2 Madness Tour" was originally supposed to be the headlining Spring tour for Tooth & Nail Records' Showbread, but due to a death in the family of the band's drummer, the guys had to pull out of the tour. Originally the tour appeared to have been altogether cancelled, but indeed the show must go on, and so The Fold was given headlining duties and many of the dates continued as scheduled.
On St. Patrick's Day in Allentown, PA, the March N2 Madness Tour rolled into town and took up residence in the basement of the Crocodile Rock bar/club. When we arrived, the second of two local bands playing this evening were wrapping up their set. They didn't exactly embody professionalism, but it's something that can be forgiven due to inexperience. They drew one of the biggest crowds of the night, attracting a nice amount of local friends and fans, despite not really fitting with any of the evening's acts... especially the one that followed.
I can definitely say I wasn't aptly prepared for the following set. As we watched them set up on the tiny stage, we observed a man wearing a top hat, curly mustache, formal vest and sporting tattoo covering nearly every bit of exposed skin. He was carrying items like a unicycle, beer kegs, and a tree saw onto the stage. Meanwhile, a woman in a purple dress that exposed her tattoo-clad arms was setting up a small screen and projector that soon was displaying overwhelming statistics about the problem of porn running rampant in even the lives of Christian men and women today. It was only then that we realized this wasn't just an eccentric secular local act, but the first performance as part of the March N2 Madness Tour. Front man T.D. Benton soon introduced himself and his band of performers as White Collar Sideshow and began to share mysteriously about addictions and the masks that people wear in public, while we might do other ugly things behind closed doors. As they played their first song, we soon realized that the band merely consisted of two drummers and a bassist. No singer. No guitarist. The woman in the purple dress now donned a creepy white "faceless" mask, and the other member, whose eyes had black circles of makeup under them, was soon wearing a ghastly pig-face mask, sitting behind a drum set. As Benton and the other drummer performed simultaneously on their respective kits, and the "faceless woman" played bass, clips from old black and white horror films were projected onto the side screen (nothing gory or grotesque). Voices from different films and speakers were spliced together, while words flashed almost subliminally during the movie clips. Benton's drum kit featured a large buzz saw as one of his cymbals, and at different times during the band's set, he'd beat on the tree saw with a drum stick as he bent it for different pitches, or he'd spin the unicycle and smack its spokes. The Sideshow created a surreal and dreamlike experience, fabricating an often creepy feel, which served as an appropriate setting for Benton to share about being a recovered drug addict and porn addict. Phillip, the band's mask-wearing drummer, even took some of Benton's talking interludes as a chance to hop into the audience while wearing the unnerving pig face mask to intimidate members of the crowd. Phillip would then climb back on stage and behind his kit to resume playing. White Collar Sideshow closed their engaging and unique set, after several songs, with "Pardon Thy Monster," and left the stage for a set change. They're the kind of act that would have been an ideal match for Showbread (most likely right before their set, too), so I can easily see why they were billed for this tour.
Brave New World Records indie rock act Deas Vail followed, a drastic change from the spectacle that preceded them. Deas Vail possesses a wonderfully soothing piano-flavored indie rock sound that was a nice way to follow up the heavier message and theme of White Collar. The quintet opened with "Rewind," a cut from their 2007 album All The Houses Look The Same, and followed it with a mix of tracks from that album and their more recent EP, White Lights, including its title track. Their set seemed brief, but the band put forth a strong performance. The new Tooth & Nail Records act And Then There Were None (ATTWN) soon followed. This hardcore-band-turned-techno-dance-band was yet another extreme stylistic shift for what ended up being one of the most diverse shows I've seen in quite some time. Sadly, the audience had dwindled quite a bit by the time ATTWN took the stage. Much of the stage had also been cleared for the ATTWN guys to have more room, and a few green beams of light were set up behind the band to project into the audience, complete with thick clouds of smoke to give their performance more of a club feel. And despite a thin crowd, ATTWN gave it their all as if playing to a packed house. Matt Rhoades and company delivered a fun and entertaining set, performing the single, "Reinventing Robert Cohn," from their recently released debut album, Who Speaks For Planet Earth?, among other tracks from it. If anything, though, much like they do on the album, the songs still tended to run a bit together due to similar beats and song structure. But with a short set - only about five songs - it didn't get too tiresome before the set found its end.
A final set change followed, and Chicago rock foursome The Fold set up for the evening's closing act. Due to time restraints, the band couldn't work into their set some of the new material they've been working on for a forthcoming release, but their seven-song set was a fast and fun one that seemed nearly unaffected by the fact only a small crowd had remained (chalk it up to playing in a small town on a popular holiday). The guys opened with "New Skeptic," from their latest album Secrets Keep You Sick, and continued strongly with that album's opener "Medicine." "Down In Doubt And Living Without" followed, and frontman Dan Castady prefaced the next song "New City" by dedicating it to the fact they had been at Croc Rock before, but never in its basement. The dedications didn't stop there as Castady offered "Faster Still" up for the JFH team, and continued with an oldie, "Backseat Drivers," from their debut, This Too Shall Pass, and closed oh so prematurely with "Gravity." Our later discovery that we were getting two new songs cut from their set (and had to endure less enjoyable local acts before the show) made it all that more disappointing when the night ended after only seven songs.
While the March N2 Madness Tour was a headliner short of what it was originally intended to be, each band performed strong sets to make up one truly diversified evening of music. White Collar Sideshow stole the night with its bizarre and intriguing presence, while Deas Vail, And Then There Were None, and The Fold helped make the night an enjoyable and memorable one!
--
John DiBiase
, 3/23/09
March N2 Madness Tour 2009 Photo Gallery
click on an image for a bigger size
**vertical images cropped for thumbnails**
White Collar Sideshow
Deas Vail
And Then There Were None
The Fold
*all photos by
John DiBiase
and are the property of
Jesusfreakhideout.com