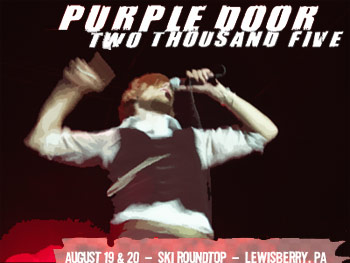 Purple Door Festival
8/19 - 20/05, Purple Door 2005 at Ski Roundtop, PA
FRIDAY 8.19.05
Purple Door 2003 was a significant letdown. As I stated along with my pitiful explanation as to why we didn't make it to PD'04, the fest was all mud and rain, and we'd waited through Relient K's set in the pouring rain for Blindside, who was cancelled when the skies opened up and poured upon Purple Door a most unfortunate amount of water. 2004 ended up not being much different, and it was reported that Blindside had been rained out again, for a second year in a row. Thankfully, Purple Door 2005, although rainy the first day, didn't make three strikes for the Swedish band.
Purple Door 2005 was the first time my wife Amy decided to brave the festival, which harbors more aggressive style music than she is normally accustomed to. And while she's become quite the Blindside fan (and I'm slowly turning her into a Project 86 fan as well, thank you very much), the Purple Door scene is still a new experience for her. And so, with hotel accommodations at the cozy Best Western in York, PA, we left (regretfully on the late side) Friday afternoon for Purple Door in Lewisberry, PA. Unfortunately, the traffic was not on our side as we ended up spending a good hour in bumper-to-bumper traffic. Although we had plenty of music in the car to help pass the time, there still was that ever-so-fun tension of "we're gonna be late, we're gonna be late, we're gonna be late!" irritatingly looping in my mind.
Upon arrival, we sat under an overcast and dreary sky in a line of cars waiting to get into the festival. All hopes of seeing The Myriad at 7PM were dashed when our arrival time was well past that (and we'd missed them at Creation this Summer as well!). Thankfully the wait in the line of cars did not even scratch the deliriously [and inexcusably] long three-plus hour wait we had at Creation just a month and a half earlier. And after parking and checking in with festival press, we ever so eagerly made our way to the Main Stage for our favorite rock quartet from Sweden.
Blindside opened their set with "Follow You Down," clad in their great depression era clothing to match the theme of their latest record The Great Depression. The band served up one of the more engaging lives shows you can see, and proceeded to play favorites like "Caught A Glimpse," "Sleepwalking," and the radio hit "All Of Us." The only problem with Blindside's set, however, was the mixing of the sound -- which is [generally] beyond the band's control. The background vocals were as loud as the lead, sometimes louder, throwing off the balance of several of the songs. Before playing any new material, the band broke out a song from A Thought Crushed My Mind called "King of the Closet," with Josh Dies from Showbread joining them on vocals. They continued on with the sobering "This Time" from The Great Depression, "Cute Boring Love," their latest single "Fell In Love With The Game," and the fan favorite "Pitiful." Before closing, lead vocalist Christian Lindskog advised the crowd to focus less on the band as they performed their last song, "About A Burning Fire." With a light on the crowd, the band turned their backs to the audience to let us all sing the song heavenward.
Following the "set change that would never end," Flicker Records rock band Pillar strutted out on stage. Opening with "Aftershock," the guys immediately grabbed the audience. With three-quarters of the members sporting long locks, the band looked like they'd just escaped from an episode of Survivor, or perhaps an 80's metal band. But that's not to say they couldn't rock. Quite the contrary, actually. The guys kept the flow by mixing up new and old fan favorites with "A Shame," "Underneath It All," "Let It Out," and "Echelon." We decided after such a tiring day to make our exit, and could hear the melodic sounds of "Further From Myself" drifting from the stage as we made our way to the car. It was a success. Blindside played Purple Door again. The rain has made Friday night a little soggy, but it held off enough to let the bands play. Now, if only Saturday could hold back the rain...
SATURDAY 8.20.05
...And praise the Lord, it did! However, turning in late didn't help us get much sleep. In fact, Amy slept through the hotel's wake-up call and we weren't awoken until the cleaning service was pounding on our door to get in. So what does this mean? We missed all the morning shows... Needless to say, we weren't too thrilled with that... We'd missed the 9:50 Family Force 5 set, along with Paramore, Forever Changed, and House Of Heroes. Not cool. Thankfully, we'd seen three out of four of those artists at Creation and two also at GMA. Regardless, we'd like to have seen them again (and Paramore for the first time).
It was well after noon when we'd arrived. The first set we wanted to see was Hawk Nelson, but they weren't going on til two. On the way to scope out the merchandise setup in the ski lodge building of the Ski Roundtop compound, we ran into a few friends who were a pleasure to talk to again (and even meet for the first time in person). From there, it was on to the HM Stage for Hawk Nelson's set. When we arrived, there was a considerable wait until the band was ready to play. And in that time of patience-testing, it was then that tragedy reared its ugly head, or in this case, stinger. I felt something crawling on my neck, and in a brief moment of panic - as many would do - I reached back and scooped it off. When my hand returned, I felt a magnificent sharp pain in my index finger. And as the pain engulfed my left hand, I tried to do what any sensible twenty-five year old guy would do... run over to my nurse wife. Although she couldn't offer me much advice (basically saying if I'm not swelling up, then I'm not allergic, and I'll live to review another day), it was from that experience my new vendetta against winged insects with stingers was birthed. Die yellow jackets and bees. Die! Anyway...
Sucking up my newfound injury, I set out to enjoy Hawk's set. I've seen the band several times since my first experience watching them live last November, and I was happy to see them change up their setlist a bit. Opening with "Long And Lonely Road" (and sporting a new drummer they didn't have at Creation East), the band got things off to an upbeat start, moving forward with "Things We Go Through," and their hit anthem, "California." They then debuted their brand new song "Bring 'Em Out," which was recorded for a new remake of a film the band is starring in with Dennis Quaid and Rene Russo titled Yours, Mine, and Ours. The song will reportedly also be released on a rerelease of their debut record Letters To The President this November. It was great to hear new material and the song seemed to go over well with the crowd. The band then closed with "Someone Else Before," a cover song I did not recognize, and "Letters To The President."
From there, I bought an overpriced 20 oz. bottle of soda for two bucks (which doubled nicely as an ice pack for my bee-stung finger), and a slice of pizza for Amy on our way over to the Main Stage for The Afters at 3:30. I was semi-surprised at how small the crowd was for them. Of course PD is a hard rock festival and The Afters are more pop/worship, but with their recent mainstream success it was still surprising. The band played mostly cuts from their INO debut I Wish We All Could Win, including "Until The World," "Someday," "You," and "The Way You Are," but also included a brand new song entitled "42," obviously inspired by the book (and possibly the recent film) The Hitchhiker's Guide To The Galaxy. Before they closed their set with their mainstream hit "Beautiful Love," the band encouraged the audience to pray for them to impact our culture, urging that we stop complaining about it and do something about it.
Many notable performances filled the afternoon from the likes of Showbread, The Showdown, Stretch Arm Strong, Haste The Day, The Chariot, and Norma Jean, but sadly for the hardcore fans, we didn't see a single one of them. But after 5PM, we caught the start of Starflyer 59's chill set on the Gallery Stage. With just frontman Jason Martin on stage with only a drummer to accompany him, he proceeded to play several songs from recent projects, opening with "Something Evil" from the band's most recent project Talking Voice Vs. Singing Voice. Unfortunately, we couldn't even stay for that entire show, as we needed to jump back in our car and trek back to the hotel to get some items we had left there (and to make a AA battery run to WalMart). This also meant missing Falling Up's 6PM Gallery Stage show in the process. Thankfully, we did make it back to the festival in time to hear Anberlin's opening song "Never Take Friendship Personal" wafting over from the main stage as we walked back onto the festival grounds.
No matter how you slice it, Anberlin is a great performing band. While they take some flack for mostly writing about relationships in their songs, they have an incredible knack for writing intensely catchy songs you can easily sing-a-long too. This just makes lead vocalist Stephen Christian's job a lot easier. His stage presence may be a little too showy or goofy for some to swallow as well, but he's got great energy. The band mixed up cuts from both of their records, continuing into "Readyfuels," "Time & Confusion," and "Day Late Friend." Their cover of The Cure's "Love Song" was a nice bonus, while the guys finished out their set with four greats - "Stationary Stationery," "Glass To The Arson," "The Runaways," and ending with "Paperthin Hymn."
Now if you think we've been party poopers a great deal up until this point, then you'll probably think we committed treason with our next act... Tired, stung, and disappointed with our overall day (we missed those morning shows, remember?), we decided to make our rounds saying goodbye and head home. So what did we miss? Copeland and Relient K. The two popular rock bands were fitting closers for the evening, but we just hadn't had much in us left at that point to carry on.
While I've yet to have a Purple Door experience that's been normal or has run smoothly, the festival is still one of the must-see alternative/rock/hardcore events to attend. Even if that's not entirely your thing -- as is admittedly the case with me -- there's plenty for everyone. With the art gallery, skate park, diverse music styles and impressive lineup, Purple Door Festival is a great experience. Hey, perhaps next time around we'll get it right!
--
John DiBiase
, 8/25/05
Purple Door 2005 Photo Gallery
click on an image for a bigger size
Blindside: Friday, Main Stage
Pillar: Friday, Main Stage
Hawk Nelson: Saturday, HM Stage
The Afters: Saturday, Main Stage
Starflyer 59: Saturday, Gallery Stage
Anberlin: Saturday, Main Stage
*all photos by
John DiBiase
or
Amy DiBiase
, and are the property of
Jesusfreakhideout.com