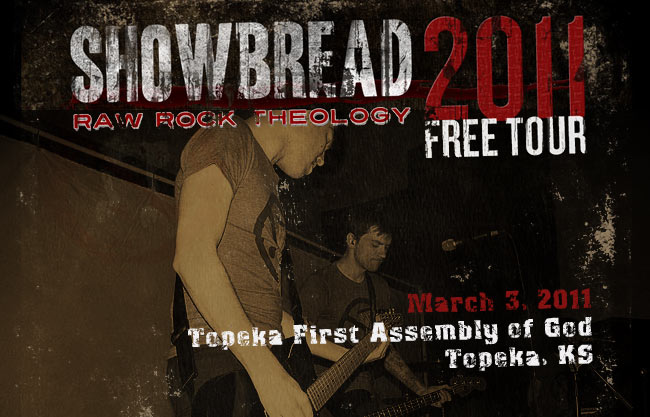 Raw Rock Theology 101 Tour
Showbread
3/3/11, at Topeka First Assembly of God in Topeka, KS
When you think of unconventional bands of today, Showbread will most likely pop into your head at some point in that train of thought. These are Christians writing songs about zombie movies, having sound changes with each new album, dual-releasing story albums and going from the relative financial security of a national record label to independent status and giving away their music for free. Not to mention always having unique, multi-sensory stage performances. What's their next unconventional move? How about go on tour with a new, creative performance, and not charge the venue anything for the performance, as well as not charge admission for the show? Yes, such is Showbread's Raw Rock Theology 2011 Tour. And on March 3, 2011, they made their way to Topeka, KS, to play for a relatively small crowd at Topeka First Assembly of God.
The doors opened a little after 7pm. As the crowd made their way into the church's sanctuary where the lights were off, a projector was showing the famous Showbread anti-music symbol on a large screen erected on the stage. Some down-tempo, quiet industrial-esque music was playing through the speakers, accompanied by the audio from a Martin Luther King, Jr. speech. After a few minutes, the concert-goers standing at the front of the sanctuary decided they may want to sit down for a bit, not knowing how long it would go on, so they took a seat on the floor or in one of the pews. The screen started a countdown when there were ten minutes left, and when it got down to about two minutes, the band started getting into place. As it got down to the last few seconds, the crowd grew antsy, and then it was time for raw rock to kill.
Showbread, now only a four-man band (including two that weren't with the band the last time I had seen them), opened their set with a song from their latest album, Who Can Know It, "I Never Liked Anyone and I'm Afraid of People," one of the more upbeat, rockier songs from that album. I knew most of the people in attendance, and most of them were new to Showbread. So this was even more of a good choice of a starter song, being upbeat and energetic, but not too hard so as not to shock those who weren't sure what they were in for. It led quite nicely into a gem from their first Tooth & Nail album, No Sir, Nihilism Is Not Practical, "So Selfish It's Funny." Originally written and performed with seven guys (and two lead vocalists at that), Showbread did an excellent job performing it, regardless of having three less members. For the record (and for those who are curious), the current line up for their live show is this: Josh Dies on guitar and lead vocals; Patrick Porter on bass and vocals; Garrett Holmes on lead guitar and vocals; and Drew Porter on drums - the three guitarists also alternate on keyboards and synth. Patrick and Garrett help out on vocals both for songs that originally had former member Ivory Mobley screaming, as well as the newer songs they wrote that actually called for their vocals specifically. Showbread tore through "So Selfish It's Funny" like it was nothing, and then made their way into heavier material. Heavier lyrically that is - the hard-to-ingest lyrics of "A Man With A Hammer." Despite the change in sound between Nihilism and Who Can Know It, the songs seemed to flow very naturally one right after the other. It speaks volumes to those who left Showbread at the first sight of a sound change - they're the same band, and it works really well.
The screen remained behind the band for the entirety of the set, broadcasting vivid and colorful imagery that was sometimes relevant to the current song. Other times, it was just to add to the overall sensory overload concept of the show. Showbread likes to use visual elements in their shows to provide something different than most other concerts you may attend. Because the projector displaying the images was set to run the different loops through the songs on its own with a timer, it demanded the band have perfect timing with their songs, and allowed for about zero chatter between songs. I did miss that aspect from past performances I've seen from the guys, as they're always entertaining, but it wasn't too disappointing. It's also a testament to the band's chemistry, as they got the timing down perfectly, and didn't miss a beat.
After "A Man With A Hammer," they brought the intensity up a little, breaking out "The Death" from Nervosa. Anorexia and Nervosa were primarily intended for listening while reading along with their respective stories, but the songs themselves are also fantastic. They followed it up with "Regret Consumes Me" from The Fear of God, their final Tooth & Nail album. It was pleasing to hear such a good mix of songs, representing different albums. On their Anorexia Nervosa-supporting tour, they only played songs from those two albums until the encore, when they played three fan favorites from their previous two albums. So I wasn't sure if it would be the same in support of the recently-released Who Can Know It? album. But I was happy to hear songs from other albums, too. However, songs from Who Can Know It? did make up the majority of the set. Upon the end of "Regret Consumes Me," the screen displayed an orchestra playing some theatrical music. It then said something along the lines of "commence flashlights" (I forget the exact wording). Josh concurred by saying "Flashlights everyone." For those unaware, the band constantly reminded those planning to attend any of the shows (via Twitter, Facebook, or what have you) to bring a flashlight along. Nothing appeared on the screen as the band attached flashlight headgear to their foreheads and instructed the audience to wave their flashlights around. Once ready, they played the ballad "The Prison Comes Undone." It was kind of a cool experience, though less than half of the thirty-plus attendees actually utilized a flashlight, and a few turned theirs off after a couple minutes. Next, Showbread turned up the rock a bit more. They started with "Hydra," which starts out slow and then works its way into a rock song. From there, they went into the synth-laced, punk rock-fueled Age of Reptiles jam, "Pachycephalosaurus." The crowd got pumped for it, as it brought me back to my first few experiences with the band's live show. The rock continued with the not-so-patriotic "Myth of a Christian Nation" and the raw "Nothing Matters Anymore." The band is so in tune with each other, and they played near-flawlessly. I would've been content had they played every heavy track I knew of theirs.
That's not to say that I wasn't content with their next song choices, though. The set was winding down, and to finish it off, they dove into more worshipful territory. Despite the band's tendency to be outrageous and, again, unconventional, everything they do is for one reason: to glorify Jesus. Their next song was "You're Like A Taxi." Some of my favorite Showbread lyrics exist in this song; it's about death being not the end, but rather the beginning of life. The chorus says "'Gone' is not the word for someone who finally found his way back home." I also get teary-eyed when Josh sings to Death and says "To some you're like a prison when they've yet to taste freedom, and maybe you feel bitter because Jesus broke your kingdom." Such a beautiful and peaceful song, and a wonderful addition to their set. They finished by going back to Age of Reptiles, playing the title track, including the bonus track that comes after it on the album, "Age of Insects" and the hymn at the end. It was kinda funny that the imagery on the screen during "Age of Reptiles" included footage of alligators taking some zebras as their prey, but it was somewhat appropriate, considering that the song compares the human heart and flesh to that of a cold-blooded reptile. The imagery ended after "Age of Reptiles," and for the rest, it was just some low lights in the sanctuary with Josh singing and playing his guitar. And just as "Age of Insects" ends with the hymn "I Love You Lord," so did the set. A beautiful and humble musical ending to their set.
After the music was over, Josh thanked the crowd for coming out. He also mentioned that, since they were doing a completely free tour, they were relying on anyone who wanted to make donations in order to have the funds they need, but also made sure to clarify that there was absolutely no obligation for anyone to do so. He then said that he had a message for two different crowds within the crowd, the first of which being any potential non-Christians attendees. Generally, this leads to some sort of "Jesus loves you" or "salvation is free" sort of speech. There's certainly nothing wrong with that, but Josh took a different route. He brought up the negative image that the Christian community has in the world these days, citing a recent poll that said the majority of people viewed Christians as homophobic, judgmental hypocrites. And, in an amazing display of humility, apologized. He told the crowd that the Jesus they believe in doesn't condone the actions that most Christians are taking today (sometimes even with good, yet ignorant, intentions). And he solemnly asked for forgiveness. The second message was for the Christian members of the audience, challenging us to live the life that Jesus has called us to, and to take action against that image. To be the light in the world and live a sincerely pleasing life to God. And with that, the Raw Rock Theology 2011 Tour stop in Topeka was finished.
Showbread is one of the most creative and entertaining bands to gain a relative amount of popularity in recent years. Whether or not you like the band, you're sure to at least appreciate their live show if you were to attend one. And if you attend one of their shows on this tour, you won't even have to pay anything to do it! If you're a music fan, but don't want to invest in a band you're not sure about, this is the perfect time to give them a shot. It made me happy to see three people from Wichita (a 2.5 hour drive) as well as a couple who came all the way up from Texas to see the show. And hopefully it was a night they won't soon be forgetting. If you miss Showbread on this tour, you can check them out later this year with Abandon Kansas, The Wedding and Quiet Science, then again om a possible Come&Live! tour. And, from the sounds of it, there will be plenty more free tours to come!
--
Scott Fryberger
, 3/12/11
Showbread Set List
01. I Never Liked Anyone and I'm Afraid of People
02. So Selfish It's Funny
03. A Man With A Hammer
04. The Death (Nervosa)
05. Regret Consumes Me
06. The Prison Comes Undone
07. Hydra
08. Pachycephalosaurus
09. Myth of a Christian Nation
10. Nothing Matters Anymore
11. You're Like A Taxi
12. Age of Reptiles
13. Age of Insects
14. I Love You Lord
Raw Rock Theology 101 Tour
click on an image for a bigger size
**vertical images cropped for thumbnails**
Showbread:
*all photos by
Scott Fryberger
and are the property of
Jesusfreakhideout.com