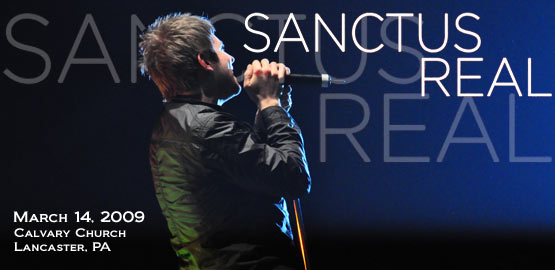 Sanctus Real
3/14/09, at Calvary Church in Lancaster, PA
A lot of different factors can determine the kind of show a "one-off" can be for a band. Generally, these types of shows are when the band is playing a date that isn't part of a tour, which can usually guarantee a longer set for bands who aren't normally headlining acts, or it just allows a headliner more freedom and flexibility. On one mid-March Saturday night, for Ohio rock quintet Sanctus Real, it was more or less an extension of their We Need Each Other The Tour from Fall, 2008.
This night was part of an all-day conference at Calvary Church in Lancaster. A great number of youth were in attendance, acting as a readied audience for the likes of local Philadelphia act Reilly and the Sanctus boys. The doors opened at 6pm, but Reilly didn't begin until 7, giving the attendance plenty of time to grow before the show's start. Reilly was well-received by the Pennsylvania crowd, even if their dual-violin accented pop/rock felt a bit sophomoric opening for Sanctus. Still, John Reilly and his seasoned band put forth a valiant effort to pump up their audience.
It wasn't until some time after 8pm (and an intermission and World Vision plug) that Sanctus Real took the stage, opening with their hit single "The Face Of Love." The guys were just coming back from a short break, so they had been off the road, but not out of practice. From the moment they took their places on stage and broke into the worshipful tune, you would never have guessed they hadn't been performing for weeks straight. Their set still flowed quite nicely. Despite the song list being identical to their Fall tour (minus one song), the set seemed to flow stronger this particular evening, and the audience was rather receptive. Sanctus Real's cover of U2's "Beautiful Day" followed, a song that's been a fan favorite since they recorded it for the 2004 In the Name of Love: Artists United for Africa project. Then the guys reached back to their 2002 debut Say It Loud to resurrect the title track from the album, taking an brief break during the song for band member introductions. Vocalist Matt Hammitt selected an audience member to introduce him (so Hammitt wouldn't have to introduce himself) and also spotlighted a guest in attendance whom he referred to as "the sixth member of Sanctus Real," the band's former manager from their early days. It's gestures like these that help tear down the barrier between the band and the fans for Sanctus Real, while the guys still manage to stay professional as well. "Alone" and the always relevant "Not Alright" were next, with the equally encouraging "Don't Give Up" close behind. With the song "Eternal," Hammitt talked a bit about how they'd begun work on a new album (slated for an early 2010 release), and how they had been thinking a lot about life's questions. Hammitt then encouraged the audience to go deeper with their relationship with Christ. "Whatever You're Doing (Something Heavenly)" appropriately followed. For "Lay Down My Guns," Matt prefaced the song with sentiment for the U.S. soldiers fighting in Iraq, and then performed a wonderful stripped down version of "Closer," for which the band exited the stage to leave Hammitt singing it solo. The guys then returned to lead the Lancaster crowd in worship with the beautiful original worship anthem "Sing."
With the close of "Sing," the guys cleared the stage, leaving the audience chanting for one more song. The lights remained dimmed, and the humorous sounds of an electronic remix of "Turn On The Lights" pulsed through the church sanctuary. Drummer Mark Graalman returned first, egging the audience on as he announced, "How about not one, not two, but THREE more songs?!" The crowd cheered as the guitars for "Turn On The Lights" kicked in and Hammitt encouraged the audience to get into it. The song was a highlight of the night (unfortunately, yours truly had to nearly insist they play it --- so make sure you request that the band to play it at future shows!), and they followed it with radio hit "Everything About You," closing with another evening highlight, the title track from their latest album, We Need Each Other. It's a wonderful finale and always a great way to end the night.
Sanctus Real put on another solid show, and as they continue to ready their fifth studio album, seeing them perform again just makes me look forward to it even more. They are a refreshingly bright light in a world being suffocated by darkness. We could certainly benefit from more acts like these guys. Be sure to catch Sanctus Real at the festivals this Summer and on tour again this Fall!
--
John DiBiase
, 3/16/09
Sanctus Real 2009 Photo Gallery
click on an image for a bigger size
**vertical images cropped for thumbnails**
Sanctus Real
*all photos by
John DiBiase
and are the property of
Jesusfreakhideout.com