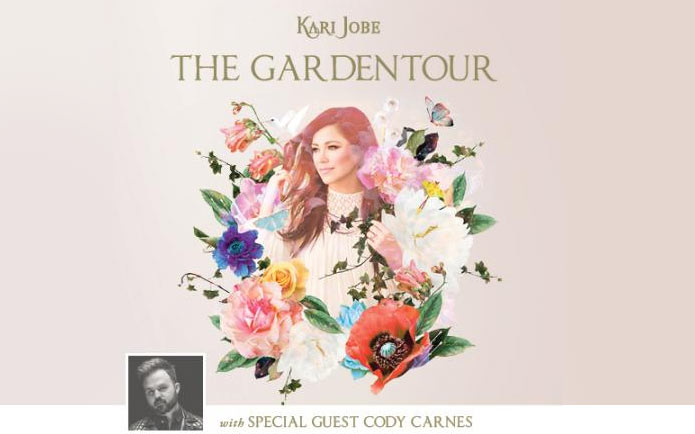 The Garden Tour 2017
Cody Carnes, Kari Jobe
10/20/17, at Victory Family Church in Pittsburgh, PA
It has been nearly three years since Pittsburgh has been graced with the presence of perhaps my favorite female vocalist, Kari Jobe. My fandom was solidified during the Majestic Tour in 2014, so I was naturally looking forward to hearing some of the newer tracks from The Garden, as well as old favorites.
Jobe's hubby and musical partner Cody Carnes kicked off the night, playing some jams from his new album, The Darker the Night / The Brighter the Morning. Stylistically (and naturally, given that Carnes is Jobe's lead guitarist), Carnes was a great choice to open up this tour. With an obvious mindset towards open worship, Cody Carnes' brand of worship is sonically different than what Kari Jobe offers. While having intimate moments of worship in his set, much of Carnes' solo efforts are dance-able, fun anthems with worshipful lyrics. He even encouraged some dancing in the beginning of the set. The highlight of his set was the hit, "The Cross Has the Final Word," complete with soaring sections accompanied by an expertly crafted lighting production, and quiet moments of reverence, all in the same song.
After a short opening video, setting in motion the "garden" theme for the evening, Kari Jobe took the stage with "Lover of My Soul." The idea of yearning to go back to the garden seems to be a big theme this year in Christian music, with Crowder also touching on similar themes, but no one does it quite as gracefully as Jobe. Following that, we were treated to her powerful rendition of "Revelation Song" (of the many that have been covered, Kari's is still the best version in this reviewer's opinion). One pleasant surprise was the inclusion of former Skillet violinist Jon Chu in her band. It's always such a joy to watch him play, and he somehow brings just as much energy and movement to this genre of music as he did in his rock days. After a beautiful performance of "The Garden," Jobe led the congregation in the classic hymn, "Tis So Sweet," which concluded with a gorgeous violin solo by Chu. This was my favorite moment of the night. Such passion, such talent! Jobe took some time to read scripture before the final few songs, and to pray and invite others to Christ. She felt particularly led to pray for broken marriages, relational and pregnancy issues. It's always nice to slow down and have a little bit of church during these shows; it's a good way to refocus on what it's all about. Much to the delight of everyone, Jobe closed the night with a rousing performance of her hit, "Forever."
If "The Garden Tour" comes remotely close to you, I'd encourage everyone to attend (it's also worth a long drive). Kari Jobe and Cody Carnes bring an authentic brand of worship that never feels forced or put-on. They are two people being used by God, and genuinely pointing souls to Christ. In a Christian artist, I think that's the most important thing. It also doesn't hurt that they have some remarkable songs, fun performances, and humble hearts. Seek them out!
--
B.J. Smith
, 10/23/17
Cody Carnes Set List

01. Freedom
02. Full of Faith
03. Till the End of Time
04. Spirit Break Out
05. The Cross Has the Final Word
Kari Jobe Set List

01. Lover of My Soul
02. Revelation Song
03. Heal Our Land
04. What a Beautiful Name
05. Closer to Your Heart
06. Speak to Me
07. The Garden - Tis So Sweet
08. I Am Not Alone
09. Here as in Heaven
10. Miracles
11. Forever
The Garden Tour 2017 Photo Gallery
click on an image for a bigger size
**vertical images cropped for thumbnails**