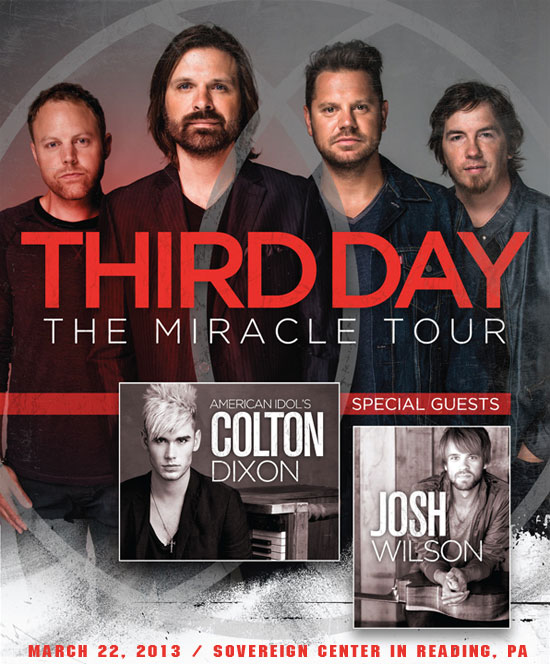 The Miracle Tour 2013
Third Day, Colton Dixon, Josh Wilson
3/22/13, at Sovereign Center in Reading, PA
It's hard to believe that it's already been twenty years since Altanta rock band Third Day first assembled. Now four GRAMMYS and a slew of other accolades to their name, the band is celebrating their latest project, Miracle, with the aptly titled The Miracle Tour. Accompanying them on their latest journey across the country are acoustic singer/songwriter Josh Wilson and American Idol alum Colton Dixon.
Around 7pm, the lights dimmed at the Sovereign Center in Reading, PA, getting ready to unveil The Miracle Tour to the packed house of fans who had gathered on this chilly March evening. The first act of the night was Sparrow Records' Josh Wilson, who was gearing up for a new album release of his own in just a couple of weeks. To kick off the night right, he opened with his hit single "I Refuse," armed with just a mic and his acoustic guitar for most of this set. For "Shine On Us," however (both tracks are from his 2011 album See You), Josh provided an electronic beat from a loop machine and then recorded several different musical parts to provide a fuller sound for the song. "Before The Morning" (from his self-titled 2010 album and its preceding EP) was next and then Wilson debuted the title cut from his April 9th release, Carry Me. For this, he utilized the loop effect again to give the song a beat and extra layers, prefacing the song with a message about his vulnerabilities and learning to rely on God through times of overwhelming uncertainty. Finally, Josh closed with his unique instrumental version of "Amazing Grace" and left the stage. Singer/songwriter performances are often great ways to ease into a night of music like this one, and Wilson was a nice addition to the night's festivities.
Third Day bassist Tai Anderson came out during the set change to candidly speak about the tour and the next act, the American Idol talent, Colton Dixon. As quite the budding artist, it was a bit of a surprise to see Colton given a more substantial spot in the evening's lineup after the more established Wilson, but Dixon's passionate Idol following clearly showed up to support the 21-year-old up-and-comer. Dixon also came complete with full band support, fleshing out his pop / pop rock sound more fully. So with guitar, bass and drums for support, Dixon came out on stage to the sound of sirens as the intro to his debut album's lead-off song "Noise." "Love Has Come for Me" followed, and then Colton stood behind his custom piano that displayed a glowing red cross on the front (as seen in his own logo on the A Messenger album cover). He took a moment to greet the audience and talk briefly about his next song, "Never Gone," which had recently been covered by current finalist, Angie Miller, on American Idol. After the song, while still behind the piano, Colton shared from his heart about God never being gone in our lives and shared a little about the gospel. This lead nicely into the ballad "Scars," and then Colton performed a solid rendition of the worshipful Lifehouse original, "Everything." It seemed appropriate for Dixon to cover a Lifehouse song, too; I literally thought that his voice resembled Jason Wade a little bit while he had been performing "Scars." "Everything" ended up being a really inspiring set moment, and then Colton invited his younger sister, Schyler, on stage to sing "You Are" with him. She was a nice complement to Colton's performance and they sounded pretty good together. To close his portion of the night's show, Schyler left the stage and Colton encouraged the audience to go crazy with him as they performed the rocker, "In and Out of Time." It was the most energetic their show had gotten and it served as a rousing finish.
At this point, Tai returned, as a set change occurred behind him, and shared with the Reading audience a bit about Third Day's history and, more importantly, their personal experiences with child sponsorships through World Vision. A short intermission followed and then the evening's main event began...
I've seen Third Day many times in many different locations, formats and settings over the past seventeen years. For many of those years, the band has been performing headlining spots on big arena-packing tours, and it's always been fun seeing their sets because they almost always change things up. For example, many established bands adhere to the same set list from show to show, only tweaking it slightly to add in brand new material when a new album drops. For years, bands like Audio Adrenaline and Newsboys would find a set batch of songs that worked best for them and only change it up slightly (and definitely wouldn't change it at all during a given night on a tour). But Third Day is one of the other breeds who are more likely to toss out one song for a few others--whether they're fan favorites or just a song that hasn't been heard live in a while. It makes their shows less predictable and more exciting. On this particular evening, they offered up cuts that were mostly from their past three albums: Miracle, Move and Revelation, but managed to pop in some surprises, like two songs from Offerings, another from Offerings II, and even a song each from Wire, Wherever You Are and Come Together. They opened with "Hit Me Like A Bomb" from their latest project, Miracle, and then continued with the bass-driven highlight from Move, "Make Your Move" (definitely a favorite) and after breaking out an "oldie" in "I Believe" from Wire, they played another new one, "Kicking and Screaming." This was the first time I was hearing any of the new songs from Miracle live and I really enjoyed how well they translate in a live setting. The band also doesn't use a single track or loop while performing, so the live six-piece act creates a nice full soundscape. In addition to the main foursome that is "Third Day," the band has with them their live show regular Scotty Willbanks on keys and guitarist Brian Bunn on loan from DecembeRadio. Bunn provided additional mandolin, pedal steel guitar and harmonica throughout the set as well. The guys then gravitated back to their Move material for "Lift Up Your Face" before vocalist Mac Powell picked up an acoustic for the title track from their 2008 record, Revelation. It's an incredible song that always leaves an impression (especially live) and it made for an impactful moment in their set. At this point, Powell then paused between songs to highlight a battle with allergies as having been a hindrance to his voice on this particular evening, but it wasn't very noticeable. They then performed "God of Wonders" and "Children of God" before Colton Dixon's piano was rolled out on stage and Scotty stepped out from the back to join the guys center stage. Bassist Tai Anderson, drummer David Carr and Bunn then left the stage for Mac, Scotty and guitarist Mark Lee to remain on stage for an acoustic set. The trio then performed stripped-down renditions of Cat Stevens' "Morning Has Broken," another classic in "Show Me Your Glory," and their own hit "Cry Out To Jesus," before the full band reformed on stage. With the show feeling like it was starting a second set altogether, the six of them performed "The Victory," also from Miracle, which is a schizophrenic rocker that makes for a standout song in their set. The melodic radio hit "Call My Name" (Revelation) was a sweet surprise, and the guys then followed it with "Trust In Jesus." The backdrop behind the band--which presented a lush light show throughout their set--then diminished to an ambient sea of lights that looked like stars in a night sky. It was a nice celestial effect for "Born Again," a song for which Schyler Dixon joined Third Day on stage to sing a duet with Mac. The album version features Flyleaf's [now former] vocalist Lacey Mosely, and Schyler did a nice job filling in. She then left and the star lights remained as Mac shared the story behind the song "I Need A Miracle"--a song that was inspired by a true story. The story involved a person who had decided to end their life, so they drove out into the wilderness to do so. When they tried to listen to one of their favorite CD's before committing the desperate act, they discovered the CD player wasn't working and turned on the radio instead, finding Third Day's "Cry Out To Jesus," which ultimately inspired them to not go through with ending their life. It's a chilling and powerful story and it added a lot to the live rendition of "I Need A Miracle," which followed. "King of Glory" was an appropriate follow-up, and then they closed the eighteen-song set with their Rich Mullins cover of "Creed" (which they recorded on Offerings II). The audience cheered for more, despite the band already having given the Reading crowd more live music than most bands do, but they returned for their new single "Your Love Is Like A River" and the beautifully funky "The Otherside," complete with band member introductions by Powell. When the final note had been played, the band embraced for a bow and left the stage.
While their set lists may vary from tour to tour (and sometimes night to night), one thing is a constant for Third Day: they put on a great live show that is diverse and catered to old and new fans alike. The Miracle Tour is definitely one of their best live shows in recent years and with them they've brought some budding talent that will appeal to an even wider audience and age range. It's a solid show and well worth checking in to if it rolls into your town this year!
And, for anyone interested, Third Day is making each live show available for purchase in its audio form at ThirdDay.com. Click here to check out the music from this very show in Reading, PA!
--
John DiBiase
, 3/26/13
Third Day Set List

01. Hit Me Like A Bomb
02. Make Your Move
03. I Believe
04. Kicking and Screaming
05. Lift Up Your Face
06. Revelation
07. God of Wonders
08. Children of God
09. Morning Has Broken
10. Show Me Your Glory
11. Cry Out To Jesus
12. The Victory
13. Call My Name
14. Trust In Jesus
15. Born Again (w/ Schyler Dixon)
16. I Need A Miracle
17. King of Glory
18. Creed
Encore
19. Your Love Is Like A River
20. Otherside
The Miracle Tour
click on an image for a bigger size
**vertical images cropped for thumbnails**
Josh Wilson
Colton Dixon
Third Day
*all photos by John DiBiase and are the property of Jesusfreakhideout.com