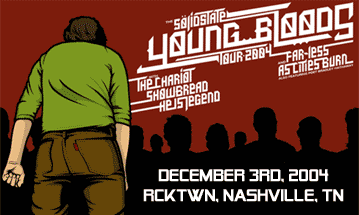 The Chariot, Showbread, He Is Legend, As Cities Burn, Mortal Treason, Imperial
12/3/04, Rocketown, Nashville, TN
I'd always heard that Friday nights at Rcktwn were crazy, but I have never experienced the excitement until December 3rd. I expected a small crowd of faithfuls would gather to watch some aspiring bands play on the aptly titled Young Bloods Tour, but upon arriving, I was surprised by a line outside that nearly surpassed such events as See Spot Rock 2.
JfH street team member Ethan Willis and I stood in a fairly long line well past eight o' clock to get in. It was hard to tell how many of them were metalheads and how many were there simply because it was Friday night.
As it turns out, the two bands playing on the "Level 1" stage that night, Imperial and Mortal Treason, were moved to the main stage, and simply played short sets before the Young Bloods Tour began. Both were decent, Flicker Records' Mortal Treason more so. The entire night was to showcase incredible talent in the Christian metal/hardcore scene, and it was great to see a huge turn out for a small, but growing genre.
As Cities Burn was first of the Young Bloods to play. Neither Ethan nor I had ever heard this gifted band before, and we were both equally blown away. They played an unfortunately short set, consisting of about five songs, and then said goodnight.
Even more unfortunately, Far-Less was nowhere to be found that Friday night. Their name was not even mentioned as each band talked about the others before them and the ones coming up. Very sad, I had anticipated seeing them. I have yet to discover the reason for their absence.
Not very long after As Cities Burn left the stage, He Is Legend took it hostage. Microphone problems were becoming an issue, but He Is Legend played through them and the complications were resolved. Vocalist Schulyar Croom moved around the stage with a somewhat Charles Manson-like swagger as the band belted out loud, blaring tunes. They played a fiery set that consisted of about six songs from their debut I Am Hollywood, concluding their show with the title track.
The question to the "Why in the world are there so many people in line?" question was answered after He Is Legend's set. About a third of the crowd began to disperse after the band had left the stage, most likely attributed to the fact that it was nearly eleven.
But for those actually there because this was Solid State night, Showbread was next. I wrote in my review of their debut, No Sir, Nihilism Is Not Practical, that I very much anticipated the day I would get to see them live; and Showbread did not let me down. They opened their set with "A Llama Eats a Giraffe (And Vise Versa)" and then played others from No Sir… before taking a breather and allowing vocalist Matt Davis to share a touching story about a lost and found hamster of his. He was cut off prematurely by a fellow band member ready to commence the set, however.
The latter half of their set was unfortunately marked my the recurring microphone issue theme. Ivory Mobley's mic went completely dead, rendering the band screamless for about a song and a half. Mobley simply continued screaming his heart out, though his efforts were futile. Eventually, both vocalists used an extended guitar riff to try and fix the issue, and the band finished their final song, "Stabbing out to Death," without a problem.
For The Chariot fans, myself included, I am sorry to say I was unable to watch the grand finale of the Young Bloods Tour. But the experience was quite memorable anyway. Showbread blew me away on every level. It was most definitely one of the best live experiences of my young life. He Is Legend performed to perfection as well, and it was nice to find up and coming talent in As Cities Burn. All and all, a great night. Mic problems and the unfortunate absence of Far-Less aside, this was an show to remember.
--
Josh Taylor
, 12/9/04