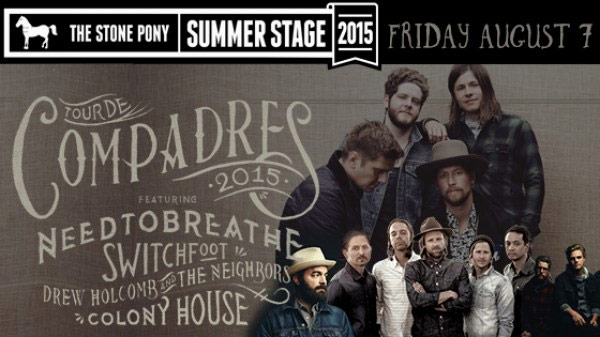 Tour De Compadres
NEEDTOBREATHE, Switchfoot, Drew Holcomb & The Neighbors, Colony House
8/7/15, at The Stone Pony in Asbury Park, NJ
I love watching bands grow over the years. Be it growing as artists or growing in popularity -- or both -- it's incredible to watch some artists mature over time. For example, I'll never forget first seeing NEEDTOBREATHE live when they opened for Jars of Clay at the Electric Factory in Philadelphia eight years ago. Their live show blew me away and I have to admit I became an instant fan. I'll also never forget first hearing a pre-release of their label debut Daylight the year before and being entirely underwhelmed. But with their album The Heat, it seemed as though NEEDTOBREATHE was coming into their own... and only great things were ahead.
Flash forward to 2015 and NEEDTOBREATHE is headlining their own tour with San Diego veterans Switchfoot opening for them. But after seeing the South Carolina band kick off their headlining set, it all makes perfect sense as to why they would. (Still, as a fan of both them and Switchfoot, it's bittersweet to accept.)
The Tour De Compadres came to the iconic Stone Pony in Asbury Park on a warm evening in August. The show took place outside on the venue's Summer Stage, where buildings loosely hugged the skyline around it and a fence and a street were the only thing separating us from the boardwalk and the beach. It was definitely the first time I'd ever seen a rock show at the beach. Newcomers Colony House (formerly known as Caleb) opened the night with their brand of alternative pop rock. Fronted by Steven Curtis Chapman's oldest son Caleb with his younger son Will Franklin on drums, Colony House definitely exhibited some of the Chapman appeal, but with a more modern and youthful energy (and really, Caleb does look a lot like his dad in his early acoustic-guitar slinging days... post-mullet). The band played cuts from their 2014 debut album, When I Was Younger, including standout track "Waiting for My Time to Come."
After a brief set change, Drew Holcomb & The Neighbors stepped out with their Americana/southern rock styling that was the most chill and subdued of the night. With Drew's stoic stage presence and their laid back sound, they fit in with the tour, but were easily the least energetic of the four acts. They played cuts from a couple different records, including their most recent, Medicine, and after Holcomb and company performed a Johnny Cash cover song, they offered their ode to their home state, "Tennessee." "Fire and Dynamite" was next, and then "Live Forever." Drew also candidly talked a bit about how difficult it was to win over his singer/songwriter wife Ellie Holcomb, and then performed a love song for her.
Another set change followed and Switchfoot emerged. The sun was continuing to creep to the horizon and backlit the band a bit as they opened with "Stars" from their 2005 album, Nothing Is Sound. They then moved into what is arguably their biggest career hit, "Meant To Live," for which frontman Jon Foreman moved to the barrier in front of the crowd and balanced on it to encourage participation. He then stayed there to begin "Love Alone Is Worth The Fight" and then jumped down into the crowd to mingle with the Asbury audience. Foreman then crowd-surfed as he began their anthem for Heaven, "Where I Belong," and then returned to the stage where he draped a fan-made banner for the song over his shoulders. "Your Love Is A Song" followed, featuring not one but two great guitar solos. Then, for "Hello Hurricane," the guys gathered around one microphone to perform an acoustic version of the song, before returning to the full band presentation for "When We Come Alive." Foreman, who had earlier admitted that if they seem a little more energized it's because they'd surfed the New Jersey waves earlier in the day, spontaneously climbed the stage scaffolding while singing, dangling from the side with one arm. He then climbed down and the band closed their criminally short set with "Dare You To Move" -- but not before dedicating the song to the ocean and announcing their plan to record a new studio album at the end of the year back home in San Diego.
A longer set change followed and the sun continued to descend out of sight. By the time NEEDTOBREATHE took the stage, it was almost totally dark out, which also allowed the tour headliners to take full advantage of their light show. Before long, NEEDTOBREATHE was rocking out to "State I'm In," with the usual foursome being backed by two members of Colony House, including a second drum set being provided by Will Chapman. It made for a big and satisfying soundscape that only pronounced their already energetic and rowdy performance. Before closing the rocking opener, the band worked in the chorus of "Oohs and Aahs," from The Reckoning, but changed it up drastically to fit. "The Outsiders" and "Girl Named Tennessee" were excellent follow-ups, before they slowed things a bit for "Wasteland." Their hit single "Keep Your Eyes Open" was next, with "Drive All Night" close behind. And while it's quite typical for the band to extend their songs and jam out in a live setting, it seemed a little odd for them to take "Something Beautiful" and slow it down a little from its original. While it still sounds great live, this softened version just doesn't sound quite as good as the album version, and that's something you just don't normally say about NEEDTOBREATHE. Things picked right back up, though, with the fast and furious one-two punch of "Feet Don't Fail Me Now" (complete with lead vocalist Bear Rinehart singing into a megaphone with a spotlight on the front of it) and "Oh Carolina." Bear then took a moment to talk about their new record, Rivers in the Wasteland, and used that to segue into "Difference Maker," which wonderfully -- and for some, unexpectedly -- drifted seamlessly into the straight-up worship anthem, "Multiplied," creating a really wonderful atmosphere in the Jersey beach audience. To close, they performed an updated version of "Wanted Man" that not only included a vocal interlude from guitarist Bo Rinehart, but also a piece of Modest Mouse's "Float On" in the song's grand finale. If you've heard their Live From The Woods project, it plays out just like that, and it's a much more fun take on the studio version of the song. After the stage went dark and the "house" lights did not return, the audience cheered for more, and the NEEDTOBREATHE boys returned for two more. Bear talked a bit about the next song and his relationship with his brother Bo, and they performed their current hit, "Brother." Switchfoot's Jon Foreman soon joined Bear to provide some vocals, and then all the guys from all of the night's bands came out on stage at once to sing along with NEEDTOBREATHE. They even closed the set with jets of confetti shooting out over the crowd. Then, with hearts of gratitude and just the four main guys of NEEDTOBREATHE left on stage, they performed a rousing acoustic version of "Washed By The Water" to close the night.
Sadly, as I finish this write-up, the tour is playing their final show of the tour, but I can imagine we'll see more of these bands performing together in the future. All of the acts were great, especially the headliners, and it merely cemented my feelings on Switchfoot and NEEDTOBREATHE being incredible performers.
But wait! There's actually a little more. Anyone who follows Switchfoot's Jon Foreman knows that the San Diego singer/songwriter isn't just content with the rock show each night, and he frequently performs "After show" events for free nearby the main venue. Typically, he announces it via Twitter and this night was no different. After The Stone Pony ushered everyone out of the stage area, a large crowd began to migrate towards the Boardwalk. We waited around near a crepe shop before we spotted some people running down the walkway to a crowd gathering around a street lamp. Sure enough, Foreman had already snuck by and began to get settled for a brief set. Given our position so close to the ocean, with the salt air blowing across our faces, it seemed more than appropriate for Jon to perform "24" from The Beautiful Letdown and then The Beach Boys' "God Only Knows." And with brand new solo EPs having just released with 2 more on the way, Jon performed "Caroline" and then "Terminal," before ending with Switchfoot's "Restless" and one more solo selection, "Your Love Is Strong." It was a great, candid and intimate performance, and it was a wonderful way to cap off the night.

-- John DiBiase, 8/19/15
Switchfoot Set List

01. Stars
02. Meant To Live
03. Love Alone Is Worth The Fight
04. Where I Belong
05. Your Love Is A Song
06. Hello Hurricane
07. When We Come Alive
08. Dare You To Move

NEEDTOBREATHE Set List

01. State I'm In / Oohs and Aahs
02. The Outsiders
03. Girl Named Tennessee
04. Wasteland
05. Keep Your Eyes Open
06. Drive All Night
07. Something Beautiful
08. Feet Don't Fail Me Now
09. Oh Carolina
10. Difference Maker
11. Multiplied
12. Wanted Man

Encore
13. Brother
14. Washed By The Water
Tour De Compadres Photo Gallery
click on an image for a bigger size
**vertical images cropped for thumbnails**
Colony House
Drew Holcomb & The Neighbors
Switchfoot
NEEDTOBREATHE
*all photos by John DiBiase and are the property of Jesusfreakhideout.com