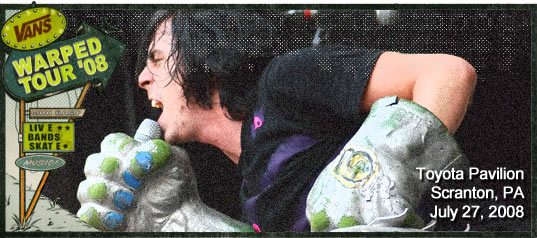 Vans Warped Tour 2008
7/27/08, at Toyota Pavilion in Scranton, PA
Before ever attending a spot on the traveling festival, Vans' Warped Tour, I was surprised at peoples' responses when I told them I was going. Most were shock mixed with confusion, but considering my motivation for going was to see and interview one band, I hadn't really thought twice about what I was getting myself into. And while I wasn't sorry I attended the Warped Tour due to my set list of things I planned to see, do, and accomplish, I must say the atmosphere really isn't my cup of tea.
We arrived at the Toyota Pavilion in Scranton, Pennsylvania with just enough time to check in and make our way over to the Hurley Stage to see Family Force 5's bright and early 11:20am set to kick-off the day. I was impressed with the sheer amount of stages set up all throughout the Pavilion campus, making it possible to cram so many bands and performances into one day. As we were walking to the Hurley Stage, I could hear Family Force 5 open with "Drama Queen." My night before Warped was surprisingly sleepless, so with the aid of a grande coffee and an energy drink, I was able to make it to Scranton, but with the sheer presence of FF5 on stage with their high energy performance, I was given a jolt to the system. If the Warped-goers weren't quite awake yet, they most likely were now. Following "Drama Queen," the quintet (accompanied by their faithful sidekick Xanadu) ripped into the rocker "Replace Me" before leaping into the fan favorite "Kountry Gentleman." The gang was their usual animated selves, with front man Solomon Olds maybe seeming a bit more subdued than usual. But this eventually would change as the group continued to get warmed up, moving forward with the dance-friendly "Supersonic" and then probably the band's most recognizable song, "Love Addict." For the latter, Soli donned his signature silver Hulk gloves (now showing some serious wear and tear) and a few wildly dressed fans joined the guys to dance around on stage. The rest of the crew were just as active, especially as the band moved into two brand new cuts, "Fever" and "Get Your Back Off the Wall" from their forthcoming release, Dance Or Die. For anyone who hasn't seen the band live yet this year, a new stage set piece is in place that is unlike anything before seen in a Family Force show. Dubbed the "Family Force 5000," this new drum machine is Nadaddy's toy of choice, which he would often beat repeatedly throughout their set. But all good things must come to an end, and the highlight of Vans' Warped Tour came to a close with FF5's grand finale, "Earthquake."
It was interesting to see that most of the bands that played seemed to make themselves relatively accessible to the festival-goers. FF5 hung out at their merch table for a good portion of the afternoon while other bands like Classic Crime and even Anberlin, set aside time for fans to come and meet them. With my limited interest in the majority of the bands in attendance (sorry folks!), we made our way to the Smartpunk stage around 12:15pm for The Classic Crime. Sadly, we'd missed the band's opening with their new single, "Abracadavers" as well as "Say The Word" from their debut, Albatross with them going on a bit early, making it to their set somewhere before the end of the second song. Even more sadly, the only other new song they would play from their brand new record The Silver Cord, which had just released earlier in the week, was the following song, "Gravedigging," which nevertheless was a set highlight. From there, the band played all tracks from their debut, including "Who Needs Air," "The Coldest Heart," "Blisters & Coffee," and closed with "The Fight." Classic Crime were a fine addition to Warped Tour - a nice light in the darkness, even if their faith wasn't displayed openly. As the day progressed, it helped me really appreciate the artists that maintain enough integrity not to resort to spouting profanity to try to get a crowd's attention (which several of the Warped Tour bands we walked by did). A band should be able to rely on their own artistic integrity and intelligent speech than to feel they need to be as rebellious or crass as possible to get a rise out of their audience.
But to quote a favorite movie, I certainly felt like we were "pilgrims in an unholy land" while walking around the Toyota Pavilion "streets." Although the Warped Tour staff were actually kinder to us than some who run the Christian festivals (try figuring that one out), there is plenty to contrast your usual Christian-based event. From unused condoms (from a "safe sex" exhibit booth) and all kinds of trash littering the vendor areas, to people trying to hand out literature for some kind of "cause" that really isn't much of a cause at all, to festival-goers showing a bit more skin than needed (or desired), it just had an entirely different feel than, say, Purple Door Festival or even Rock The Universe.
Regardless, I was still thrilled to be present to get to see Anberlin live once again. It's been over a year since I last saw them, and with a new album dropping in two months, there was some hope to hear some new material. At 1:20pm, Anberlin was set to perform on the Route. 66 Stage - AKA Main Stage Left, a location which no staff on Warped Tour seemed to be able to tell us where said stage was located. But upon discovering its location, I was impressed with the way it was set up. The two main stages for Warped -- Route 66 and Highway 1 -- were side by side, prepped so that the moment the band playing on one of the stages was finished, the band on the other stage was already revved and ready to go on their respective stage so they could start immediately. It's a smart idea and a successful setup - although it doesn't leave much breathing room if you actually want to see all the bands that play on those two stages. While you can see either stage from either audience vantage point, it could be a bit frustrating to be wanting to see two favorite bands up close that play back to back on these stages and have to choose which one to be close for. There isn't really an easy way to get from the front of one stage to the other in that amount of time (and without inconsiderately bowling over a group of people). Also, for both times I was at the Route 66 Stage (first for Anberlin, second for Norma Jean), security was plucking people out of the audience, pulling them over the fence throughout the entire set - assumedly due to the crowd being pretty rough (but for Anberlin? Really??). It seemed like every show at Warped Tour had an audience like that of Project 86's at Creation East last year -- except no one was encouraging the audience to NOT be rowdy or violent. Finally, the last downside to the dualing stages was the fact that as you waited for the band you actually wanted to see to go on on one stage, you had to endure the other band playing on the other stage... and in the case of when we were waiting for Norma Jean to go on later in the day... it wasn't a pleasant experience.
But Orlando rock band Anberlin were certainly a Warped Tour highlight. Opening with the fast rock anthem, "Godspeed," vocalist Stephen Christian and company emerged to give the audience a quality show. Stephen displayed his usual blissful smile as he performed cuts from each of their three albums -- including the upcoming release New Surrender, if you count the band's next song "The Feel Good Drag," which has been re-recorded for the new record. But the band's set included some of the best the group has to offer, following "Feel Good..." with "A Day Late," "Hello Alone," "Adelaide" (which Stephen dedicated to the fans to sing-a-long to), "Time & Confusion," and "Never Take Friendship Personal." But thanks to fans who had voted the band an extra ten minutes to play during their Warped set for the day, Stephen dedicated "Paperthin Hymn" to Anberlin's oldest of fans, and closed their stellar set with the memorable "Dismantle, Repair."
After Anberlin's set, we made our way to the press tent to conduct a few scheduled interviews (for which had a bit of schedule miscommunication, unfortunately), but during the first one, with The Classic Crime's Matt MacDonald, the good ol' Pennsylvania skies decided to open up and pour out their wrath on Warped Tour. Thunder, lightning, hail, and torrential rain descended upon Scranton, while the festival goers took refuge in the Toyota Pavilion amphitheater and we remained under the press tent. Upon the rain's end - after about 20 to 30 minutes - we conducted a second interview, thus regretfully missing Relient K's performance on the Highway 1 Stage sometime after the rain let up. We had just enough time to make it for the beginning of Norma Jean's performance over at Route 66 (having to endure whatever crummy, profanity-spewing band was peforming on Highway 1 when we got there). While Norma Jean was great at getting the crowd going with their intense hardcore show (although they're not really my style... what can I say?), offering a mix of tunes from their catalog of releases, helping to build up momentum for their new album The Anti Mother, I was rather surprised to even hear a pair of mis-used "h*ll"'s come from Cory Brandan's mouth during their set. While far worse language could have been - and has been - spoken, it just seemed far too random and unnecessary to use -- even if it's a secular venue (especially in the context of one of them merely being - referring to Scranton being in the middle of nowhere - "Where the h*ll are we anyway?!").
At this point, the lack of sleep was catching up to me, and sticking around to see bands like The Devil Wears Prada (who, although also not my style, put on a great show) and Between The Trees seemed less and less appealing. Even after two more energy drinks, I only had some hang time left in me, and I mentally checked out of the Vans' Warped Tour in Scranton even before we officially left the festival grounds.
In the end, I'd accomplished what I'd hoped to do and see - but Vans' Warped Tour just isn't really my kind of place. Most of the bands (that fit with the audience JFH is geared towards) can be seen elsewhere during the year, on their individual tours, and I must say I'd recommend those individual tours before going to Vans' Warped Tour. But if something like Warped is your bag - more power to ya! But this Summer festival goer will be looking forward more to Purple Door and Rock The Universe instead.
-- written by
John DiBiase
, 8/4/08
As a second viewpoint from the same tour date, here's JFH's Kevin Hoskin's on his experience of the Scranto, PA show...
I began Warped Tour 2008 with a 90-minute wait in a long line that snaked through the parking lot. As I waited, I watched the rain clouds roll in and felt the beginnings of disappointment dampen my excitement. Somewhere around 11:00 am, we finally got in and tracked down a vendor with a homemade schedule. We found out later that they weren't quite accurate and cost $2 more than the official schedules passed out for free later in the day… Despite our misinformed itinerary, we managed to find the Hurley Stage where Family Force 5 had just started rockin' it. I always love seeing them perform, and today was no exception. Soul Glow Activatur threw on the big silver gloves while Fatty and Chap Stique banged their heads like never before, all while playing some of my old favorites mixed with some of the new stuff. It was a great show to start the day with.
Near mid-day, I caught The Classic Crime. The set and music was really good, but most of the crowd seemed to be out of it. Perhaps they were ready for lunch? Next, we caught a few moments of Anberlin's set. I only got to see a little bit of the performance which was unfortunate because Stephen and the boys from Florida always deliver a great show live. What I did see was no exception to their usual.
The rain did eventually come and we were all stranded under the pavilion for about an hour while the heavens poured down. After the sun came back out, I got to my last show of the day: The Devil Wears Prada. This was the second time that I have seen them live, and they have a way of delivering such raw energy from the stage that the crowd can't help but love them. It was a constant mosh pit; a crowd surfer coming overhead about every thirty seconds, and a great way to end the day.
Overall, Warped Tour 2008 was a great time - a nice mix of good bands and rockin' shows and pumped up crowds definitely worth spending a day on.
-- written by
Kevin Hoskins
, 8/4/08
Vans Warped Tour 2008 Photo Gallery
click on an image for a bigger size
Family Force 5
The Classic Crime
Anberlin
Norma Jean
*all photos by
John DiBiase
and are the property of
Jesusfreakhideout.com