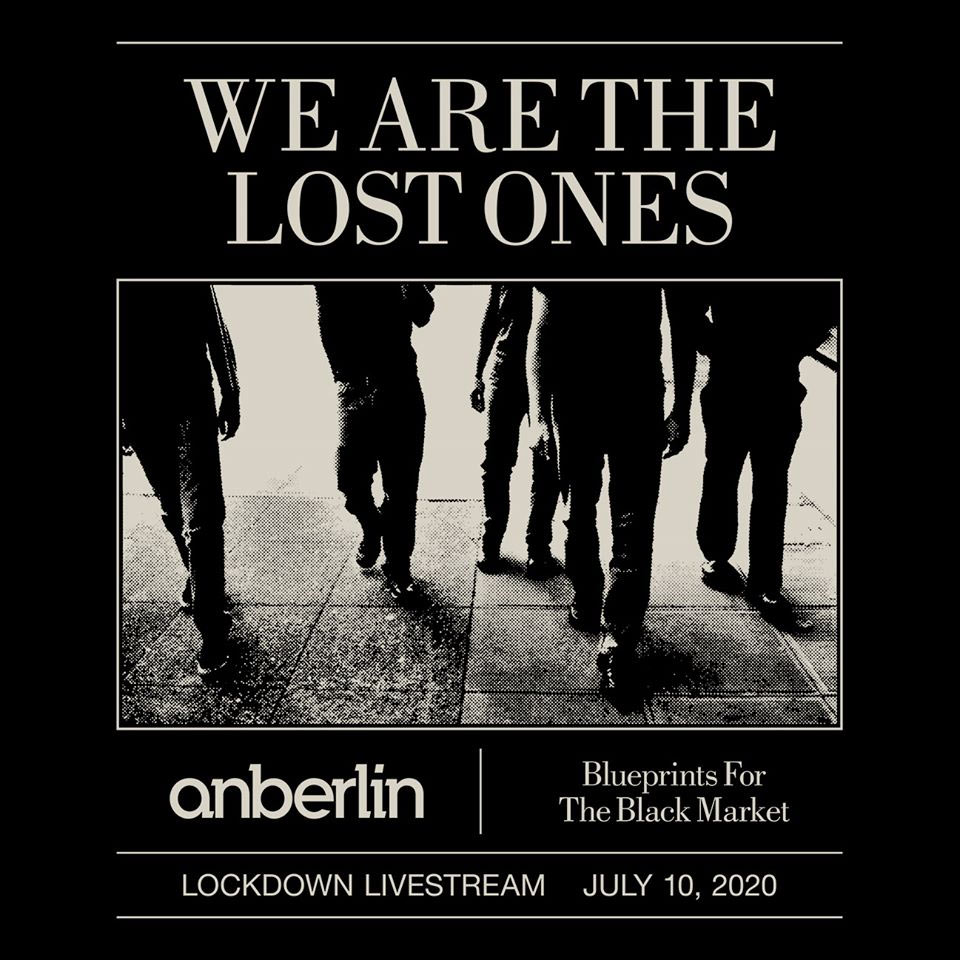 We Are The Lost Ones: Lockdown Livestream
Anberlin
7/10/20, at AnberlinMerch.com
With the world as we know it going crazy, and musicians being forced to reinvent how to engage with their listeners, live-streaming online concerts are becoming more common. Since rock band Anberlin reunited last year for a few live shows (which even had real people-filled audiences), talk of further live shows and even a new studio album began circulating. But thanks to a worldwide pandemic, the band's 2020 tour was postponed, which sent them scrambling for new ways to play music in front of people.
As what is being touted as the first of supposedly several shows where the band plays one of their albums in completion from start to finish, Anberlin announced their one-night-only "We Are The Lost Ones" show, in which they would play their debut Tooth & Nail Records album, Blueprints for the Black Market, in its entirety. (The title "We Are The Lost Ones" is pulled from the chorus of their song, "Change The World.") The concert was originally scheduled for Friday, June 26, 2020, but the "Lockdown Livestream" was pushed back two weeks after, in the band's own words, "a couple of the guys in the Anberlin camp tested positive for COVID after attending a small home gathering where all but 2 people were affected." The show was moved to July 10th, where the quintet gathered together in one room to perform the show live.
The two-hour stream kicked off at 8pm with a special glimpse at a recent Zoom session the band did with Blueprints for the Black Market album producer Aaron Sprinkle and Tooth & Nail Records founder Brandon Ebel. After offering some insight into the making of the album, the band appeared on screen about 20 minutes later to kick off the night's performance with the album's lead-off song, "Readyfuels." The sound mix was pretty solid, although it offers much of the drawbacks that hearing live music in recorded form, as opposed to in-the-same-room, presents. The evening was being recorded specifically for preservation on vinyl and in digital download form, but if the raw mix the livestream offered is what will be on the vinyl record, it'll be a disappointing recording. Typically, livestreams don't seem to have the clarity or production values of a live-recorded album, so I'd be eager to hear what kind of sound the band captured on their end. (However, Jars of Clay recently performed their entire 1998 album Much Afraid online for charity, performing it from four separate locations and it had some of the best sound I've ever heard in a livestream performance. Kudos to them for that!)
After "Readyfuels," Anberlin frontman Stephen Christian made it a point to express his undying regret over how the music video for the song had turned out, serving as one of many moments where the band would candidly banter back and forth with each other. They'd offer fun little backstory moments about the album and its production, frequently remind everyone that guitarist Christian McAlhaney wasn't even in the band when this album released, and perpetuated a relentless running joke that bassist Deon Rexroat's new nickname is "Dijon" (which the fans in the livestream chatroom ate up and constantly referenced, much to Stephen's delight). At times, it felt like we were all in the same room together, but it was ultimately bittersweet that we weren't actually there, and were all stuck behind our own respective screens.
Hearing these songs live again was an absolute joy. I remember seeing the guys at Purple Door shortly after this album released and it was definitely a memorable experience. Although these are songs most of the band members haven't played in quite some time, they sounded great and as though they still fit the band like a glove. Stephen's voice was strong, but he often can't quite replicate the sound or tone of his recorded voice (which a lot of Anberlin's live recordings seem to reflect). The highlight of the band's live performance, though, may have to be Joeseph Milligan's feverish guitar playing and solos. He's an impressive guitarist, and this performance showcased it well for sure.
After the album's sixth song, "The Undeveloped Story," the band took an intermission for almost 20 minutes. The break began with a word from The Laundry Project, a charitable organization that works with laundromats to turn them into "community centers of hope." The Laundry Project helps struggling families by paying for them to be able to wash their clothes and bedding. (For more info, visit https://laundrybycurrent.org/) After the short message, we got to hear more from the earlier Zoom session with Sprinkle and Ebel, before the screen went silent for a few minutes and the band returned to finish out the night. Along with the remaining five album songs, Stephen promised the band intends to do more of these shows, which will certainly be an interesting live series to follow.
As an old school concert goer, and as someone who has seen plenty of free live concert streams, it still feels a little odd to spend $10 to watch a concert online. It's nothing like being there in the audience: The deafening sound. The hot, sweaty room. The smell of dry ice wafting from the stage. The company of friends. And the ability to feel the sound booming from the giant stage speakers. There's really nothing like it. But, with many music fans stuck at home and unable to enjoy the live show experience, the livestream may be the best--and only--option for most of us. And while we don't even get to "go home" with memories that might last a lifetime, or a crumpled ticket stub to tack up on a wall or in a scrapbook, bands like Anberlin are giving fans and music enthusiasts a chance to experience music they love being played live by artists they love, and support them financially at a time when it's needed most.
--
John DiBiase
, 7/14/20
We Are The Lost Ones: Blueprints for the Black Market Live

Readyfuels
Foreign Language
Change The World (Lost Ones)
Cold War Transmissions
Glass to the Arson
The Undeveloped Story
**Intermission**

Autobahn
We Dreamt In Heist
Love Song
Cadence
Naive Orleans
We Are The Lost Ones Photo Gallery
click on an image for a bigger size
Anberlin
*all screenshots were grabbed by Jesusfreakhideout.com for this review.