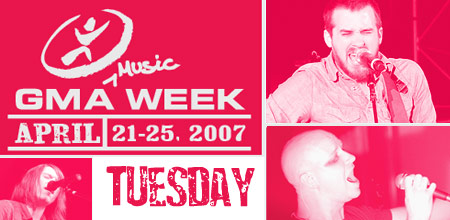 A long day followed by one that starts even earlier is just the way of the GMA beast, and we reported to the bowels of the Nashville Convention Center for a 9:00AM interview with new Flicker Records band Wavorly. Provident Label Group organized what they call a "media blitz," which loaded their artists into one large room with curtains separating interviews taking place simultaneously. The plus side is you can schedule back to back interviews and never leave the room - the downside is it can be a rather noisy and distracting environment for recording them. After Wavorly, we went up to the Provident suite to watch a special performance of acoustic duo Monk & Neagle as they performed selections from their upcoming sophomore release The 21st Time, including the title track, "What Soldiers Do," and "Hallelujah Jesus." The twosome showcased their strong songwriting talent as well as wonderful harmonies and vocal capabilities. Suffice it to say, the brief set left an impression.
It wasn't too long before we found ourselves back at the Provident media blitz and were met with a bit of confusion. Before we arrived at GMA, we were scheduled to have some time with solo artist Brian Littrell, then it was cancelled, and then when we arrived at Convention Center, it was apparently back on - leaving us without any preparation. So we began a trio of back-to-back Q&A's starting with Jars Of Clay members Dan Haseltine and Matt Odmark, then moving on to Littrell, and ending with our first talk ever with Michael W. Smith.
Right afterwards, we walked down to The Melting Pot on 2nd Avenue for a Word Records media function in which the media could meet and possibly interview their artists in ten minute incriments over a simmering fondue pot. While it wasn't the appropriate setting for interviews (making it seem rude to whip out a recorder while an artist chows down on a skewered piece of meat, fish, or chicken), it was a great meet and greet atmosphere, and we had the pleasure of speaking with such artists for the first time as Ben and Nic from Salvador, Michael English (who openly talked about the rise and fall of his career, Christ's redemption, and a new book he's written about it all), the ladies of Point Of Grace, Stellar Kart, David Phelps, Big Daddy Weave, newcomers Pocket Full Of Rocks (which led to an interesting conversation about music and... my review of their debut), Marie Miller, Mikeschair, and Mark Roach, and reuniting with friends like BarlowGirl, Group 1 Crew, Jackson Waters, and Plumb. We then had to rush out a little early to catch the showboat General Jackson for a Provident dinner showcase.
The dinner on the General Jackson was a neat experience for several reasons. With the way the tables were organized, each one featured an artist or member of a band as well as a fair mix of radio, retail, media, and industry people. The evening was emceed by the members of Third Day, who humorously would announce artist performances as well as lead the onlookers in several games of Bingo to win gift baskets. The night opened with Michael W. Smith presenting honorary plaques to Brian Littrell and Jars Of Clay on behalf of the U.S. President for their works of service (Littrell founded the Brian Littrell Healthy Heart Club For Kids; Jars Of Clay founded Blood:Water Mission). The music portion of the entertainment began with a performance from Casting Crowns of their hit single "Praise You In This Storm" from their current album Lifesong, followed by the debut of a brand new song entitled "East To West," from their forthcoming August 28th release, The Altar & The Door. The new song followed the familiar Casting formula, yet seemed to display more vocal strength from frontman Mark Hall. Former According To John vocalist John Waller was up next presenting his brand of contemporary pop worship, performing the title track from his solo debut, The Blessing, which featured a duet with Mark Hall. Following another selection from his record, Monk & Neagle stepped up to perform "The 21st Time" and "Hallelujah Jesus." Probably the most engaging performance of the night, however, was Leeland with their songs "Reaching" and the intense "Tears Of The Saints," which visibly gripped the audience. The young band closed their teaser set with a few choruses of the old hymn "Nothing But The Blood," garnering a warm reception from the crowd. The World Premiere of Michael W. Smith's heartbreaking video for "How To Say Goodbye" preceded a special performance from the artist of his song "Grace" from his latest release, Stand. When Smitty finished, the boat had just docked, and we were soon quickly ushered off the ship, back onto the Nashville streets.
When we got back to the Renaissance, we could hear the sounds of Ruth playing in the Renaissance Ballroom for the BEC/Tooth and Nail showcase happening inside. But when we caught wind that Jackson Waters and Group 1 Crew were performing in the Nashville Convention Center, we made it a point to locate the conference room it was held in. We walked in just as Group 1 Crew was beginning their song "Forgive Me" to end their set. Former ZoeGirl member Alisa Childers was the showcase emcee, and announced southern rock band Jackson Waters, who immediately broke into the rocking title track from their debut, Come Undone. We'd seen these guys live before, but in both of these cases, they were having to perform to industry representatives in a less than comfortable setting. Despite the conditions, the guys performed tightly, as they moved into their current single "Different" and closed rather bravely with a brand new song yet to be released (which, despite being a great song, was an odd song choice considering the debut album just dropped the previous month).
Weary from a busy schedule and lack of sleep, we drove around a bit aimlessly in the attempt to locate the Mercy Lounge, home to the Flicker/Essential Rock Night Showcase. When we arrived, we learned the venue was filled to capacity, and they weren't letting people in until occupants began trickling out to leave. When we finally got inside, Red was about to go on, and the band unleashed their aggressive rock tunes on the crowd, including their hit "Breathe Into Me," as well as others from their debut End Of Silence. The room was stifling and suffocatingly humid, which caused any member on stage to soon look like they'd just come in out of the rain as they dripped with sweat. Kids In The Way followed, performing all new songs from their forthcoming rock record Love Hate Masquerade. The opened with "Your Demon," and performed "Sugar" as well as a few others. Without much left in us, we regretfully left the Lounge to call it a night before headliners Pillar took the stage...
--
John DiBiase
, 5/1/07
GMA Week: Tuesday Photo Gallery
click on an image for a bigger size
Monk & Neagle -- Special Media Performance @ Provident Suite
Michael W. Smith
-- "PLG 2007 GMA Dinner" @ General Jackson
Jars Of Clay
-- "PLG 2007 GMA Dinner" @ General Jackson
Brian Littrell
-- "PLG 2007 GMA Dinner" @ General Jackson
Third Day
-- "PLG 2007 GMA Dinner" @ General Jackson
Casting Crowns
-- "PLG 2007 GMA Dinner" @ General Jackson
Leeland
-- "PLG 2007 GMA Dinner" @ General Jackson
Michael W. Smith
-- "PLG 2007 GMA Dinner" @ General Jackson
Group 1 Crew
-- "Super Tuesday Showcase" @ NCC 204-6
Jackson Waters
-- "Super Tuesday Showcase" @ NCC 204-6
Red
-- "Flicker/Essential Rock Night" @ Mercy Lounge
Kids In The Way
-- "Flicker/Essential Rock Night" @ Mercy Lounge
*all photos by
John DiBiase
and are the property of
Jesusfreakhideout.com
GMA Week 2007 Review: Main | Sunday | Monday | Tuesday | Wednesday