The God Who Makes Things Happen
"O God! Your way is holy! No god is great like God! You're the God who makes things happen."
-
Psalm 77:13-14 MSG
One of the most difficult lessons that I have had to learn as a follower of Christ is to wait on God for His best. I have always been a "take charge" kind of person, so learning to depend on the Lord, and to wait for His perfect timing in my life on a regular basis, has been quite a challenge.
One thing that helps me in this area is the feeling that I don't want to miss out on any of the blessings that God has in store for me. I've learned that, just because the blessings He has reserved for me have my name on them, they are not automatic. On the contrary, the Lord expects me to cooperate with Him in order for me to receive His best. How do I do that? I surrender my own ideas, plans, and agendas to Him. And I resist trying to make things happen in my own strength and timing.
The Bible says: "O God! Your way is holy! No god is great like God! You're the God who makes things happen." (Psalm 77:13-14 MSG) When we get ahead of God and try to make things happen on our own, it is not only an insult to Him, but it can cause us to delay or forfeit His best for us. The Lord wants us to look to Him only for our needs and desires, and He expects us to live in humble dependence upon Him.
I heard a godly man say that God does not want to keep good things from us; rather, He keeps us from settling for second best. That's why resisting His timetable is basically resisting the very best blessings, rewards, and opportunities that He has for us. Scripture says: "At the right time, I, the Lord, will make it happen." (Isaiah 60:22 NLT) Today, surrender your own ideas and agendas to the Lord, and tell Him that you want His plans, instead. Then watch Him move heaven and earth to give you His very best!
Prayer: Lord, today, I surrender to You every aspect of my life, and all of my own ideas and plans. When I am tempted to act on my own wisdom and knowledge, remind me that I cannot see the future, or the big picture, the way that You can. Remove all pride from me, and teach me how to live in humble dependence upon You. Thank You that as I submit to Your will and timing in every area and situation, I will receive Your very best blessings, opportunities, and rewards!
-
J. M. Farro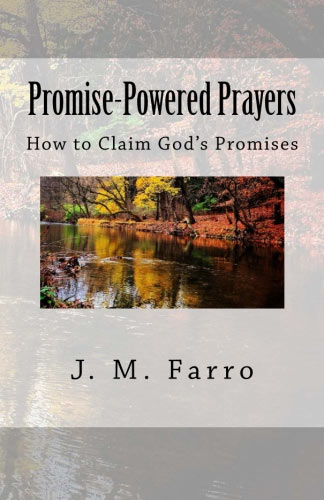 Promise-Powered Prayers Paperback Book

**To order J. M. Farro devotional books on ETSY.com using a credit card, PayPal, or Etsy gift card, Click Here. Books sold through ETSY can be signed and personalized by the author at your request. To place an order on Amazon.com, Click Here.
Full List of Devotionals
The devotionals aren't just limited to weekly! All previously featured devotionals are archived here for your convenience and easy access.
Click here
to view many more archived, Spirit-filled devotionals about everyday situations written by J.M. Farro!
Connect with J.M. Farro

*To place an order for J.M.Farro's books on Amazon.com,
Click Here
.
*Subscribe to
J.M. Farro
's FREE audio Podcast via
RSS
*
Follow
J. M. Farro on
Twitter
!
*Visit her
official website
at
JMFarro.com
!
*Send any questions or comments you may have to
J.M. Farro
via our
Contact Form
!