Give God the Right to Direct Your Life
"Give God the right to direct your life, and as you trust Him along the way, you'll find He pulled it off perfectly!"
-
Psalms 37:5 TPT
After I graduated high school many years ago, I enrolled at a state college nearby. What I didn't realize at the time was that this college had accepted almost a thousand more students than they could accommodate, and when I went to sign up for classes, I couldn't get any of the ones I needed for my major. I was devasted, and I felt that my only choice was to go back to the job I was working at during the summer, and to put my education on hold. A year later, I enrolled at a local county college, and it was here that I met my future husband, Joe. That was almost 48 years ago, and we are still together, with two grown sons and three grandchildren.
As I look back, I can't help but marvel at how the Lord brought Joe and I together. We are the same age, but God saw to it that Joe's college education was delayed for a whole year, too. The Lord made sure that Joe and I were in the same Sociology class at the same time. And He had our professor put us in the same skit together, so that we had no choice but to talk to each other and get to know each other. Truly, the way that God directed our steps was nothing short of a miracle.
The Bible says: "Give God the right to direct your life, and as you trust Him along the way, you'll find He pulled it off perfectly!" (Psalms 37:5 TPT) Because the Lord has given us the will to choose and to make our own decisions, we must give Him "the right to direct" our lives. He won't force His will on us, even though His will for us is always what is best for us. Receiving Christ as our Lord and Savior won't guarantee that God will direct our steps each day. We have to intentionally commit our ways and our days – even every situation and need – to the Lord continually, in order for us to walk in His perfect will. This takes trust, which is why this Scripture mentions this requirement. So my challenge to you today is to give God the right to direct your life every day, in every way. Then, in whatever test or trial you might face – "you'll find He pulled it off perfectly!"
Prayer: Lord, today I give You the right to direct my life. I surrender to You all of my hopes, dreams, and plans. Please align my will with Yours in every area of my life, and help me to fulfill my God-given purpose and potential. Use Your Word and Your Spirit to guide me along Your perfect paths of peace, wellness, and abundance. Thank You that as I allow You to direct my steps, I will live a life of victory and success!
-
J. M. Farro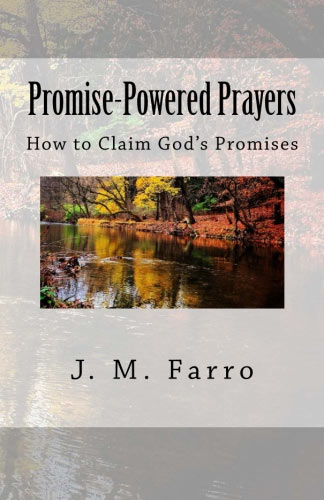 Promise-Powered Prayers Paperback Book

**To order J. M. Farro devotional books on ETSY.com using a credit card, PayPal, or Etsy gift card, Click Here. Books sold through ETSY can be signed and personalized by the author at your request. To place an order on Amazon.com, Click Here.
Full List of Devotionals
The devotionals aren't just limited to weekly! All previously featured devotionals are archived here for your convenience and easy access.
Click here
to view many more archived, Spirit-filled devotionals about everyday situations written by J.M. Farro!
Connect with J.M. Farro

*To place an order for J.M.Farro's books on Amazon.com,
Click Here
.
*Subscribe to
J.M. Farro
's FREE audio Podcast via
RSS
*
Follow
J. M. Farro on
Twitter
!
*Visit her
official website
at
JMFarro.com
!
*Send any questions or comments you may have to
J.M. Farro
via our
Contact Form
!