Fly Away and Be at Rest
"There is no longer Jew or Gentile, slave or free, male and female. For you are all one in Christ Jesus."
-
Galatians 3:28 NLT
My dad grew up in the midst of the Great Depression of 1929. His father died just before he was born, and he lost his only sibling – an older brother – to disease at the age of 14. He served in the Air Force during World War II, and afterwards, he attended Rutgers University and got a degree in Accounting. When he tried to get a job in public accounting so he could sit for the CPA exam, no one would hire him. Why? Because he was Italian. Thankfully, he had a praying mother, and eventually, an accounting firm hired him. Later, he was able to get his CPA certification, and enjoyed a long and successful career working for a prestigious company in New York City.
My dad saw that our family grew up in an Italian-friendly area of New Jersey. It wasn't until my husband, Joe, and I moved to our current home in Pennsylvania with our two young sons that we realized just how little some folks think of Italians. When we began experiencing attacks on our home and property, and we had to get law enforcement involved, the Chief of Police warned us about people in our town who would never accept us because we were Italian. That was over 30 years ago, and we are still here because we know that God has called us to be here. My son, Joseph, launched the only successful Bible Club in the history of his public high school. And both of my sons met their wives here. When HBO decided to air a new series called The Sopranos, I was heartsick. Here was just one more negative depiction of Italians that would contribute to people seeing us as crooks, mobsters, and low-lifes. I was especially disappointed when my own cousin allowed the filmmakers to use his house as the Soprano home.
When a Christian publisher offered to publish my devotionals in a book series some years ago, they recommended that I use my maiden name, Farro, instead of my married name. My husband immediately knew why – my married name sounds too Italian. Then my publisher suggested that I don't use my first name, Joanne, but only my first two initials, J. M., in order to hide the fact that I am a woman. Even today, I hear from people who are angry when they buy one of my books and start reading, and then realize that I am not a man.
The Bible says: "There is no longer Jew or Gentile, slave or free, male and female. For you are all one in Christ Jesus." (Galatians 3:28 NLT) In God's sight, we "are all the same in Christ Jesus," as one translation says. (ERV) Another verse like it is in Colossians 3:11 (TPT): "In this new creation life, your nationality makes no difference, or your ethnicity, education, or economic status – they matter nothing. For it is Christ that means everything as He lives in every one of us!" Even though other people may see me as Italian, I have decided to see myself simply as a follower of the Lord Jesus Christ. I know there are people in this world who will never accept me because of my nationality, and that's okay. I don't need their approval in order to fulfill my God-given purpose and potential. If you can relate to my situation today, remember this – "It is Christ that means everything as He lives in every one of us!"
Prayer: Lord, I know that You made me the way I am for a good purpose. You don't make mistakes, and You don't make junk. When people exclude me or treat me unfairly, help me to remember that You love me and accept me. Teach me to walk in love and forgiveness every day, so that You can bless me and use me in extraordinary ways. Thank You for surrounding me with brothers and sisters in Christ who will cherish me, and encourage my devotion to You!
-
J. M. Farro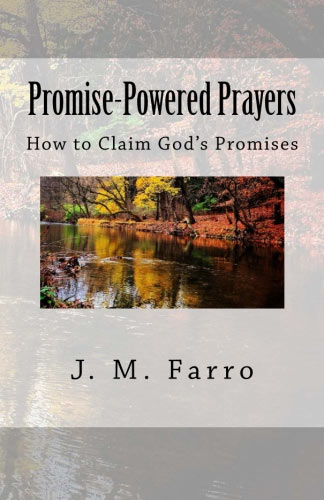 Promise-Powered Prayers Paperback Book

**To order J. M. Farro devotional books on ETSY.com using a credit card, PayPal, or Etsy gift card, Click Here. Books sold through ETSY can be signed and personalized by the author at your request. To place an order on Amazon.com, Click Here.
Full List of Devotionals
The devotionals aren't just limited to weekly! All previously featured devotionals are archived here for your convenience and easy access.
Click here
to view many more archived, Spirit-filled devotionals about everyday situations written by J.M. Farro!
Connect with J.M. Farro

*To place an order for J.M.Farro's books on Amazon.com,
Click Here
.
*Subscribe to
J.M. Farro
's FREE audio Podcast via
RSS
*
Follow
J. M. Farro on
Twitter
!
*Visit her
official website
at
JMFarro.com
!
*Send any questions or comments you may have to
J.M. Farro
via our
Contact Form
!