Rewards for the Repentant
"God is high and lifted up. He lives forever. His name is holy. He says, 'I live in a high and holy place, but I also live with people who are humble and sorry for their sins. I will give new life to those who are humble in spirit. I will give new life to those who are sorry for their sins.'"
-
Isaiah 57:15 ERV
Weeks before the Coronavirus broke out here in the U.S., the Lord began dealing with me about adopting a posture of deep repentance. Instead of asking God in a general sense to pardon me for my sins, the Holy Spirit led me to begin mentioning my specific sins as I prayed for forgiveness. I didn't realize just how much I was "falling short of the glory of God" (Romans 3:23) until I began expressing sorrow for my sins in a very specific way. While I was truly sorry for my sins, instead of feeling condemned as I voiced my repentance, I came away feeling refreshed and renewed. And I rejoiced in God's promise which says: "If we confess our sins, He is faithful and just and will forgive us our sins and purify us from all unrighteousness." (1 John 1:9 NIV) When we confess our sins in a godly way, we experience purification, instead of condemnation.
Isaiah 57:15 reveals that while our great God lives in "a high and holy place," He also lives with "people who are humble and sorry for their sins." People like these will experience the Lord's presence in a deeper way, and will see more of His involvement in their daily lives. But there's more. God promises, "I will give new life to those who are humble in spirit. I will give new life to those who are sorry for their sins." Those who live their lives with a humble dependence upon God, and an attitude of reverence, respect, and repentance, will be given "new life" here on earth. This means that God Himself will lift us up, and fill us with divine energy, confidence, and courage. And He will give us a new purpose for living, and send us new assignments in His Kingdom.
A lot of Christians are seeing this pandemic as a wake-up call from Almighty God, and I am one of them. Do I believe that God sent this deadly virus? Absolutely not. But the fact that He is allowing it should give us pause. Scripture says: "For the time [has arrived] for judgment to begin with the household of God; and if it begins with us, what will [be] the end of those who do not respect or believe or obey the good news (the Gospel) of God?" (1 Peter 4:17 AMP) Before we look at the ungodly and blame them for the predicament we are in right now, we need to look at ourselves. Have we always been loving, patient, kind, good, faithful, gentle, and self-controlled? (Galatians 5:22-23 NIV) No, we haven't. We have failed to consistently set a good example for other Christians, as well as for the ungodly. And because of this, we have given up a tremendous amount of ground to Satan and his forces of evil – ground that should have belonged to Christ.
As I was writing this message, the Holy Spirit brought to my mind Second Chronicles 7:14 (NIV), which says: "If My people, who are called by My name, will humble themselves and pray and seek My face and turn from their wicked ways, then I will hear from heaven, and I will forgive their sin and will heal their land." I hesitated to include it here, until the Lord had me listen to a brief message by Charles Stanley, "America's Pastor," in which he quoted this verse with regard to our nation and this pandemic. Many Christian leaders believe that our right response to this crisis could usher in a Great Awakening here in America, and around the world. Let us turn to our God in humble repentance today, so He can use us to bring multitudes into His Kingdom during these dark and difficult times!
Prayer: Lord, I turn to You in heartfelt repentance now for all of my sins. Cleanse me with the precious Blood of Christ, the spotless Lamb of God. Grant me the new life and rewards that You promise in Your Word to those who are truly humble and repentant. Give me a new purpose for living, and new assignments in Your Kingdom. Thank You for filling me with supernatural strength, confidence, and courage, and for using me to touch and change lives in an eternal way for Your glory!
-
J. M. Farro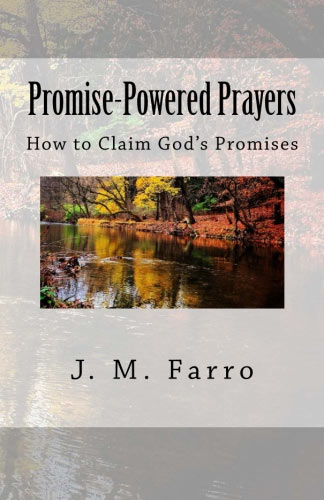 Promise-Powered Prayers Paperback Book

**To order J. M. Farro devotional books on ETSY.com using a credit card, PayPal, or Etsy gift card, Click Here. Books sold through ETSY can be signed and personalized by the author at your request. To place an order on Amazon.com, Click Here.
Full List of Devotionals
The devotionals aren't just limited to weekly! All previously featured devotionals are archived here for your convenience and easy access.
Click here
to view many more archived, Spirit-filled devotionals about everyday situations written by J.M. Farro!
Connect with J.M. Farro

*To place an order for J.M.Farro's books on Amazon.com,
Click Here
.
*Subscribe to
J.M. Farro
's FREE audio Podcast via
RSS
*
Follow
J. M. Farro on
Twitter
!
*Visit her
official website
at
JMFarro.com
!
*Send any questions or comments you may have to
J.M. Farro
via our
Contact Form
!