Rita West
is a speaker and singer/worship leader from New Orleans, Louisiana. West released a single in 2016 ("Heart of Mercy") and has since released her EP,
Chosen
, here in 2017.
Chosen
features six original songs that bring both pop/rock and worship sensibilities to the table. West, herself, has a surprisingly strong and enjoyable voice that really complements her sound. I was honestly taken back by how much I found myself enjoying the vocal performance on the EP -- especially with the slow moving and stirring "Looking."
The EP opens with the faster-paced "Victor," which brings a strong pop/rock sound to the table; it's a catchy tune and a fun listen. The title track is more of a worshipful song, but builds up to a nice and powerful crescendo towards the end. "Walls (I'm Done Hiding)" features a more standard modern worship sound, but also has a similar build and powerful ending. West sings, "I'm done hiding; I want more" in the track that talks about giving everything over to God. "Glory" is up next and is a more mid-tempo song that will make your head nod some, but doesn't give you the punch found in the first three tracks. The piano led "Looking" slows the music down to its softest and most mild on the EP. The faint strings that play across the piano give the song a really nice mood. West fittingly closes the song by singing, "You've always been exactly what I'm looking for." The EP closes with "In That City," a song that builds ever so slightly off of "Looking." As you can guess by the title, the finale is about the glory of Heaven and what can be expected there. The track steps up nicely, entering into the second verse and keeping that more potent energy going through the closing of the song.
Rita West's Chosen completely caught me by surprise. The songs are certainly worshipful, but nothing feels like a forced worship song that you've heard written dozens of times before. West's voice is surprisingly akin to that of Lacey Sturm (Flyleaf), and while Lacey's voice is a bit more raw and emotional, West sings in a similarly urgent tone (just keep in mind that the comparison does not take into account Lacey's bone-jarring screams). Rita West has put together a nice little collection of songs and opened up the possibilities for a much bigger full-length debut. If you want a small taste of Rita West's music, I'd recommend "Looking" first, but the rocking "Victor" and more contemplative "Chosen" are also great choices.
- Review date: 6/20/17, written by
Michael Weaver
of Jesusfreakhideout.com
JFH Staff's Second Opinion
With her debut EP,
Chosen
, singer/songwriter
Rita West
is coming out of the gate strong. West has vocals built for rock music, with hints of Lacey Sturm (Flyleaf), Dolores O'Riordan (The Cranberries), and Janell Rosa (The Ember Days). The title track even reminds me quite a bit of The Ember Days, with its gentle, piano-led indie pop rock. One of my favorite tracks here is "Walls (I'm Done Hiding)," which sees West declaring that she's ready for more of the Lord. As something that I personally struggle with, it's encouraging to know that I'm not alone when it comes to wanting to hide from everything God wants to give me. The song gets louder as the song goes on, and ends triumphantly, complementing the message very well. "Glory" is a more interesting song that, admittedly, I didn't expect considering how different it is from the preceding songs. The song is composed of organ, synth, '80s pop guitar picks, and banjo. Needless to say, it sticks out from the rest, reminding me of '90s singers like Natalie Imbruglia and Alanis Morisette. Rita West's
Chosen
EP is a solid worship album that both stands out from and blends in with other modern pop/rock worship albums. This is an easy album to recommend if you're looking for some new worship music to enjoy. - Review date: 6/26/17, written by
Scott Fryberger
of Jesusfreakhideout.com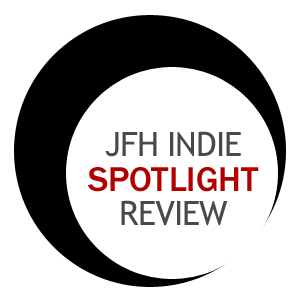 Record Label:
Mercy Crew Records

Album length:
6 tracks: 28 minutes, 21 seconds

Street Date:
May 26, 2017

Buy It:
iTunes

Buy It:
AmazonMP3

Buy It:
GooglePlay
Victor (3:29)
Chosen (5:32)
Walls (I'm Done Hiding) (4:40)
Glory (4:01)
Looking (5:36)
In That City (5:03)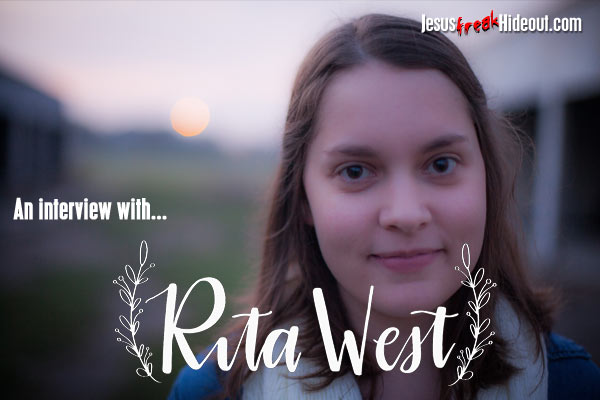 Jesus Freak Hideout (Michael Weaver): How long have you been singing and making music?
Rita West: I started singing in the school choir in 11th grade and learned to play guitar 2 years later while serving as a missionary with NET Ministries, Inc. So I've been leading worship and songwriting since I finished with them in 2010. Music has always been a part of my life, though. I have many fond memories from childhood of my whole family just singing at the top of our lungs to the radio. Last year, I wrote a song called "Heart of Mercy" with my friend John Finch. It was my first experience of recording and releasing a song and the whole process gave me the push I needed to get into the studio for this EP.
JFH (Michael): Who are some of your musical influences?
Rita: I love Audrey Assad and Amanda Cook, both in their unique sounds and styles of leading worship, but also in the honesty of their lyrics. I listened to Natalie Grant a lot growing up as well, so I feel like her music factors in somewhere as well!
JFH (Michael): Your voice actually reminds me a lot of Lacey Sturm from Flyleaf (sans the occasional screaming). Has anyone ever made that comparison for you before?
Rita: haven't gotten that before, but you can bet I'll be listening to more Flyleaf to test that out! I've gotten Hayley Williams from Paramore before, which I think is hilarious and an honor all at the same time.
JFH (Michael): "Chosen" and "Looking" are hands-down my favorite two songs on the EP. "Chosen" is a powerful worship song and the piano, strings, and mood of "Looking" are hypnotizing. Can you tell us a bit about those two songs?
Rita: Thank you! "Chosen" was the first song I'd ever written that I really felt like the Lord was calling me to share with people. It was inspired by John 15:16 - "It was not you who chose me, but I who chose you" - and what I believe to be a universally human desire to be chosen.

I'd also heard about an ancient wedding tradition, where the groom would tattoo the name of his bride on his hands as a sign of his devotion and faithfulness to her. Similarly, when Christ the Bridegroom came to lay down His life for His Bride the Church (aka - us!) , they pierced His hands with nails. The scars on His hands bear our names. They're a sign of the lengths that Love will go to show that He's chosen His beloved. As I wrote "Chosen," the Lord brought that story back to my heart, which is where the first line of the chorus came from.

"Looking" is honestly just a cry of my heart, and again, I believe the cry of humanity's heart. We are searching for something that will satisfy the deepest longing of our hearts, but we don't recognize that we're trying desperately to fill an infinite space with the finite. We look to relationships, success, etc. but those things will never fill us - and they aren't supposed to. They can lead us to know the Lord more, but only in Him will our desires ever be fully satisfied. And I think once we can be honest about the longing in the looking (rather than numb the longing, which can seem easier), we can hear the Father's promise and taste the truth of His fullness.
JFH (Michael): What kind of things do you tackle during your speaking engagements? Are they more youth oriented, or do you also speak for adults?
Rita: I speak to all age groups! I love developing a message for the audience I'm speaking to. I cover different topics when I speak, but I'd say the heart of most messages I give is that the Father longs for us. As much as any one of us can say that we long for Him, or love Him - He longs for us and loves us infinitely more so. I love using Scripture stories to bring this truth to life - the Blind Man Bartimaues, Doubting Thomas, the Woman at the Well. These people encountered the Lord and each one of us can as well!
JFH (Michael): Are you doing any touring or live events?
Rita: I don't have a tour currently planned, but all my events are listed on my website ritawest.com/tour
JFH (Michael): What has God been teaching you in this season of your life?
Rita: Simplicity. I tend to overcomplicate prayer, when the Lord just desires that I'd relate to Him what's on my heart and then rest in His. Psalm 23 and 139 are helping me with that!