With dubstep making such a huge impact on the music industry in 2012, becoming a niche genre that's easy to make and has made its way into the ears of many, it's no wonder many artists have taken a liking to it. But with a dubstep track's tendency to sound similar to many others like it, it's becoming increasingly important to do something different with it if you're going to use it. Enter independent rock band Kronicles. The band has always had the desire to use electronic elements in their music, and with their signing to Sound State Records in 2012, they've done just that on their latest EP, Illuminate.
Kronicles' progression into dubstep-flavored rock music (or what they call "rockstep") has brought them into a good place. The songs on Illuminate are equal parts rock music and dubstep. The guys did a very impressive job mixing the two sounds together, so "rockstep" is really the only appropriate term to describe its sound. The rock portion on its own can be compared to what you'd hear from Red, 12 Stones, Skillet, and the like. Very familiar guitar riffs are ever present, making parts of songs like "Take My Life" and "Losing Sleep" a little uninteresting (usually the chorus). Kronicles is much stronger when the electronics and rock come together and sound slightly reminiscent of not only nu metal acts like Static X and Powerman 5000 (to an extent; those bands were heavier), but also electronic-based rapcore acts like Hollywood Undead. My favorite part of Illuminate is the verses of "Losing Sleep." Instead of singing, the verses are done in an almost rap-style structure. With the subdued vocal effect and the dubstep background music, it works well, and becomes the strongest portion of the EP. "Illuminate" is also a strong track (if not the strongest track) and starts things off on the right foot. The X-Files come to mind as the track starts, and the progression of the synth and keys flows into something like Linkin Park from their Hybrid Theory album.
I try to steer clear of mentioning a lot of bands when describing another band's sound, but sometimes it's the best way to do so. However, it isn't meant to say that Kronicles only sounds like a conglomeration of all the bands mentioned above; in all honesty, they can probably hold their own when stacked up against those bands, even if you do prefer one of them over Kronicles.
The music is easily the strong suit of Kronicles, as the lyrics could use a little work. They're bold, honest, and humble, but simple, and sometimes a little too generic. "Illuminate" gets a little bogged down with cliches near the end: "'Cause life is only what you make it, and there's no way for us to fake it, it's in the state of your mind to make the most of this life, so I will seize the day." Later, in "Losing Sleep," we find some of the boldness I mentioned, as the lyrics make the point that those who hate their music don't matter much to what they do. But again, I feel the point could've been expressed in a much stronger lyrical method, as opposed to "Itís so amusing what people say of our music, itís as if we need permission, approval for what weíre doing, Iím like, 'you hater! Why donít you see my vision comes from the one that has inspired me?'" At the same time, a lot of what Kronicles has to say can offer encouragement to the listener by way of relatable lyrics, such as "Your love will lead me back to Your heart again, no one loves me like You do, and no one knows me like You do, and I need You bad." Finally, my favorite lyrics from Illuminate come in the final song, "Show Me," when they ask God "Would You show me who You want me to be? Would I freak out? Is it who I am?" It's a little convicting, as it can make the listener question their own spirit: am I who God wants me to be?
Kronicles is a rock band with a lot of promise. While it's easy to compare the parts of their sound to other bands and acts, the whole of the band is making strides toward finding something unique, and I encourage them to keep moving in that direction. As mentioned, they could stand to work on the lyrical aspect a little bit, but from the looks of it, that doesn't seem like too tall of a challenge. I'll be keeping my eye on Kronicles, and I can easily recommend Illuminate to fans of dubstep and modern rock, as well as anyone with an open mind looking for something they may not have heard before.
- Review date: 10/10/12, written by
Scott Fryberger
of Jesusfreakhideout.com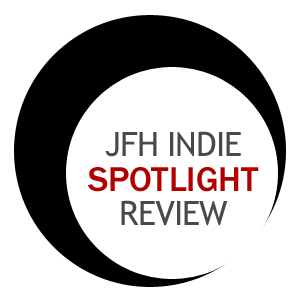 Record Label:
Sound State Records

Album length:
5 tracks: 19 minutes, 8 seconds

Street Date:
September 18, 2012

Buy It:
Amazon.com
Illuminate (3:10)
I Need You (3:30)
Take My Life (4:48)
Losing Sleep (3:37)
Show Me (4:03)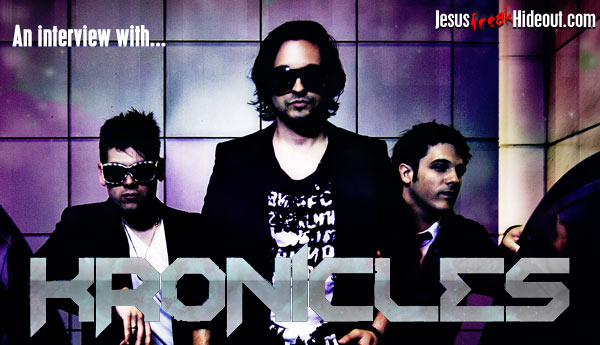 Jesus freak Hideout (Scott Fryberger): Who makes up Kronicles, and what does each band member do?
Kronicles: Danny is the lead vocalist, Johnny is the guitarist/DJ, and Ant is the drummer.
JFH (Scott): How long has Kronicles been playing together?
Kronicles: Been together for 10 years and started out as a garage band.
JFH (Scott): What is the meaning behind the band's name?
Kronicles: When trying to come up with band names, we just opened the Bible and took it from the book of Chronicles. It was also a good fit because of the storytelling nature of the lyrics.
JFH (Scott): What was most influential in your decision to sign to Sound State Records?
Kronicles: Being under Sound State allows us to do our ministry and music without restrictions and limitations. You always hear about labels trying to restrict and water down the message of a band.
JFH (Scott): Tell me about the change in style from your last album to Illuminate. Who and/or what inspired your current sound?
Kronicles: Our last album Reset was more of a hard rock album, and although we love the meaning of all the songs, we felt like it wasn't very creative as a genre. We took a long break from touring to experiment in the studio and tried to be more creative and fuse rock with a more electronic sound. Once we combined rock with Dubstep, it was a great moment for us.
JFH (Scott): Are any of the songs on Illuminate new electronic versions of older Kronicles songs, or are they all new?
Kronicles: They are all new songs.
JFH (Scott): Do you get a lot of chances to take your show on the road?
Kronicles: We went on a few tours with other bands, did the summer festival tour, and also hosted our own mini tour. We haven't toured with Illuminate yet but we'll be at some major festivals this summer like Creation and Atlanta Fest.
JFH (Scott): Does Kronicles have any good near-future plans or opportunities?
Kronicles: We hope to go on tour soon. We'll be releasing a video for the song "I Need You" in February, which will be amazing. We've also been picked up by Pandora radio.
JFH (Scott): What has God been teaching you lately?
Kronicles: God has taught us to continue putting Him first and seeking Him daily so that we can stay focused on our mission to spread the Gospel. There are many forces trying to make us luke warm and stray but we have to remain on the path.