Though she's still in her early 20s, Costa Rican singer/songwriter Ruth Sanchez, aka
Rewth
, already has several albums' worth of songs written and ready to be recorded. Of them all, she's selected five to represent her artistry on her first recording, an EP called
Kaleidoscope
.
Rewth cites Newsboys, MuteMath, and Eisley as her influences, but the last of those three is immediately noticeable right off the bat in "Seen No Demon." The opening lyrics, "I needed an ambulance," are likely a reference to Eisley's "Ambulance," and Rewth's high, sweet vocals are slightly reminiscent of the sisters DuPree. Her voice also sounds great, and a little more confident, in the two Spanish songs, "6:21 (El Capitán)" and "Llena Mi Alma." Her accent is very noticeable in the English tracks, and while that's definitely not a bad thing, it's quite obviously always less nerve-racking to sing in your native language. The same can also be applied to the lyrics, as the English songs aren't always the most well-written or naturally phrased. But what the songs lack there, they make up for with passion. It's clear that Rewth believes what she's singing, with a lot of heart and conviction coming through each melody.
Musically, Kaleidoscope fits very comfortably in an indie pop/dream pop groove, and it's instantly likeable once "Seen No Demon" starts playing. This track is the most upbeat of the bunch, but is still rather downtempo compared to pop jams you might hear on the radio. It features a slightly twangy guitar with a little distortion and some thick drums. "(6:21)" is more acoustic-based and leads perfectly into the Bethel-esque "Llena Mi Alma." "Raging Fire" and "Kaleidoscope" close the EP with more of an indie pop sound that reminds me of Poema's Pretty Speeches. These last two tracks are my picks for favorites.
After multiple listens, I'm pleased to say that Rewth's debut EP is quite an enjoyable one, with a passion for the Lord and a nice mix of sounds that all come together very well. If you haven't yet discovered her Kaleidoscope EP, and you're a fan of Eisley and/or later Poema, you'd be doing yourself a favor to give this one a listen. Hopefully more of her songs will come to life sooner rather than later.
- Review date: 7/19/19, written by
Scott Fryberger
of Jesusfreakhideout.com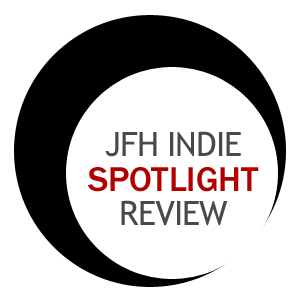 Record Label:
None

Album length:
5 tracks: 22 minutes, 31 seconds

Street Date:
June 21, 2019

Buy It:
iTunes

Buy It:
AmazonMP3

Buy It:
Bandcamp
Seen No Demon (3:54)
6:21 (El Capitán) (5:17)
Llena Mi Alma (feat. Dani Gómez) (3:19)
Raging Fire (5:21)
Kaleidoscope (4:39)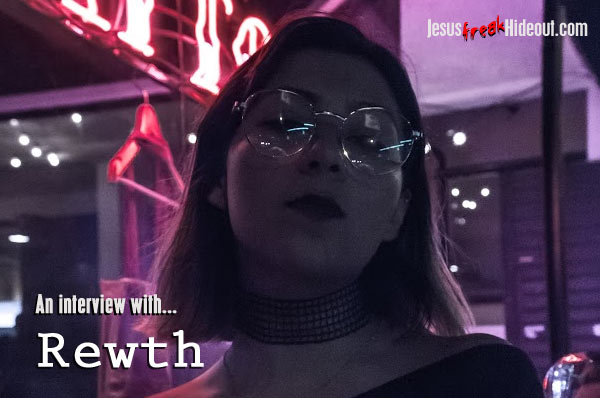 Jesus freak Hideout (Scott Fryberger): I heard you had a bunch of songs written already. Are any of them ready to be recorded, and if so, do you have an idea of when?
Rewth: Yes! There are some I would consider "ready," but they are getting kinda old, I think. Right now, I'm trying to focus on listening to new music, like, absorbing lots of inspiration, so I can write some more relatable and fresh tunes. Lately, I've been thinking a lot about this, the "what's next" after the release of the EP. I'm trying to let God show me His plans for me; I want to be sensitive to his voice and avoid rushing or getting anxious about the future. But yeah, I can say more music is coming, I just don't know when... yet.
JFH (Scott): Your EP is nearly half-and-half when it comes to English and Spanish lyrics. How much of your overall writing is this bilingual?
Rewth: Lately, almost all of it, but just because I've been intentional about writing more songs in Spanish, my native tongue. It's been a whole issue for me, because ever since I learned to speak English, I've felt something really special when I use it to pray to God, or to write songs. It connects me to my feelings in a whole different way... you know? The majority of the music I listen to is in English, so I guess it also affects my songwriting process.
JFH (Scott): Your Eisley influences are noticeable in this EP, but I also hear a little Poema and Jetty Rae in some songs as well. Who else would you cite as musical influences?
Rewth: Definitely Mutemath, Newsboys (90s era), The Marías, Jonathan Ogden, and Alice Phoebe Lou.
JFH (Scott): Tell me about the recording process. Do you have outside producers and musicians?
Rewth: It was a beautiful process, very enjoyable. God surrounded me with the most amazing and talented people to help me make this project come true. This EP's producer is Ale Fdz, a well-known Costarrican musician, singer/songwriter, and member of a local worship band called "Fuego." He's really talented, and definitely made my songs find their true identity and sound their best. We recorded this EP at his studio, and I loved the way he works. I felt very comfortable; it was like sitting with a good friend and making music together. Also, before I entered the studio to record my music, I rehearsed the songs with some very talented friends from church: Mike Ureña (drums), Daniel Ureña (electric guitar) and Daniel Gómez (bass). They helped me with lots of cool ideas for the arrangement, and actually, many of those were used when we finally recorded the songs. Ale played almost all instruments on this record (drums, guitars, bass, keys), but also we have Mike on drums in "6:21 (El Capitán)," and Daniel Gómez on guest vocals in "Llena Mi Alma." I also had the chance to play some keys ("Llena Mi Alma") and guitars ("6:21 (El Capitán)"). Last, but not least, I would love to mention Maite Palomo and Stacy Trejos, they are my best friends and are also great singers, they recorded the background vocals on "Seen No Demon".
JFH (Scott): Are there opportunities in your area to perform your songs live?
Rewth: Yes, there are some! Right now, I'm assembling a band and starting plans for rehearsals. I already have some venues in mind. I believe I could be having my EP's first live presentation somewhere in between October and November. We'll see how everything turns out!
JFH (Scott): Which of your songs seem to be resonating with people the most?
Rewth: "Llena Mi Alma" got an amazing reception, and I can understand why. Many have told me how they love the song, and how it has helped them find peace and connect with God in their daily lives. I love that, because that's one of my main goals when it comes to creating music. "Kaleidoscope" and "Raging Fire" have also had great impact, the first one with its energy, catchy chorus, and message, and the other with its uniqueness in sound, its lyrics and overall mood.
JFH (Scott): What message do you hope that people get from your music?
Rewth: That God is near, that we can have a personal relationship with Him, and that He can help us make our dreams come true if we trust Him and allow Him to take control over everything. I also hope people who listen to my music can get peace, encouragement, and feel God's love through it.
JFH (Scott): Is there anything else you'd like to add?
Rewth: Not much; those questions were pretty good ;) but, if I might, I'd like to encourage the reader to be still and trust God in the midst of any trial, and meanwhile, you wait for that dream to come true, or for that promise to become real in your life. Just seek the Lord, and try to come closer to Him everyday, don't be afraid to come as you are... he loves you that way :)