Four years ago, a solo project from a singer named Lauren Elizabeth morphed into a three-piece rock outfit called Theody . After releasing its eponymous debut album that summer, the band crowdfunded their sophomore release. An obviously successful campaign, the band had picked up steam and developed a core fanbase, leading to another successful campaign, and now Theody is back with the
Prelude EP
.
These five new songs offer hope in the struggles of not only everyday life, but the harder moments that define a season in one's life. The first song wastes no time getting into the thick of it, with a theme about doubting God's existence. "Reticence" offers lyrics like "Lying in the aftermath of my collapse, the more I linger here, it's hard remembering the past, am I just a flickering flame to blow out, where is the justice, do You hear me now?" Interestingly, the song doesn't offer any hope. Prelude is an ultimately hopeful EP, showcasing God's strength in our weakness, like in "Tomorrow," which says, "Joy contradicting all reason, love in relentless pursuit, peace in the midst of the chaos, this truth I'm clinging to." The deal is that you have to get past the first song to get there, helping the EP to feel more like a package deal instead of a collection of five singles.
On the musical side of this package, Theody offers an energetic modern rock sound that some might be willing to classify as hard rock. To say that the band is influenced by the likes of Red and Lacey Sturm will give a solid idea of what to expect, though the band isn't afraid to experiment with the sound a little. "Reticence" is a great example; at its core, it's a fairly basic, heavier rock sound, but there's an orchestral piece on top of it that almost gives it a cinematic, exciting feeling. It's Skillet-esque, for sure, but it adds an unexpected and appreciated layer -- which is another thing this band does well. Again, Theody is two musicians and one singer, yet their songs sound fuller than that might lead you to believe. "Reignite" is a good example, as Elizabeth sings with strong vocals over, not only mildly thrashing drums and a thick bass line, but an in-your-face rhythm guitar and an ambient and ever-so-quiet lead guitar somewhere in the background. Clearly, this band is dedicated to going above and beyond their normal duties as instrumentalists.
In all honesty, my first listen to Prelude wasn't memorable. In fact, it actually took several listens before certain characteristics started really making themselves known. If you give this EP a spin, and it doesn't catch you at first, try it again and see if it has the same effect on you. Fans of bands like The Letter Black, Flyleaf, or Decyfer Down shouldn't have much trouble getting into Theody.
- Review date: 4/24/18, written by
Scott Fryberger
of Jesusfreakhideout.com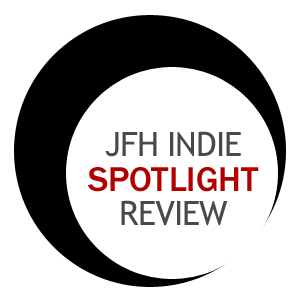 Record Label:
None

Album length:
5 track: 17 minutes, 23 seconds

Street Date:
April 13, 2018

Buy It:
iTunes

Buy It:
AmazonMP3
Reticence (3:53)
Travesty (3:22)
Reignite (3:57)
Tomorrow (3:07)
Perspective (3:04)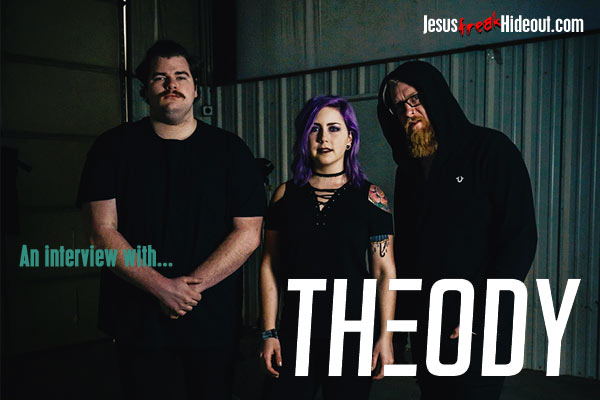 Jesus Freak Hideout (Scott Fryberger): Can you tell me about the band's origin story, including the name "Theody"?
Lauren Elizabeth: It started as my solo project. I had been writing music for a while, but hadn't performed in a few years. I booked a gig at a festival, and decided to ask some friends to accompany me for that event. When all of us had so much fun with it, we decided to keep going. We thought for a long time about our name. I found "Theody" on a list of obscure words, and we thought the definition - "a hymn praising God" - was cool, so we claimed it.
JFH (Scott): Who are some of your favorite musical artists?
Lauren: Spoken, Lacey Sturm, Red, Children 18:3, Switchfoot, Letlive, The Devil Wears Prada, Nothing More.
JFH (Scott): You guys called your new EP Prelude; does this mean that your next album will be related to this EP, or is it simply just letting us know that more is on its way?
Lauren: I honestly wanted to name it Prelude because of its meaning. It basically means "something that precedes a work of greater importance." The EP tells a story of struggle, waiting, and hope. The name suggests that the battles and struggles we face can serve to equip us with the character and skills that are needed for the next step in our journeys. It's not about how hard your circumstances are in that moment, but about becoming ready for the important work that follows.

Also, you can definitely expect that more is on its way!
JFH (Scott): Other than spreading the Gospel and building the Kingdom of God, what do you hope to accomplish through your music?
Lauren: We want our music to resonate with people. We hope to encourage, challenge, and inspire people to become all that they were created to be.
JFH (Scott): Are there many opportunities for people to see Theody live?
Lauren: We love playing live! Connecting with people face-to-face is one of our favorite things! This summer, so far, we have some midwest dates booked. You can follow our social media, @theodyband, to see where we will be. Or contact us to bring us to your town; we are always booking!
JFH (Scott): Have you shopped the EP to any potentially interested record labels?
Lauren: No, we have not. We aren't opposed to the idea of a label, but we enjoy the freedom of being independent.
JFH (Scott): What one song from Prelude would you recommend to someone who might be interested in listening?
Lauren: It's so hard to pick just one, but "Reignite" would be a good choice. We have a music video for it too.
JFH (Scott): Is there anything else you'd like to add?
Lauren: Thank you for taking time to hang out with us. We hope you enjoy listening to Prelude! You can connect with us on Instagram, Facebook, YouTube...and hopefully at a show near you, too!