The Beautiful Discord
Refuge

Album length: 5 tracks
Style: Worship / Pop Rock
Street Date: April 30, 2014
Official Site: Facebook
Buy It: Bandcamp

The Beautiful Discord is a modern worship outfit from Louisville, KY and features singer and guitarist Jonathan Jackson. Jackson is a worship leader and has a strong heart for bringing folks into the presence of God through the use of his musical talents with the belief that music can stir people's souls like no other medium. The Beautiful Discord bring a sound that, while not foreign to modern worship, is different from what you will hear on contemporary radio continuously. Their polished indie rock sound is a bit refreshing in a world overrun with those trying to be "the next Chris Tomlin." What I like most about the sound is the straightforward rock sound. While there are decidedly softer moments on this 5-track EP, such as "Burn Like Fire," it all maintains a rock vibe. "The Fight" sounds more akin to 90's alternative than any newer pop-rock on the market. After a few listens, it feels like Jonathan Jackson is content being himself more than anything else.

"Awake" is one of the more powerful tracks here. Jackson explains that the idea was inspired by a trip to the Passion Conference. The lyrics are taken from Ephesians 5:14 and talk about Christ's power to raise even the dead. Jackson sings, "Awake to life, oh, sleeper, arise and live in glorious freedom. From death to life, child, open your eyes and wake in glorious freedom," in the chorus. While the other three songs are nice cuts, "The Fight" and "Awake" quickly became personal favorites. Jonathan Jackson and his band have crafted something that is different than the everyday ho-hum, but still maintains a sense of radio friendliness. While the sound is that of an indie rock band, it's still accessible and gratifying to even the most veteran CCM fan. Refuge is nowhere near groundbreaking, even within the realm of worship music, but it is most definitely an enjoyable listen from front to back. If you are a fan of indie worship artists than The Beautiful Discord may be for you. You won't get the diversity of someone like Kings Kaleidoscope, but you will get more than solid material.

- Review date: 5/7/14, written by Michael Weaver of Jesusfreakhideout.com


There are a lot of decent indie groups out there, but occasionally a listener might come across a great group. Indie band The Beautiful Discord is most definitely on their way to achieving that reaction with their latest release, Refuge. The music is a mix of pop-rock with a dash of alternative that slightly resembles the sound of Butch Walker or even Hoobastank. Lyrically, it offers very encouraging lyrics with a melancholy undertone and the music complements the sound perfectly. Vocally, it is beautiful and showcases some good use of falsetto that can be heard on the title track, "Refuge." In addition, there are some excellent power vocals on "The Fight." Those looking for something a little more soothing, "Burn Like Fire" and "Awake" will most definitely suit your mood while still maintaining momentum. The album concludes with the sincere and heartening "Fear Not," which pulls from John 16:33. The only complaint with the release is that it's so short - but if this is a taste of what is to come, many should be interested to hear what's next. This release not only deserves a "well done" but an "encore!" - 5/12/14, Ryan Barbee of Jesusfreakhideout.com



Record Label: None


Album length: 5 tracks


Street Date: April 30, 2014


Buy It:
Bandcamp
Refuge (4:31)
The Fight (3:26)
Burn Like Fire (4:13)
Awake (3:50)
Fear Not (4:09)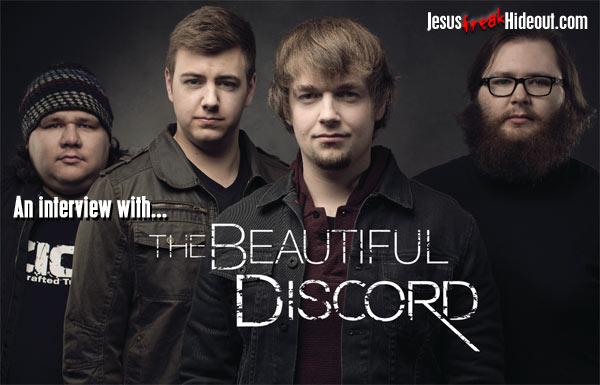 Jesus freak Hideout (Michael Weaver): What's the story behind the band's name?
Jonathan Jackson: I feel like choosing band name is always one of the most difficult parts of the journey and also one of the most important. Our drummer Evan and I were brainstorming for about a week before he landed on "Beautiful" and "Discord." It seemed to me like the perfect juxtaposition of words that describe the Christian existence. We are imperfect human beings who have been reconciled to the one who is perfect; we're made righteous in God's eyes and are now found in Him but yet we still struggle with sin and always will struggle yet we have a perfect and loving advocate that intercedes for us. Beauty and grace indwelling and reconciling (yet not being corrupted by) fallen and rebellious creatures, a beautiful discord. It just seemed like it was a great fit for our message and the music that we were trying to share.
JFH (Michael): When did you first feel the call to go into ministry as a worship leader?
Jonathan: I've had the tremendous privilege of leading worship ever since I was a senior in high school and have always been drawn to the joy of experiencing God in times of corporate worship. I felt called to worship ministry when I was a teenager. Whether serving in the band or leading the team, I was always drawn to it. It's amazing that when we submit ourselves to God in worship, He will often reveal to us more of who He is through His Word. It's something that I've found time and time again when people gather together to celebrate and proclaim what God has done.
JFH (Michael): In your EPK, you said you went through a time recently where you felt "spiritually dead." If you don't mind sharing, what brought of out of that feeling?
Jonathan: Everyone goes through times of discouragement and despair. I think that it's something that's common to our condition of being fallen creatures in an imperfect world. About a year before I started writing for Refuge, my wife and I quit our jobs and moved down to Louisville, KY to be a part of a church plant. The initial excitement was awesome but as the months started to go by and local ministry and professional opportunities started to fall through, I started to sink down into some serious discouragement and despair and began questioning if God was really there, if God really cared about one person in a world of billions of people. To be honest, my situation compared to many around the world really wasn't that bad. That contributed to my "God has people who are actually hurting and suffering in the world and doesn't have time for me" mindset. God made me more and more aware of His grace through the preaching of His Word every Sunday, and through the ministry of several pastors at my church and family members meeting with me and encouraging me, that God does not abandon us and that His will for my life and direction (even though I couldn't see it) was perfect.
JFH (Michael): My personal favorite song on Refuge is "The Fight." Where did the inspiration for that song come from? Was it some sort of internal battle you were struggling with personally, or was it just a general scenario that we as Christians deal with?
Jonathan: "The Fight," for me, was a bunch of things. I found myself fighting for joy, fighting to remind myself that God was good in the midst of my hardship and that He has a perfect plan for my life, whatever that is. It's also the struggle that every believer has in fighting with sin. We've been empowered by The Holy Spirit and have God's Word as our defense but we still struggle. By the grace of God, we have hope in our fight against despair and sin, that our God has already ultimately overcome our struggle through Jesus being crucified on the cross and risen to life.
JFH (Michael): Who designed the album artwork for Refuge?
Jonathan: Our friend Danny Schellenberger (dleeschell[at]gmail.com) designed the album artwork for Refuge. I used to be in a band with him and he is an amazing graphic artist as well as a great guitar player and songwriter. I knew that since Danny was a musician, he would be the perfect fit to design our artwork. It's nice to be able to work with such a talented designer who's also an amazing musician.
JFH (Michael): How did you guys get hooked up with LifeWay and the Fuge Camps for this summer?
Jonathan: Well, it was really just a blessing that seemed to come from nowhere. We had done an EPK (Ministry/Vision Statement) and sent it out to a number of youth organizations. I've always been a fan of LifeWay's ministry in Christian publishing and the resources that they offer to churches. It seemed like they would be a great organization to partner and serve with so we sent off our EPK as well as some of our music. We had no idea that we would hear back from one of the directors. God was gracious and they booked us for about 2 months for FUGE camps out in California. We're blessed and excited to minister to people this summer!
JFH (Michael): From one guitarist to another… What is your favorite guitar you've been playing recently?
Jonathan: Well, most of the hot licks that you hear on the new album are from our guitarist Richard Apsley who plays Reverend Guitars. I play a PRS Custom 22 through an Orange Tiny Terror that has served me well in the studio and on the stage. It has a really sweet clean tone with an overdrive that cuts through any mix.