In the process of releasing her debut solo album in 2015,
The Bigger Picture
, Laura Respondek ended up finding a band to accompany her, leading
Adelaide
to becoming a full-fledged rock band. With this new musical identity in tow, the band began writing songs for their first album together,
Strong + Brave
. Adelaide's is a sound that fans of hard rock will be well familiar with. Evanescence quickly comes to mind, due to the mix of Respondek's vocals and the gothic-influenced hard rock sound; this comparison doesn't describe the entire album, but one can hear it in songs like "Deep Waters," with Respondek's haunting, ambient vocals, the strong guitar riffs, and the well-placed piano melodies, as well as the following track, the slower, rock ballad "Masquerade," which also features some strings and electronic elements. The latter song also adds some very welcome operatic vocals near the end that give it a bit of an epic feel. Speaking of ballads, one of the album's highlights is "Pick Up the Pieces," which spends most of its play time as an acoustic song, with worshipful lyrics that praise the Lord as our healer and our portion, while also humbly bringing to Him our weaknesses and uncleanness. There's some heavier rock that picks up somewhere around the middle of the song, sounding like some of Skillet's more symphonic hard rock. There's a lot to like about this album, for sure, but there are also moments that don't work so well. The lead single and title track features some weak lyricism, such as "
Every boy and girl, listen up you'll change the world, come on rise up, everybody rise up, brothers and sisters now, everybody gather 'round, we come together, you and me together
." It's an uplifting song that encourages unity and standing up for what you believe in, but it falls a little flat in practice. I also found myself a little put-off by the rapping in "Chasing Echoes," which comes courtesy of a rapper known as T-Jones. It's not that he's a bad rapper or anything of the sort; it just seems maybe the slightest bit out of place. Ultimately, though, it's not a huge issue and doesn't do a lot of damage to the album's quality. Overall, Adelaide has a solid record in
Strong + Brave
, and one that should appeal to plenty of rock fans looking for something new to sink their proverbial teeth into. - Review date: 12/15/18, written by
Scott Fryberger
of Jesusfreakhideout.com
JFH Staff's Second Opinion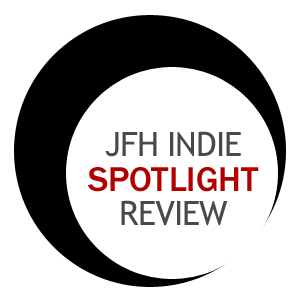 Due to the world of music streaming services, we essentially have a flood of art. However, navigating the incredible influx of artistry is like riding down the Snake River in the
Oregon Trail
. But it really is incredible how everyone now has an opportunity to give listeners something new to experience and enjoy. Indie band
Adelaide
's latest LP,
Strong + Brave
, may be entering the treacherous waters of rock, but they do so with confidence. The album is full of the elements that give mainstream rock albums incredible punch and appeal to fans of the genre: driving distortion, occasional strings, and punchy drums. Songs like "Deep Waters," and the title track, give listeners boisterous energy, yet don't get lost in the midst of the explosive music. Tracks like "Worst Enemy" and "Reminiscing" have anthemic elements, but make good use of dynamics, so they don't feel redundant. Hands down, Adelaide's strongest tracks are on the softer side of rock with "Pick Up the Pieces" and "Restore Me (Revised)." Laura Respondek's voice becomes a part of the music and is entrancing. While there are obviously some artists and bands to parallel Adelaide, the band's efforts are honest and well executed. The juxtaposition of strong female vocals with aggressive rock make for a pleasing experience for many listeners looking to have something to head bang and/or mosh to. There are noticeably some tracks that work better than others, but
Strong + Brave
gives listeners something new to enjoy. The production is wonderful and quite balanced. Overall, Adelaide has something wonderful to offer rock music lovers, and that is worth celebrating. - Review date: 12/17/18, written by
Ryan Barbee
of Jesusfreakhideout.com

Record Label:
None

Album length:
11 track: 36 minutes, 45 seconds

Street Date:
February 15, 2019

Buy It:
AmazonMP3
Worst Enemy
Deep Waters
Masquerade
Restore Me
Chasing Echoes (feat. Tony Jones)
Pick up the Pieces
Strong and Brave
Interlude
Reminiscing
I'm Alive
Restore Me (Revised)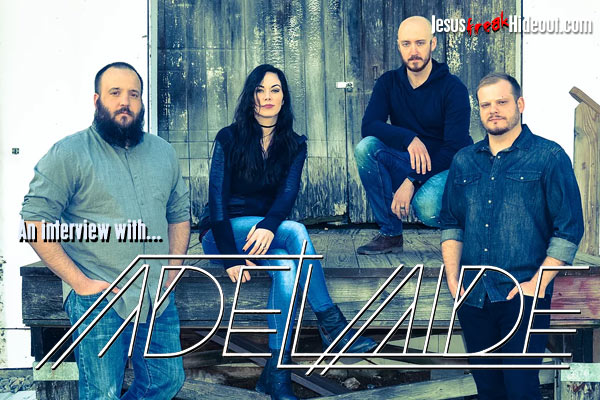 Jesus Freak Hideout (Scott Fryberger): I know Adelaide started as a solo project. When the opportunity to form a full band came, was it an easy decision to make?
Adelaide: It wasn't a hard decision to make at all. The band is a team effort turned family where there's a great balance of accountability, give, take, and creative collaboration. I think the thing that has been difficult to explain has been that my stage name, "Adelaide" is now also our band name. I still sign Adelaide but we all answer to it.
JFH (Scott): How have you grown as an artist since the formation of Adelaide?
Adelaide: I can honestly say the growing process never ends. I've had to learn the healthy sides of both worship and performance while remaining completely transparent and "me". I know some people don't believe me when I say that I am just naturally a shy person. I've spent most of my life on stage in the background playing strings or backing vocals. That's my "safe place". I definitely view what I do with humility and I feel I have grown more comfortable as an artist. Not sure you'll ever see me head-banging, though. Haha!
JFH (Scott): The message of Strong + Brave can be summed up in the album title, but what sparked the idea for these themes?
Adelaide: There are so many songs on this album that could have been the title track. Ultimately, though, they all share a different message in their own way. They still relay the importance that it takes strength and bravery to share the Gospel in our society and face each day with that mentality. Neither of which we can achieve on our own, but both through fellowship as believers of THE Church and through Christ who gives us that strength. We felt "Strong + Brave" was the message we wanted to stick with the audience of the record and it turned out to be very fitting.
JFH (Scott): Have you gotten the opportunity to try out any of the new songs in concert? If so, what songs seem to get the strongest reactions?
Adelaide: Two of the songs on the new record we've been doing live for a couple of years now. "Pick Up The Pieces" was written by Jake, Eric and Garrett before Adelaide was a band. We love the flexibility of being able to rock the song out or settle down with an acoustic version - both of which have gotten a huge response. The other song we've been doing live for awhile is "I'm Alive," which we've used to close out or concerts. We've recently released "Strong + Brave" and "Deep Waters," which we've added to our shows as well. We look forward to playing mostly songs from the new record this tour season.
JFH (Scott): The inclusion of the rapper T-Jones in "Chasing Echoes" was an interesting choice for the song. Was the song written with the intention of including a rap verse?
Adelaide: This song was evolving from day one. In the first record, I had written a rap for the song "Risk It All," which was super fun and although no one had faith in me at first, it turned out to be a great addition (thank goodness!). I loved the dynamic of it because it is so unexpected yet fitting. From the moment Jake had written the music for "Chasing Echoes" and asked me to write lyrics, I knew it had to have a rap in it... it just felt right. It was all I could hear, but for this song, it had to be a whole verse, in my opinion. I don't necessarily think everyone was gung-ho about the idea at first, but when the lyrics came together and T-Jones was the guy that was going to rap it for us, it just became one of our favorite songs. Especially with a special guitar solo from the crazy talent of Jack D. from War of Ages.
JFH (Scott): Other than releasing Strong + Brave, what are Adelaide's plans for 2019?
Adelaide: We're practicing our new setlists, always continuing to write, touring, and balancing family through the process. We are so grateful for the opportunity God has given us to do this and we have been blown away by the doors He continues to open.
JFH (Scott): Are there any albums you're looking forward to this year?
Adelaide: Our very own Jake Bond is helping out with the coming record for War of Ages so we're pretty pumped about that!