Seymour, Indiana rockers,
Anonamus
, released their debut album in August of 2014 on the independent label Lift Records.
Alive
can be characterized largely by its 90's sounding alt/rock vibe. Often shades of Matchbox 20, or other 90's alternative bands, can be heard in the songs on the record. Each member of Anonamus has been involved with worship ministries in their local area for several years. The group has been together for just under two years and, other than their history with worship music, the members come from very different backgrounds. On the surface,
Alive
is a super fun listen; especially for any fan of the 90's rock era. The songs are filled with catchy hooks, overdriven guitars, and easy to sing lyrics. However, what you will notice after a deeper inspection are some flaws in the production (mostly from a vocal standpoint) and that those "easy to sing lyrics" lack a bit in creativity. A closer listen to the lyrics reveals something much more in line with what you will hear from the standard worship music on today's radio. The top tracks are generally the rockers. "I Can See," "More," "Fire" and "Brand New Day" are all solid jams. As for the softer, ballad-type songs, "What If I Miss It" is probably the best
Alive
has to offer. Most new bands can't even write, much less have thirteen songs ready to record in only a year's time. Anonamus has accomplished that task and managed to release an enjoyable album. Not every song is an absolute gem, but there is something positive to take away from each. It will be interesting to see where this band can go given some more time together. They already have a handle on writing catchy tunes; hopefully the remainder will fall into place as they grow. - Review date: 3/9/15, written by
Michael Weaver
of Jesusfreakhideout.com
JFH Staff's Second Opinion
A band who's making moves in its local music scene in Indiana,
Anonamus
is looking to branch out and spread their music as far as possible. With the release of their latest album,
Alive
, the band is taking their next steps in doing so. A fivepiece band of gentlemen, their music is of the pop punk variety, but with an 80s rock element mixed in. What's great about
Alive
is that you can really tell that Anonamus has a lot of fun praising the Lord with these songs. Admittedly, the mixture of rock subgenres and David Fontanez' half rock, half Mac Powell-ish vocals can end up making for a bit of an awkward listen, but when you examine the lyrics, it will also probably be an encouraging listen as well. Songs like "What If I Miss Out" and the ballad "Fall" would probably do well in Christian radio, so long as they cleaned up the slightly warbly vocals and maybe used a little autotune.
Alive
will ultimately not make any major waves, nor is it a very strong album, critically-speaking, but it will fall pleasantly on the ears of fans of bands like Building 429 and 33 Miles. - Review date: 3/5/15, written by
Scott Fryberger
of Jesusfreakhideout.com

Record Label:
None

Album length:
13 tracks: 49 minutes, 23 seconds

Street Date:
August 2, 2014

Buy It:
iTunes

Buy It:
AmazonMP3
I Can See (3:52)
More (3:57)
What If I Miss Out (3:22)
Alive (3:16)
Worthy (4:08)
Fall (4:40)
What a Savior (feat. Kelsie Pullen) (3:44)
Fire (4:27)
Everlasting You (2:56)
Come Home (feat. James Young) (3:34)
Brand New Day (3:31)
All I Wanted (3:30)
Rest (4:26)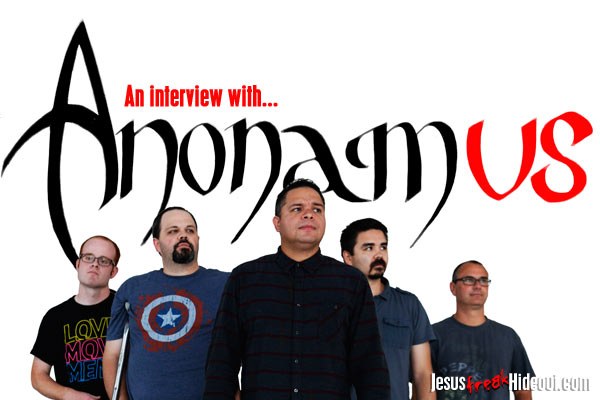 JFH (Michael Weaver): You state that your name is based on the scripture found in Genesis 24. Beyond the scriptural basis, what is the story behind the unique spelling?
Ben: There is a hacker/cyber-terrorist group that goes by the name "Anonymous." I wanted something phonetic in spelling so it would be a little easier to remember, but look different than the hackers. When Chris was mocking up some designs for our first shirt, he highlighted the "us" in red, which I thought really helped drive home the idea that its not about any individual member, but all of us as a group and as a part of the Body of Christ.
JFH (Michael): Alive has been out for about 7 months now. What have you been up to since the release?
Ben: We have been very busy the past few months. We just wrapped up shooting our first music video, "Worthy," for which editing should be finished in a few weeks. We have written another twenty or so songs, in preparation for a follow-up album which we are hoping to release at the end of 2015. All of the very cool elements that the fans liked in Alive are going to be present in the new album--smoking guitar solos, sweet harmonies, and catchy melodies. We have beefed up our live show. Those who have not seen us in a while are going to be wowed. We have booked a very busy Spring/Summer schedule. We are going to be all over the midwest and southern United States. We have been supporting some great causes. We just got finished with a benefit concert for "A Better Tomorrow," which shines light on human trafficking. It was a great experience for us.
JFH (Michael): I hear a very strong 90's alternative rock sound from your music, but in reading your bios I didn't notice a lot of influence from those artists. Where would you say your sound comes from?
Chris: You know, the one thing that's true: Your style never stops evolving. I cut my teeth on glam rock and hair bands--Bon Jovi, Def Leppard, Cinderella, Poison, etc. Growing up in church, you can also hear my gospel influences come out on songs like "What A Savior." Throughout the 90's (in a different life I'll tell you about when you're older), I was listening to cover bands in clubs playing everything from NiN to Alice in Chains to Smashing Pumpkins; but my style continues to be shaped and influenced by whatever I listen to. My son, Jacob, was learning the song "Radioactive" on the piano, and that definitely colored the song "Fire" on our record. When our band talks about the "Jesus Freak" album by DC Talk, we all get misty-eyed. I think you'll find a lot of different styles and influences represented on this record, and as we continue to listen to music, our style will evolve as well.
Ben: I would say a good portion of that [90's alternative rock sound] is my influence as our music is pretty guitar driven. Most of my musical library is from the 90's & 2000's, the stuff I listened to in high school: Alice in Chains, Soundgarden, 3 Doors Down, Pearl Jam, Fuel, Bush, Incubus, Foo Fighters, Creed, Audio Adrenaline, PFR, MXPX, Project 86, P.O.D., Blindside, etc, etc. It's the music I listened to most during the early years of learning to play the guitar.
Michael: My musical influences are all over the place. Since I was born in 1989, I don't remember much of the 90's music until about 96 or 97. Growing up, my parents listened to all the big CCM artists, so I was constantly exposed to that style of music. I remember my sister always wanting to listen to DC Talk's Free at Last cassette in the car, so that made me a pretty big DC Talk fan. My parents bought me the Jesus Freak album on CD for my first ever portable CD player. (It had 3 second anti-skip! Not even my friends had that!! haha.) My playing style, cymbal choices, and snare tones are influenced by Joe Stillwell (needtobreathe), Aaron Gillespie, and Chris Thomas. Chris was my neighbor for many years and played drums for a band called The Elms. The Elms were signed to EMI/Sparrow in the early 2000's, and as a kid, they let me travel with them a lot and learn about life on the road as a Christian band. Chris's drum sounds have always been my favorite. He let me use a lot of his snares and cymbals on Alive, so his drum sounds literally influenced all of Alive. I'm extremely grateful to Chris for that. One of the coolest things about Christian music is all of the variety and styles that are out there. I like and listen to it all. I generally tend to just play simple beats that drive the music forward and it isn't too distracting from the other musicianship in the band. The last thing I want to do is to draw attention to myself.
David: Growing up in Puerto Rico, my first taste of music was from Trios, then Salsa and Merengue. I could remember being at home with my older brother listening to this new Christian artist, Rene Gonzalez. This is the first time I heard rock and roll music and, boy, I was hooked. This guitar driven, distorted mess pulled me in and I was helplessly in love with this music. About 4 years later, we moved to the USA and I heard artists like Steven Curtis Chapman, Michael W. Smith, Rich Mullins, etc. Their music really helped me find and cultivate my style of music today.
Jeff: This is an interesting comment. After some thought, I would say that I was heavily influenced by the music of the 90's. Being part of a rock band (Just Visiting - [which] became The Elms) and learning how to produce and engineer in the mid 90's, it makes sense. I guess I have always loved stripped down rock and roll. That probably shows up on the record.
JFH (Michael): One of my favorites from Alive is "Fire." Can you tell me a little about that song?
Ben: It's interesting, because this song was written by our keyboardist, Chris as a "wall of guitars" type song, and we didn't decide to add any keyboards until the end of the recording session! Incidentally, it is one of our favorites to play live--it's always a crowd-pleaser.

About this song, Chris said, "In our small group study, we were going through the series Not A Fan, by Kyle Idleman. Throughout the series, I was challenged by the notion that the belief in a faith that costs us nothing is an illusion. In the world of modern Christianity where consumerism has taken over, and the focus has turned inward, we have lost the sense of what the original purpose for us was: The Great Commission. I wondered what it would look like in our lives, in our church, in our world, if every single person decided to 1) Deny themselves; 2) Take up their cross; and 3) Follow Christ... How radically different would our world look? How would we be viewed by the world? By other Christians? By Unbelievers? By our own families? If only we could do those three things, we could set this world on fire. Incidentally, my kids told me,'Dad, we're not supposed to set things on fire...' I told them,'Ok, I guess it's okay this once...'"
JFH (Michael): The lyric "...to be His disciple, not a Christian," in "More" really stood out to me; it's a fact that I think many believers overlook. Can you talk about "More" and what inspired that line in particular?
Jeff: The line in "More" that states "we are called to be Disciples, not Christians" is all about the term "Christian" never really being defined in the Bible. Without a clear definition, you can almost apply anything to the term. You can apply it to the rationale for starting wars, abusing people, etc... all in the name of Christianity. We learn that the term "Christian" was first used by those outside The Church to describe the followers of "The Way." It was used in more of a derogatory tone. On the flipside, Jesus gets pretty specific about what it means to be a disciple. You would not be able to be a disciple and abuse people. Jesus gave the command to love. He said "this is how they will know you are my disciples." Not that you are a Christian. The rest of the song is really about the relationship Christ wants to have with us. That it is more than just eternal life, more than living in favor. The relationship is all encompassing.
JFH (Michael): Does each member remain involved at worship programs/ministries at your respective churches?
Ben: As much as we're available, each of us participates in worship at our home churches. Whenever not on the road, Chris teaches a Sunday School class and leads worship. Michael plays drums, guitars, and leads worship with frequency at his church. David leads worship whenever called upon in either his church or the Spanish-speaking ministry housed in his church. Jeff is an elder, leads a small group, and pitches in on guitar whenever called upon at his church. Ben leads worship at various places in the sprawling metropolis of Brownstown, IN.
JFH (Michael): Was the vision of Anonamus to be a continuation of your worship ministries, or to be a ministry of a different kind on its own?
Ben: There are elements of both of these things. When you consider songs like "Alive" and "Everlasting You," these are straight up Praise and Worship songs. This was definitely a nod to our P&W backgrounds. And when you think about the purpose of worship in the church, it's to direct everyone's focus to God; to open their eyes to the creator of the universe; to facilitate a meeting with Him. What we are doing on this record and on the road is not that different. We weave those Praise and Worship elements throughout our show in an effort to direct people to God. The cool thing about this platform is: We get to take those Sunday morning elements into other places. We played at a Battle of the Bands in a Chicago nightclub. We literally took the message of Christ into this club--to an audience who may have never heard the gospel message before. We got the opportunity to share the hope and joy that comes from serving God, and we had people walking up to us after our set saying things like, "Man, that last song really got to me..." That is really what our ministry is supposed to be about both inside and outside the stained glass windows of our churches.
JFH (Michael): Does the band have any plans for touring, or will you just be playing local shows for the time being?
Ben: We have a great tour schedule set up this year. We are getting to play with a bunch of great artists this year (Tenth Avenue North, The Afters, Colton Dixon, Rhett Walker Band, and many more) in Nebraska, Arkansas, Virginia, West Virginia, Michigan, and all over Indiana. We also still have some tentative dates in other locations that we will be communicating soon. 2015 is going to be a very full and very fun year. We are looking for the opportunity to take our message of hope and restoration everywhere we possibly can.
JFH (Michael): If Alive was only able to accomplish one thing, what do you hope it would be first and foremost?
Ben: To bring people the message of God's Love & Hope in Jesus. We were on our way to Nashville to meet with a management company one day last fall. On the way there, we received an email from one of our fans, and it said, "The message behind each song is inspiring. I'm going through a tough time right now and this CD is helping me through. Thank you for your message." We practically had to stop the car so we could get outside and jump around. If even just one person finds strength, hope, or inspiration from our record, then we will consider that a major accomplishment!
JFH (Michael): If you could host dinner for one historical person (besides Jesus), living or dead, who would it be and why?
Chris: I would want to have dinner with David (not our lead singer--I've had dinner with him. He's a great guy). I would want to talk about his experiences as a shepherd; taking out Goliath; his time as king; his time running from Saul; how he worshipped so hard that is clothes came off. Then, of course, we would go jam out.
Ben: Not sure I can decide...Noah, Moses, Martin Luther, Jimmy Fallon, David Gilmour...throw 'em in a hat a draw a name, I could ask questions for hours.
Jeff: I think Paul. Would love to hear him re-tell his conversion story and what it was like in the early days of The Church.
David: Peter. Nosey, quick to talk, bold, emotion-led, and the list goes on and on... But Peter got to see and do some incredible things, which included walking on water, healing the sick, multitudes being fed by the hand of Jesus etc... This would definitely be a great conversation.
Michael: I would have dinner with my uncle, George Green. George was a lyricist and wrote a lot of John Mellencamp's biggest hits. I'd love to talk to him about his process and how he wrote like he did. I'd try not to spend too much time talking about that stuff though and try to just talk about life. He passed away a few years ago, and I never really took the opportunity to just spend time with him one-on-one. He was such a kind guy to everyone, even when he had every right to get mad at people who had wronged him. I think he would be proud of where I am now.