A singer/songwriter from Nashville with years of experience in the music industry, Jason Whitehorn has only recently released his first solo album, As Long As I Have Breath. Stylistically, the majority of the album, including Whitehorn's vocals, is very much akin to Jeremy Camp. Whitehorn's voice isn't as deep as Camp's; it's more in the tone of the voice that you can hear the resemblance. The album is worshipful in nature, with a few reimagined hymns and several songs about God making all things new and being with us at all times. The song "Where Were You?" takes the perspective of people doubting God's presence in difficult circumstances, but then turns it around in the end, speaking from God's perspective. The hymns in the middle of the album, "It Is Well" and "Nothing but the Blood," feature extra lyrics written by Whitehorn that add to the original message of the classics, no doubt making them more personal for him to have sung. Musically, As Long As I Have Breath features a mix of radio-ready contemporary and pop/rock songs, such as "As Long As I Have Breath" and "Never Alone." Interestingly, a couple of the songs incorporate an electronic/dance sound. The placement of these songs doesn't necessarily create a jarring experience from one song to the next, but it is a little odd to have included dance tracks when most of the album features absolutely no synths whatsoever. That being said, the electronic songs actually sound pretty good; I wouldn't mind hearing maybe an EP's worth of them from Whitehorn. If you've been looking for some good new contemporary pop/rock to lift up your spirits, look no further than Jason Whitehorn's As Long As I Have Breath, which is available now wherever you like to get your music.

- Review date: 10/28/17, written by Scott Fryberger of Jesusfreakhideout.com


Jason Whitehorn is an accomplished musician and writer with over 20 years in the business. While he has a history of working with secular country artists, as well a popular CCM artists, Jason's work recently has revolved around worship music. He is currently the Redemptive Arts Pastor at Grace Church, just outside of Indianapolis, and also speaks at worship conferences around the world. While a comparison to Jeremy Camp -- both vocally and stylistically -- is fairly obvious, Jason is more than just a carbon copy and is varied in his musical approach. The extreme pop sound of "All Things New" stands out in the mix as a bit different, but it's masterfully produced and stands up against any other CCM artists marking this kind of music. The very touching "Never Alone" is a song that's already seeing success on the radio and can relate to people in so many phases in their life. The encouragement that we are never alone has the ability to resonate with those facing trials, as well as those receiving blessings. While these two originals are solid in their own right, the two reworked hymns strike gold. "It is Well" -- a very popular song to cover these days -- and "Nothing But the Blood (It is Finished)" are nice renditions of the original versions, but each features an additional praise chorus inserted into the song to breathe new life into the old classics. Fans of Jeremy Camp and similar artists will find a lot to love about As Long As I Have Breath. Jason Whitehorn has a lot to offer and his songs could easily fit into today's CCM stations. You'll definitely want to give him a listen if modern CCM and worship music is your cup of tea. - Review date: 10/18/17, written by Michael Weaver of Jesusfreakhideout.com


Record Label: Rest Music


Album length: 11 tracks: 56 minutes, 51 seconds


Street Date: September 22, 2017


Buy It:
iTunes

Buy It:
AmazonMP3
All Things New (3:52)
As Long As I Have Breath (5:36)
Never Alone (4:59)
Masterpiece (5:00)
Where Were You? (5:11)
It Is Well (feat. Ted Yoder) (6:53)
Nothing but the Blood (It Is Finished) (5:25)
Welcome Home (4:53)

Bonus Tracks
Never Alone (feat. Amber Whitehorn) (6:33)
Masterpiece (acoustic) (5:00)
Jesus Loves Me (You Are My King) (3:29)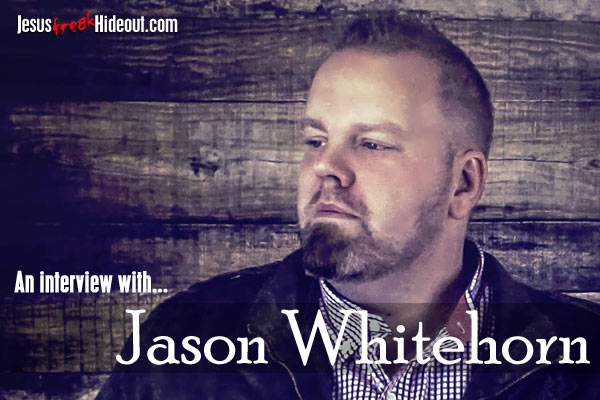 Jesus Freak Hideout (Scott Fryberger): As Long As I Have Breath features some hints of electronic/dance music. As someone with a background in country and contemporary music, where did the idea for electronic sounds come from?
Jason Whitehorn: If there is one thing that I've noticed about myself, it's that I tend to write slower type ballads. My wife noticed that, too. When I first sent the song "Masterpiece" over to my producer, Matt Osgood, he immediately got back to me and said "Jason, I'm hearing some Hillsong Young & Free / Planetshakers in this. We could do it!" It wasn't my cup of tea. I don't know the first thing about doing "techno." My wife, however, told me she thought it would be a great idea to give it a shot and get out of the mold I've put myself in. Matt did a great job with it. The first cut on the album, "All Things New," was written by Matt. He did a brilliant job with it. It gives the album some diversity. My goal with the album was to give the local churches options for new music, and this certainly accomplishes that.
JFH (Scott): The album title is a phrase often associated with relentless determination. Was there a particular event in your life that inspired this as the title?
Jason: This is a deep one for me. I don't think I've publicly shared all of with anyone except JFH now. The whole cover is from a moment in my life and a nod to my mother who passed away a few short years ago. She had an amazing love for lighthouses. The lighthouse on the cover is for her. It reminds me that she is having an amazing time now rejoicing with our God.

When she passed, however, it was sudden. She had a pneumonia that spread so fast - it took her within 24 hours. She went into a coma that she never survived from. I was there in the ICU with her when she took her last breath on her own. There were so many things I never got to say to her - and with a last breath, it was finished here on Earth.

Fast forward a few years later, and I'm playing with Matt Maher. We were back in the green room and he had suggested one of the songs we were doing should be taken down a half or whole step to save on my voice. I told him I would be fine to sing it. Matt, in a very kind but gently firm way, said, "It's okay, dude. There are stars up in the heavens that are continually giving God praise. And they'll do that whether you and I have a voice or not."

Fast forward again to last year. I lost my voice with a very bad laryngitis. I could barely speak, but wanted to test out my voice. I picked up a guitar and sang the first words that came to mind. The words that came out were the first line of the title song: "What if I could no longer sing? Who would sing your praises, Lord?" The rest of the song came together over those previous experiences and the reality that we have breath in our lungs we don't deserve to have, and we spend most of our days wasting it on things that are of less importance than praising our God or telling His story.
JFH (Scott): How many of the songs on the album are originals?
Jason: The first and last track on the album, "All Things New" and "Welcome Home", were written by my producer, Matt Osgood. He is a brilliant writer and I have enjoyed singing his songs for years. "Never Alone," which went to radio, was co-written by Brent Milligan (Steven Curtis Chapman/Michael W. Smith). The added chorus to "It Is Well" was co-written by a good friend and worship leader Michael Bearce. The remaining songs were written by me, including the adaptation to "Nothing but the Blood".
JFH (Scott): Do you consider music a full-time career, or do you have a more traditional nine-to-five kind of job?
Jason: My full time job and passion is as a pastor; I am a full time Redemptive Arts pastor. From that aspect,yes, music IS my full time career. Songwriting and being an "artist" have to fall somewhere behind being a husband and father.
JFH (Scott): What kind of hobbies or activities do you enjoy pursuing in your downtime?
Jason: I like going hiking with my wife and kids or just getting off the grid and having downtime. I also love mentoring other worship leaders and helping their teams be more successful.
JFH (Scott): Do you have a favorite portion of Scripture?
Jason: Matthew 6:26. If you look close, you will see a bird on each of my guitars. I also sign all of my autographs with "626" under my name. Its a nod to Matthew 6:26, where Jesus is explaining that our God takes care of birds; He feeds them, clothes them, and doesn't He love us more than birds?
JFH (Scott): What's the last song you purposefully listened to?
Jason: The last song I listened to purposefully would be "As A Father Carries His Son" by David Baloche. David is Paul Baloche's son, a man I deeply respect and have been fond of his mentorship over the years. His son, David, has created an entire album of breathtaking beauty called Labyrinth that literally brings Scriptures to life. Each song is written straight from the Word, verbatim. It's a great audio devotional that worship leaders should have in their bag of "private worship time with God."
JFH (Scott): Would you like to add anything else?
Jason: I'm beyond thankful for the stories that churches and listeners have sent in about the songs already off of As Long As I Have Breath. In addition to being played and sung in churches in the U.S. and abroad, I've heard stories of the songs being used in anywhere from funerals, weddings, and the delivery room when a child is being born, to a man with cystic fibrosis who has had a double lung transplant recently, to a mom who just lost her husband to suicide; the stories put me in awe of how God can use simple sung prayers to Him. If one of you has a story, I never grow tired of hearing them.

You can pick up a copy of the album in most any format (iTunes, Google Play, physical CD, etc.), or stream it via Spotify or my new Pandora station.