One Breath
is a rock band from Texas with worship leanings. The group has been around for about seven years now and have opened for bands like 7eventh Time Down and Unspoken. Though there were only three in One Breath initially, the group added three new members (drummer, lead guitarist, and a supporting vocalist) in 2021 and 2022. As a complete band, One Breath sets out to make music that gives reverence to God and glorifies Him. Their debut album,
Days of the One True King
is a rock outing that also brings in elements of alternative, Americana, and worship. The 9-track album features seven original songs, a Kutless cover, and an alternate version.
Things start off with the upbeat title track which features some nice lead guitar parts that fit in between lyrics and have a nice Americana lean in tone and sound. Following this is the piano driven "Sound of Amazing Grace," which I would call the album's best. It just sounds like the best One Breath has to offer really comes together in this track. The vocals sound best here, the light background guitar complements nicely, and overall the best atmosphere is created here. Thomas Alvarez sings, "Cause this is amazing grace. My heart it sings for joy; my heart it longs for you. Now I'm free to walk in Your marvelous light; in all Your ways. I will acknowledge you are a faithful God," earlier in the song before ending it with the first verse of the classic "Amazing Grace." Other songs of note would be "Protector of My Heart," with its tasty guitar riffs, the worship-filled "Cross My Heart," and the quite interesting "Sea of Faces" cover. As far as "Love Song for My Savior" goes... I believe the "Sunset Edit" takes the edge over the "Sunrise Edit." I would also be remiss in failing to mention Gabi Pena's background vocals and harmonies featured throughout the album. She's a great addition. On the more critical side of things, Days of the One True King suffers some in the production department. The album is certainly listenable, and the mix is balanced, but the songs often lack in the area of mastering. The songs could benefit from a cleaner and crisper sound. Overall, however, the band is able to get their sound and message across clearly without any major distractions.
One Breath is a band that appears to be gearing up for big things. Getting the first album out of the way is sometimes one of the hardest things to do and they have the goal accomplished. Now it's time for the group to continue growing together, honing their sound, and improving where they can. It's always refreshing to see new faces when it comes to Christian rock music, and One Breath is more than welcome to join the party. Fans of worship music with a rock sound will likely find something to enjoy here.
- Review date: 4/17/23, written by
Michael Weaver
of Jesusfreakhideout.com
JFH Staff's Second Opinion
Starting out as a local ministry band in 2016, Texan contemporary rock band
One Breath
has finally released their debut album,
Days of the One True King
, as they aim to minister to a larger sect of the Body of Christ. While many of the songs do contain a relatively prominent lead guitar ("Man of God," "Love Song For My Savior - Sunset Edit"), the album is mostly on the lighter, more CCM side of contemporary rock, appealing much more to fans of Casting Crowns or MercyMe than, say, earlier Jeremy Camp. "Cross My Heart" also bears some Keith Green resemblance, with its piano-led melody and even the particular production style. As a worship band, the main focus is worshiping the Lord, though they also touch on unity in the Body, and their cover of Kutless' "Sea of Faces" reminds us that God always sees us, even when we feel lost in the crowd. The album's production value does feel a little lacking here and there, but is far better than most acts on their first independent album.
Days of the One True King
may not be radio-ready, but their songs are sure to minister and lead people into worshiping the King of Kings.
- Review date: 3/25/23,
Scott Fryberger
of Jesusfreakhideout.com

Record Label:
None

Album length:
9 tracks: 37 minutes, 2 seconds

Street Date:
February 20, 2023

Buy It:
iTunes
Days of the One True King (3:54)
Sound of Amazing Grace (4:13)
Protector of My Heart (4:15)
Man of God (4:13)
Love Song for My Savior (Sunset Edit) (4:54)
Cross My Heart (3:31)
Brothers, Sisters, Sons and Daughters (3:53)
Sea of Faces (3:17)
Love Song for My Savior (Sunrise Edit) (4:49)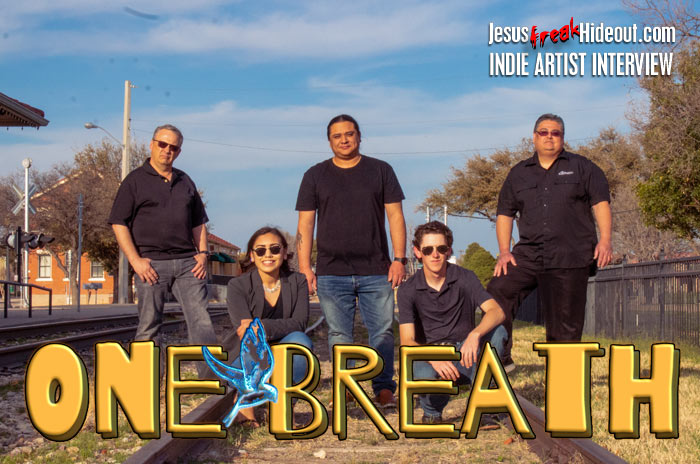 Jesus freak Hideout (Michael Weaver): Could you talk about the meaning behind the name One Breath and where it came from?
Tomas Alvarez: The band name One Breath came to me one day after really praying about what I wanted out of my music and reading the book of Genesis in the Bible. "Then the LORD God formed a man from the dust of the ground and breathed into his nostrils the breath of life, and the man became a living being." Genesis 2:7. This is where the name One Breath came from. I wanted our music to breathe the life that God gives through his words into our music and all those seeking God.
JFH (Michael): What do you think changed in the band in 2021 that had you go out and recruit new members to round out your sound? Was this a sort of, "We're going to start taking this more seriously" kind of move, or was this always the plan at some point?
Tomas: : It was really all the above! It was a process of learning what it means to be a band and how to really get our music recorded and out into the world. If you really think about it, it's much more than just writing a song and putting music to it. David, David Cline, and I learned a lot about our music and what it really meant to move forward with more of a dream and goal to make it a reality. It meant becoming more serious about our goals and making this into more than just a hobby. In order to do that we needed to pray about and recruit the right musicians who share the same hopes and dreams.
David Minard: A mix of both really! It took a long time to write and record our first few songs while learning how to record music and setting up our recording studio (Gecko Studios). Tomas, David Cline and I were already recording the first set of songs when we went out and recruited Rene Gonzales to help with the guitars on the new songs because David Cline had moved away for a job promotion. Shortly after we brought on Gabi Pena to help us with some of the backing vocals. Once we had a good start on the music Tomas and I decided to take the next step and start preparing to play live while finishing up the songs in the studio. We asked around our small town and finally found talented drummer Ben Berry to help us get to the point where we can play live.
JFH (Michael): My favorite track on the album is "Sound of Amazing Grace" -- with "Protector of My Heart" being a close second. I think these two are the best blend of everything band as to offer. Could you talk a little about these tracks and what they mean to you?
Tomas: Since David is answering the Protector of My Heart portion, I'll answer the Sound of Amazing Grace portion. The song actually came to me one day while I was at our church. I was able to spend some free time at the piano and think about an idea I had. I had so many funerals that I played the music for and kept thinking about how each one was sad but also joyful in the way that even through death we find hope in the resurrection of Jesus Christ. That we too will rise with him on the last day. The more I thought about it the more I truly realized that His grace is truly AMAZING. I sat in silence praying and meditating on these thoughts and I kid you not, the song literally started flowing out of me. It was a mix of hymn but also my own experience the last 7 years and my faith journey that became in my opinion my anthem, my testimony to the greatness and faithfulness of God.
David: I agree that Sound of Amazing Grace is a wonderful song but I'll let Tomas answer that because he has a beautiful story behind how he wrote the song and it helps expand the emotion in the song. I can answer for Protector of My Heart because I originally got the idea of the song from Psalm 23 where I thought that this was a picture of the best love story we can experience. The perfect love where Jesus is our protector. In the end, Protector of My Heart turned out to be a special song but it did not start out like that because we almost did not finish the song. Tomas, David and I just could not figure out what was missing. Everything changed once I asked Rene to record on the song and I believe he was the missing link in God's plan.
JFH (Michael): How does it feel to have your first album out after nearly 7 years as a band? Also, what are you hoping that God accomplishes through its release?
Tomas:Honestly? It feels absolutely incredible to see the fruits of our labor. It's one thing when you're recording and working on each song individually and trying to make it sound the very best it can for our listeners. I remember after hearing the finished product right before release and thinking, "Wow!" this is super awesome! I can't believe that God out these lyrics on our hearts to write and record so that we can minister to others. We prayed so many times that God would help us get to the point of releasing our songs and through his grace we've done it with his immense help. As for the purpose it serves, we hope that God uses us as his instruments to instill hope, love, and mercy that only comes from God. Personally, I hope that we bring souls closer to God and change the world.
David: I met Tomas through playing praise and worship at our church before he started One Breath back in 2016. I joined One breath in 2018 when Tomas was pretty much by himself and that's when we started writing original material. So speed up to today, I trust that God already had plans for the music and we are always praying someone out there is getting blessed from the grace and love of our God.
JFH (Michael): Your bio mentions your favorite scripture to share is Psalms 108:1. The verse is clearly about music, but could you discuss why this particular scripture means so much?
Tomas: There is definitely a story behind this. At one particular time in my life when I was younger a friend of mine who I was really close to gifted me a jewelry box with the words from Psalms 108:1. Up until that very special gift I questioned whether or not I was being called to continue playing music or even write music. I took this gift as a sign from God that I need to trust in him and that he would make a way for what he wanted. God has a way of giving us the push we need in the right direction and he's proven it time and time again. Music, music through our band is exactly what he wants.
David: For myself, I'm sharing David's namesake and I just admire David's love and reverence for God. I just want to emulate David's passion for God in my own life by worshipping God through music. I feel blessed that God has gave me talent and purpose in this life.
JFH (Michael): You've opened for some big acts like 7eventh Time Down in the past. Do you have any current tour plans now that the album is out?
Tomas: Definitely! We've had several pretty big music events where we have been able to showcase and introduce our songs from the album to our audiences. We have had absolute positive reviews and feedback! One Breath has opened for bands in the past such as 7eventh Time Down, Unspoken, and David Dunn. We have been blessed with so many wonderful opportunities. We have some really big events this coming year (2023 and 2024). God continues to open doors for us and numerous opportunities to share our music with the world. I'm super excited to play our music for more and more people.
David: Tomas definitely explained that well but we also have to continue on creating a name for ourselves and most importantly keep writing songs that glorify God and bring a positive vibe to these crazy days we live in.