Whitlee Casey
is a songwriter and worship leader in Texas who was inspired at a young age by his dad to pick up a guitar. Casey has been influenced by artists ranging from Garth Brooks to Steven Curtis Chapman and David Crowder. As a traveling musician for the past 10 years or so, Whitlee has been able to travese the country and play alongside CCM artists, such as for King & Country and even Crowder himself. Casey's influences can certainly be heard on his latest full-length album,
Dream
.
Stereotypes aside, while Nashville, TN is the home of country music, there is no denying the roots of country music in the state of Texas. Dream is certainly not a country record, but the influence of country music is most definitely present. While "The River" or "Call on Jesus" are obvious choices for the connection, other songs carry it more subtly. For example, the lead guitar in the background of "The Sound" definitely has that country vibe. As a whole, this record is a worship album, but Whitlee's background actually plays nicely as modern pop/country and modern worship have a lot more in common than many may realize. (Don't believe me? Give something like Cale Dodds' "Acting Our Age" a listen for reference.) The standout song on Dream has to be the super smooth "More Than Enough." The song talks about God's love as Casey sings, "Father, your love is more than enough for me." The most surprising song, however, is the extremely poppy "Living Proof." Given the vibe of the album prior, the seventh track comes right out of left field. It's a song, however, that is perfectly structured and set up for Christian radio -- musically catchy, easy to sing along with, and a Christ-centered message. The album comes to an end in the same way it opens, as the closer is an acoustic version of the title track. I typically like a re-imagined sound (or possibly the originally written version) when it comes to acoustic versions, but this one doesn't quite offer that. While it sounds like the same vocal track is used in both songs, the more stripped down acoustic version still wins out as the favorite of the two versions.
Whitlee Casey has used his unique background and influence to produce an album that is a little different from the norm. There's a familiar sound for those who love worship music, but a country flair that helps it sound completely original at the same time. Casey uses the country sounds tastefully and manages to remain accessible to those who do not like country music, while giving country fans a lot to love at the same time. The production is top-notch and the overall sound is great. Worship music fans and country music fans alike should give Whitlee Casey's Dream a listen.
- Review date: 5/5/19, written by
Michael Weaver
of Jesusfreakhideout.com
JFH Staff's Second Opinion
With more than a decade of experience behind him, Texan worship leader
Whitlee Casey
is showing no signs of slowing down. This year, he's released his first full-length album, an ambitious ten-track collection called
Dream
that shows a lot of promise. The title track bookends the album, with the standard version at the beginning and an acoustic rendition at the end. "Dream" is a radio-ready, contemporary pop track that talks about dreaming of Heaven and what it will be like to not have to merely fantasize about it anymore. The style of the song carries on throughout the album, which also has a lot of light country flavor. A couple tracks in, the country is in full force, bringing in some Chris Stapleton influence (without Stapleton's signature vocals). "Come to the Table" brings the pace back down for a MercyMe-esque ballad. The song serves as a reminder of what it means to be adopted by God and to be forgiven; Jesus redeemed us and invited us to a spot at the King's table. It's a refreshing song that can be a helpful reminder when your soul is feeling the weight of the world. "More Than Enough" features some instrumentation and vocal melodies that bring John Mayer to mind, and the stomp-clap beat and southern gospel music of "Call On Jesus" make for a really catchy tune that rivals those of David Crowder. Whitlee Casey proves himself to be a talented artist with an encouraging message for believers in all stages of their walk with Christ.
Dream
is a solid album that would be a perfect fit with almost any worship music record label. I wouldn't be surprised to see his name on the Christian charts with this album. If uplifting, contemporary pop rock with a southern charm sounds like something you're interested in, you can't go wrong with Whitlee Casey's
Dream
. - Review date: 4/10/19, written by
Scott Fryberger
of Jesusfreakhideout.com

Record Label:
None

Album length:
10 tracks: 38 minutes and 26 seconds

Street Date:
March 22, 2019

Buy It:
iTunes

Buy It:
AmazonMP3
Dream (3:57)
Mountains (3:46)
The River (3:32)
Come to the Table (5:08)
The Sound (3:18)
More Than Enough (3:59)
Living Proof (3:03)
Call on Jesus (3:38)
I Believe (4:20)
Dream (Acoustic) (3:45)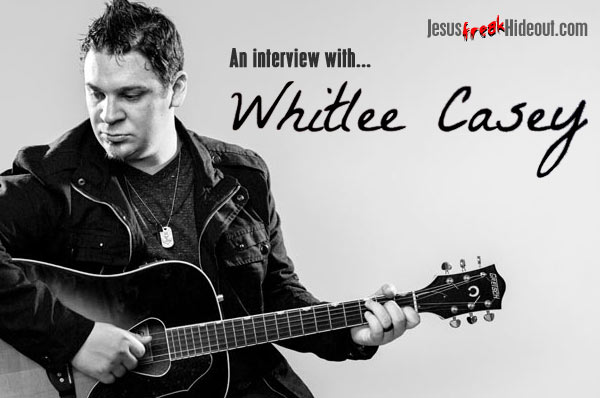 Jesus Freak Hideout (Michael Weaver): How has the reception been for Dream since it release a little over a month ago?
Whitlee Casey: The reception has been amazing! This album has been about 3 years in the making. There has been lots of time going to prayer, writing, and recording for this project. When I released it, I had no clue what the reaction was going to be from folks, but it was more than I could ever dream (no pun intended) of it being!
JFH (Michael): You mention influences ranging from Garth Brooks to David Crowder in your bio and Dream sounds like a worship record with a country influence. Did you go in trying to write a record like that, or is that just who you are as a songwriter?
Whitlee: Growing up and living in Texas, I've always been around country music. When my dad got out of high school, he played in country and southern rock bands. So I think a bit of my style of writing comes through that for sure. With this record, I just tried to show all sides of who I am musically. While doing that, I wanted to make sure I didn't lose the gospel message being presented through each song.
JFH (Michael): Speaking of David Crowder as an influence… Could you talk about the feeling when you actually got play on the same stage as him?
Whitlee: Yeah! So being on the same bill as him, For King & Country, and many others was a huge moment in my career as an artist! I believed it opened a lot of doors for me to continue my music ministry as well. But I've been around Crowder's music ever since I was in junior high. I got to see him lead worship a lot at UBC in Waco since I'm from that area. I would definitely say that his music has influenced me a lot as a Christian songwriter.
JFH (Michael): I've been drawing strong connections to the sound of modern pop/country and modern worship music for a few years now. Would you agree at the similarities, and do you think those similarities help when crafting a record like this?
Whitlee: Absolutely! I think you hear all kinds of similarities as far as the music stand point of things for sure. I can totally hear many things we use in the studio like certain loops and guitar sounds that you would hear on a modern/pop country record as well.
JFH (Michael): My favorite song is "More Than Enough." It's certainly a message that's been conveyed before, but I really like the package you put it in. Could you talk about the influence and inspiration behind the song and music itself?
Whitlee: So "More Than Enough" is definitely a groovy song that I wanted folks to feel like they can listen to and just reflect on things that they've overcame in life with Jesus. I think it's truly a song of celebration and reminder to us all that we are rich in His love. There's nothing more that we need. God sent His son to take our place and we have received victory over death from that.
JFH (Michael): Are you leading worship regularly at a church right now, or are you doing more leading while traveling these days?
Whitlee: Yes, so I'm currently a worship ministry resident at my home church in Temple, TX. They have allowed to continue with my ministry on the road for a certain amount of months and then I'm there most of the year to help in leading worship with our team.
JFH (Michael): What is your hope that God will do through you and the release of this album?
Whitlee: I believe God has taught a lot on faith this last year and trusting in His timing for things to happen! My prayer for this album is that the message is loud and clear. God is always on our side through the good times and the bad. We must go all in and stay faithful to Him. I've seen God bring amazing victories at times that I didn't think those victories were possible. We got to remember to not listen to our flesh but the voice of Jesus who has the final say!

Romans 8:39 - Nothing can separate us from the love of Jesus