Over the last few years, Matthew Konradt has been learning and growing as a musician with his metalcore act, Ascend the Soul. Recently, he also branched out and started a solo act, which he is calling
Relentless Pursuit
. His first single, "Flamboyant Intoxication," is pretty straightforward melodic metalcore, but also has some fairly deathcore-inspired harsh growls and screams. If you're familiar at all with Ascend the Soul, you'll probably notice that "Flamboyant Intoxication" is a step in the right direction for Konradt. Many of the technical issues found with Ascend the Soul still exist here, but to a lesser extent, making Relentless Pursuit the more immediately palatable of the two projects. Of course, the production is still almost nonexistent, sounding extremely compressed, which makes the drums particularly difficult to digest. The guitar, which I believe is the only real instrument being used here, is a bit sloppy, and the clean vocals are still out of tune. However, the screamed vocals sound much better than anything I've heard from Konradt in the past, and the overall composition of the song is certainly stronger, too. I'm also a bit fond of the lyrics; they're simple and straight to the point, but relevant and well thought-out. Dealing with the harshness of life, Konradt says, "
Beyond the suffering I will find my place by Your side / beyond the tragedy I will find my own peace of mind
." It's a great reminder of the hope we have in Christ, who brings us victory and makes us more than conquerors. Keeping up with Ascend the Soul (and now Relentless Pursuit) has been interesting, but it's also great to see noticeable improvements with each new release. I'll be glad to keep hearing Matthew Konradt improve his craft. - Review date: 8/24/22, written by
Scott Fryberger
of Jesusfreakhideout.com
JFH Staff's Second Opinion
Multi-instrumentalist Matthew Konradt is the brainchild of indie heavy band Ascend the Soul. The first single of his one-man-band venture is provocatively titled "Flamboyant Intoxication." The song is rife with chugging rhythms, growling vocals, and a few other surprising musical twists for added variety. While the production sounds, rough and there's a need for continued proficiency on some of the out-of-time instruments, there are glimmers of talent amidst this DIY passion project. With access to higher quality equipment and practice, Konradt just may have something. However, for now, "Flamboyant Intoxication" presents itself as a first-try demo for an artist still in process of honing his craft.
- Review date: 8/29/22,
Michael Weaver
of Jesusfreakhideout.com

Record Label:
None

Album length:
1 track: 3 minutes, 45 seconds

Street Date:
August 20, 2022

Buy It:
iTunes
| | | |
| --- | --- | --- |
| Flamboyant Intoxication (5:20) | | |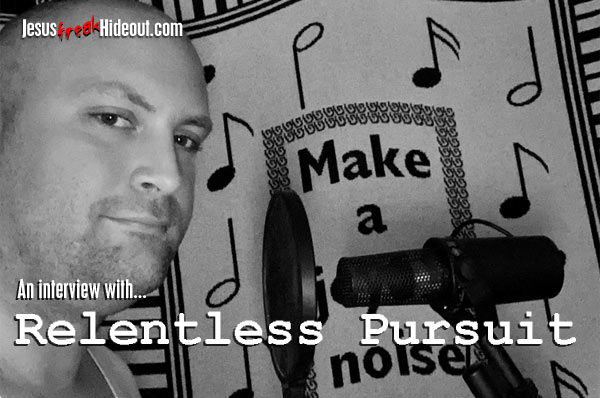 Jesus freak Hideout (Scott Fryberger): The last couple of years, you've been putting out music with Ascend the Soul. When did you start working on Relentless Pursuit?
Matthew Konradt: Relentless Pursuit is pretty much a brand new solo project that I felt inspired to start with the intention of delving into new territory both musically and lyrically. It was started in August of this year, 2022.
JFH (Scott): What is different about the writing process that separates the two acts?
Matthew: Great question! Well for one thing I have to do 100 percent of my own material and I have found myself writing more about spiritual struggles and concerns in my lyrics and possible delving into darker topics. Whereas the material that I wrote in Ascend the Soul had more of what some people might call "love songs to God". Even though those themes are still present on the album I am currently working on, they aren't the only thing on my mind.
JFH (Scott): "Flamboyant Intoxication" is one of the more interesting song titles I've heard recently. How did you come up with that title?
Matthew: Well believe it or not the title entered my mind one day all of a sudden. Intoxication usually has to do with alcohol addictions but I am actually referring to the state of being intoxicated (or overwhelmed) by this dark world and how even darker it is without God in our lives to pull us out of the ditch that we are in.
JFH (Scott): What did you want to convey to listeners with the song, and will this be a theme for the album?
Matthew: The song is about striving to do good in this world and how hard it can be to stay on the right path sometimes. It references the fact that without God, human nature can't make it basically. The album I am working on currently will cover various themes such as judging a book by it's cover, breaking out of a frenetic lifestyle that can harm an individual and others around them, as well as more spiritual battles and occasional doubt with redemption in the end.
JFH (Scott): Every time I hear a new release from one of your bands, the sound quality and production value seem to increase. Are you in charge of producing the music, or do you have an outsider?
Matthew: With Ascend the Soul, I basically have had a co producer "Breno Machado", except the first album The First Step To Ascension which I had produced. Overtime, that album's sound quality sounded so rough and awful to me that I decided to take it down. Overtime, I have been practicing and working on my own production and am currently doing my own stuff for the Relentless Pursuit project.
JFH (Scott): I'm always curious about what people are listening to, so what artists/albums have been on rotation for you lately?
Matthew: One of my inspirations is an artist called Berried Alive. Pretty much all their albums; Running Up That Hill by Kate Bush; Red's albums, Cloverton's albums; etc…
JFH (Scott): Is there anything else you'd like to share?
Matthew: Thank you for the interview and review and thank you to everyone who listens to my music. I will be coming out with more singles and eventually an album. I currently am releasing updates on my youtube channel, facebook page, and website. Thank you all and God bless!