Not Ashamed
is an independent rock band from Tennessee that aims to provide powerful and positive music for listeners. The band is very ministry minded, participates in charity events, and even has a link to a YouTube video of rapper Propaganda presenting the gospel message for those who may be seeking Christ. On top of that, they even offer a contact for further questions and information for churches in their area. It's a nice addition that you don't see often and truly shows the heart of the band. In honor of St. Patrick's Day, the group decided to release a new Celtic-flavored rock/worship song that they hope takes you to the "shores of Ireland." The single, "In Spirit and Truth," opens with the bagpipes and a jangly electric guitar. However, as the song progresses and builds, a bass guitar and drums enter the mix with the guitar taking on a thicker overdriven tone. The song hits its stride in the chorus when it opens up and goes all out singing, "
Holy is the Lord of all creation. Honor, glory, and praise unto Your name. I will bow before Your throne in adoration. Abba Father, Your faithfulness is great.
" Furthermore, the song features a nice guitar solo to provide some contrast. The basis for the lyrics comes from the story of the woman at the well -- more specifically John 4:23 when Jesus says, '
But an hour is coming, and now is, when the true worshippers will worship the Father in spirit and truth; for such people the Father seeks to be His worshippers.
' The new track has solid production value and has a catchy hook with a singable chorus. Most of all, it lifts up and honors our Creator. My one area of critique would be on the background vocals. At times, they get a little wild and distract from the lead vocals. Otherwise, it's an enjoyable listen. Fans of worship music with a little more edge should find enjoyment with Not Ashamed's new single. "In Spirit and Truth" will also speak to those feeling a little festive around St. Patrick's Day. - Review date: 4/1/22, written by
Michael Weaver
of Jesusfreakhideout.com
JFH Staff's Second Opinion
Hailing from Nashville,
Not Ashamed
brings a Celtic feel to their rock 'n' roll-style worship. This is best seen on their latest single, "In Spirit and Truth." With an undercurrent of bagpipes in the mix, this simple praise song brings a high level of energy. A guitar solo bridge also reveals a pleasant surprise. While the big energy in the song is certainly welcome, it ramps up a little quickly. By the time the first chorus gets underway, the background vocals come in like it's the final chorus and stick around for the rest of the track. Saving that element until later in the song would have strengthened it. The lyrics are fairly simple, highlighting the idea of worshiping God in spirit and truth. Granted, there's no explanation of what that actually looks like, but this isn't a theological song overall. Still, the lyrics, mixed with the melody, are fairly easy to catch on to, and a church that wanted to pick up this track for their services would have no problem teaching it to the congregation. It's not an earth-moving worship tune, but it does its job and the Celtic elements make it worth a listen. - Review date: 4/12/22, written by
John Underdown
of Jesusfreakhideout.com

Record Label:
None

Album length:
1 track: 4 minutes and 38 seconds

Street Date:
March 15, 2022

Buy It:
iTunes
| | | |
| --- | --- | --- |
| In Spirit and Truth (4:38) | | |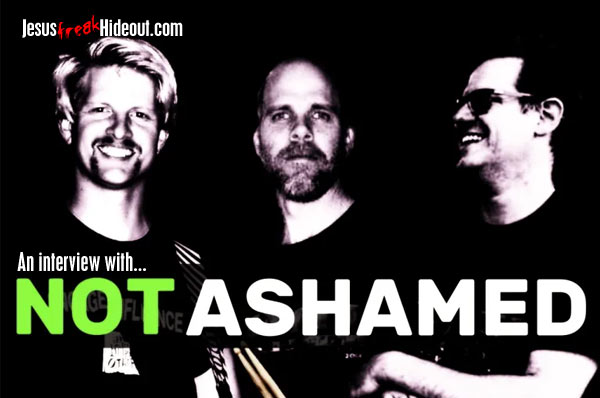 Jesus freak Hideout (Michael Weaver): First off, I'm curious about the bagpipes. Did someone already in the band play, did you bring in someone else, or did you accomplish this sound in a different way altogether?
Richard Varno: The bagpipes are real and played by a friend of ours in Nashville, Daniel Pentecost (his real name, I personally think it's the coolest name ever!) He is an awesome musician, and has a real heart for the Lord. When the single takes off we will likely have to kidnap him and force him to join the band officially! :D
JFH (Michael): Has the band ever experimented with a Celtic-type of sound before, or was this a first time thing?
Richard: A couple of us have Irish roots and we have another (to be released in the future) track that will feature the bagpipes, but the story on In Spirit and Truth is a little different. About 3 years ago one of our original band members, Tony Person, passed away unexpectedly (he had some health issues we were unaware of) He was by far the most talented musician and writer I have ever known, and my best friend. We were on a break as a band at the time and it was his passing that brought Not Ashamed back together. The other members of the group Don Wunder, Rod Hutchinson and myself reunited to play a benefit concert to raise money for Tony's kids. We realized then that we still wanted to be making music and playing together. Tony was such an important part of our lives that we wanted to have a few tracks on our new album that featured his playing. So this was actually a song we recorded about 8 years ago that we decided to update. (It has one of my favorite guitar solos of his) In the process of producing it we just felt like it needed something more. My wife Donna (who is Irish and added a violin track) was listening to it one night and just looked at me and said, you know what this needs.....? BAGPIPES! And I have to say I really think it defines the song and brings it to a whole new place. (thanks mainly to Daniel Pentecost's amazing playing on it)
JFH (Michael): What was it about the story of the woman at the well, or John 4:23 specifically, that inspired you to write this song?
Richard: Wow, I could write a book to answer that! I will try to give you the short version. We were created to worship the Lord, that is our purpose, but we have to do it in accordance with His Word. There are three words in Hebrew that are translated worship, but the root meaning behind them all is service and surrender. As we submit and turn our complete lives over to serving the Lord... that what real worship is about. I believe that Jesus was telling her, it's not just about the ritual or tradition, it is about loving God with all of your heart, soul, will, mind and emotions. As far as writing songs, I have to come clean. I don't really write them, I just uncover them. A good friend of mine, Paul Wilbur (who has taught me more about worship than anyone else on this planet) had a theory. Psalms 32:7 say that the Lord surrounds us with songs of deliverance. When we tune into that, we are able to uncover those songs that are surrounding us and share them with the world.
JFH (Michael): What other bands and artists are an influence to Not Ashamed?
Richard: Well I like to say if you took Matt Redman, Lenny Kravitz and Green Day and threw them in a blender, you'd get NOT ASHAMED! I think Third Day was a big one for Christian rock. I dropped out of college years ago to go on tour with a Christian rock band. (This was actually how I got saved, I was on the "fake it til you make it" program, but that is a story for another time) Brad Avery (prior to joining Third Day) was in the company and we played in some of the same bands. Other Christian influences would be everyone from Petra, Keith Green and Rich Mullins (we've got a very cool rock/funk mashup of Step By Step and Lord You're Beautiful on the album as well) to David Crowder, Zach Williams, Manifest and Phil Keaggy. (we are also really digging Patrick Mayberry right now, his stuff is really inspiring) Outside of that you will likely hear influences in our music from Zeppelin, Hendrix, Prince, The Ramones, Rush, Bowie and even some BB King. (I learned to play guitar listening to BB King)
JFH (Michael): In looking into your band, I found a lot of cool things. I noticed that you participate in fundraisers and charities and also noticed that you offer help to those seeking Christ (including the Propaganda G.O.S.P.E.L. video), and offer to be a resource to those searching for Christ or for a church. This is extremely cool. Can you discuss the importance of ministry and outreach for the band?
Richard: That is the reason we are here. The first name we had as a band was GetCloser2God. And that is still really our purpose. To bring people that don't know Him into the Kingdom and to help those that do know him get into His presence so they can fulfill the callings He has for their lives. (and we love that video, it is one of the most powerful tools I've ever seen for preaching the Gospel to today's generation) As far as fund raisers there is one I would like to highlight. The very talented young man who did the production and ASL interpretations on our lyric videos, Stephen Mogul is from Nigeria. He is a brother in the Lord and his father pastors a church out in the middle of nowhere with no support from any other churches. We really feel like it was a God connection and we have helped his congregation go from four walls with no roof to a place where his flock can safely gather to worship and receive ministry. We support them on an ongoing basis and if you would like to be a part of that, please check out our facebook page at https://www.facebook.com/WEARENOTASHAMED for more information.
JFH (Michael): Do you have any upcoming tour plans or live shows scheduled?
Richard: One of our favorite benefits of the year is coming up April 16th Kars4Kids which raises money for the Tennessee Baptist Children's home, we also are playing at the Portland TN Strawberry Festival. We will basically play anywhere where there are people to preach the Gospel to, so if you need some Christian rock music for an event in the middle Tennessee area, hit us up at booking@notashamedband.com
JFH (Michael): What are you hoping that God does through the release of "In Spirit and Truth?"
Richard: I've heard a lot of people talk about songwriting and say, "You've got to get to the chorus!" but really this is not about getting to the chorus, it is about getting to the THRONE! My greatest hope is that it helps hundreds of millions of people turn off the world for a few minutes and get into the presence of our Lord and Savior, so they can experience the healing, deliverance and fullness of joy that can only be found there.