The Bootleggers Music Group
is a unique collective of musicians (at times from around the world) that exists "for the Love of God one tune at a time." They release a wide variety of music from rock to rap to country. One particular example is their 2022 single "J.E.S.U.S.", which features group founder Paul E. Jones singing a blues song. Musically, it sounds like a standard blues track, with a bouncy rhythm and a raspy voice provided by Jones. In a slight twist, a harmonica takes most of the solo parts in place of a guitar. The harmonica work is well done, but it would have been nice to hear a guitar solo as well. Lyrically, the first couple verses retell the story of Jesus while a third verse applies the power of Jesus to everyday life. The chorus makes it clear who Jones is talking about, as he declares,
"Put some Jesus in your life/He'll take care of the rest."
It's a simple track overall with not much flare, but it's effective in its message. Fans of the blues (especially a Christian twist on the genre) should give "J.E.S.U.S." a try. - Review date: 8/12/23, written by
John Underdown
of Jesusfreakhideout.com

Record Label:
BirdCat Records

Album length:
1 track: 4 minutes, 49 seconds

Street Date:
June 16, 2023
Buy It:
AmazonMP3
| | | |
| --- | --- | --- |
| J.E.S.U.S. (3:52) | | |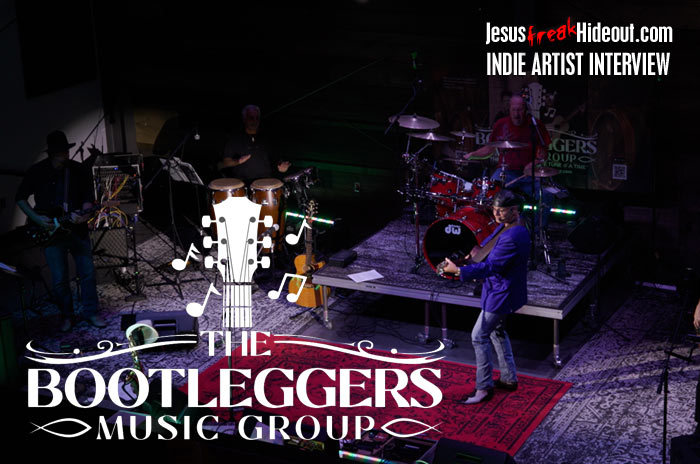 Jesus Freak Hideout (John Underdown): What exactly is the Bootleggers Music Group?
Paul E Jones: The Bootleggers Music Group is a collection of Writers, Producers, Artists and Musicians from all over the Globe. Currently with a roster of over 40 individuals that are able to be called upon for each of our track, depending on what is needed for the track being produced. While Paul E Jones, from Cincinnati is at the helm and makes the final decisions of which tracks and genre's to produce, The Bootleggers is not about a single person or style of Music. Our Goal is to produced the very best music possible, which conveys messages of Hope, Understanding, and most of all LOVE in some form or another. Our Mantre' has been and will always' s be "The Love of GOD, one tune at a time". While many of our contributors are Christian, we have people of all faiths and who have no proclaimed faith, however we all believe that Music is LOVE and brings with it the ability to help change lives.
JFH (John): How did the group get started?
Paul: In early 2020, Founder Paul E Jones found his business deemed "Non Essential" due to the pandemic. Like many millions of other people throughout the world, Paul found himself depressed and lost. With a long history of music going back to the age of 5 years old Paul decided to get back involved in Music as a way to keep his mental health intact. On a very vital day which would be a turning point Paul had found himself at the end. Suffering from a deep depression he had decided it was time to end his life. While sitting on his deck in the evening, drunk and with a 45 colt by his side Paul asked one simple question of GOD, "What do you want me to do GOD?"? The very next day a lifelong friend, Wayne Maxwell arrive at Pauls office un announced and un aware of the desperation Paul was in. Wayne proceeded to tell Paul he felt that he, Wayne, was supposed to start playing music for the LORD, to which Paul replied simply , OK. Wayne went on to say, "I think I, Wayne, am supposed to write music for the LORD". Again Paul replied simply, OK. That is when Wayne looked at Paul in the eye's and said directly without hesitation, "NO, you don't understand, THAT is what GOD wants you to do"! and that was how The Bootleggers Music Groups mission began. Originally we where going to call it "The 8th Continent", but after a series of events such as turning down two record deals and numerous other opportunities and producing multi-Genre music and releasing tracks in many languages it was suggested that it be called "The Bootleggers Music Group" since we were basically breaking all the standard rules. This suggestion came from Writer, Artist, Producer, Ulrich Ellison who is from Turkey.
JFH (John): Regarding the single, "J.E.S.U.S.", what's the story behind the song?
Paul: J.E.S.U.S is one of those tracks you simply stumble upon. Paul was looking for a Blue track to be released. One day, June 2, 2021 at 6pm Wayne was in the studio to Tune his drums and Paul was just hanging out. Paul began playing a blues melody he had been working on and looked at Wayne and Began to sing, "Brother, let me tell you about a man" and that was it. He wrote the song in 5 minutes. I wish their was a better story, but that is how it happens so often with us. GOD sends the songs and we just take dictation. NOTE - Every track The Bootleggers Produce, JESUS is listed as the lead writer. We truly believe we are simply taking dictation no matter what the Genre or track. After all GOD LOVES the BLUES TOO!
JFH (John): Plenty of Christian artists have used the blues to convey their message, but it's an interesting genre to pair with the gospel. What's the appeal for you in doing this kind of song?
Paul: To me, it is all about the music and what it does to the person listening. I grew up playing all types of music. My grandfather was Kennedy Jones who created the Thumb Pick Style Guitar. We grew up with guys like Moes Regar, Merle Travis, Ike Everly and such in our daily lives. I learned at an early age to be out of the box and that has followed and stayed with me. I wanted J.E.S.U.S to appeal to Christians and non-Christians alike. I also feel that typical Christian music is a tad boring to me. So often people are drawn to a beat or a vibe, then they listen to the lyrics.. NOTE - I must share this with you, GOD told me early in to this venture one simple message "Get them here and I will take care of the rest" This message was very loud and clear and has directed me in every single way. If you look at the tracks we have released you will see, we release a country song, a Christian track is discovered by that listener. We recently began releasing classical pieces GOD sent to me, That brough 60,000 brand new listeners to us and at the same time the more Christian based music had an uplift in streams…. So yeah, Get them here…..and yes HE takes care of the rest. As of yesterday we have had over 650,000 Listeners with over 2Million streams. Feb 13th, 2022 we had NO listeners and No Streams.
JFH (John): It seems like plenty of singles are coming from the group. Any plans on doing a big, collaborative album?
Paul: We have released over 52 Singles and two Albums. Our plan is to release a full album at Jan 1st every year. These our known as "Project Albums" so far we have released two, Project 2021, which was released in January 2022 AND Project 2022, which was released in Jan 2023. We also released an Album "JESUS is to be praised" in August 2022. The title track "JESUS is to be Praised" was released in 7 Languages. English, Spanish, French, Italian, Serbian, Turkish and Hebrew. NOTE: We literally have a Muslim and a Jewish person singing a song about JESUS, How kool is that ?? We are currently planning on releasing one more album very soon with will have about 7 tracks on it and will also be done in Multi Languages. We try to release in at least 2 languages for most of our tracks but many times it is 7 (GODS Number) We recently released "When Does It End" in 7 Languages, English, Spanish, French, Chinese, Italian, Russian and Ukrainian, with a bonus track in Russian/Ukrainian Duet... Just FYI
JFH (John): What are the best ways that people can support Bootleggers?
Paul: Just like with any Music Group, we are all starving for support. Thanks for asking this question. On our website people can support us by purchasing products, they can also even help produce a track and they will be listed on the track as a producer. We have many options out there for people to help. Sadly most people think artist and writers are making money from streaming services. This as I am sure you know if furthest from the truth. Example, it takes over 3,000 streams on Spotify just to pay for an album at the price of $12.00 and THAT'S if you are lucky enough to get the full .004 Cents spotify is supposed to pay.

I want to point out that Money is NOT our reason for producing this music, however it is nice to get support from people. Every dime helps, as producing tracks is not cheap. ONE fact about The Bootleggers Music Group, every single person involved gets paid. Every single musician gets a session fee depending on what they charge. I personally have funded 95% of all tracks which I have been happy to do, however help is always nice.
JFH (John): Finally, a silly question: would you rather be stuck on a spaceship with a clown or stuck in a cave with an opera singer?
Paul: HAHA! A Clown of course... I can teach a Clown how to pretend to sing Opera, but doubt I can teach an Opera Singer how to be a clown!