When you're young and you love making music, you get it done any way that you can. That's how the story of
Jeremy Shorter's
music career began. In the late '90s, he created his first album,
Jeremy Shorter @ the Jesus Christ Super-Store
, on the lowest budget of instruments and recording equipment. The early 2000s saw the release of multiple albums in rapid succession, including his 2006 album,
Strong Christian Overtones
. At its core, this is an alternative rock album. But as you listen through the tracklist, you never really know what you're going to get. Case in point, the opening track; "Duplicative" opens with a keyboard and electronic voice welcoming you to the album, and then jumps immediately into a driving guitar riff which drops off completely for the verses. On top of that, the song doesn't end before giving the listener a rap bridge after the second chorus. Then you have "Adicta K," which crosses the musical spectrum in ways I've never heard before, utilizing '80s new wave, hard rock, rapcore, and horror core. Meanwhile, "People Making Time To Love" borrows from Simon & Garfunkel, the semi-Christmas song "Quick Buzz" uses some synth rock sounds that remind me of
Mega Man X
, and "Word Against" is like an amalgam of The Presidents of the United States of America and Smashing Pumpkins. The album really is unpredictable; some of it works and much of it doesn't, but the uniqueness and experimentation is off the charts. The album was very clearly done with the same low-budget production, with a lot of fuzzy vocals and instruments (most of which were MIDI), which, unfortunately, distracts from some of what was done well here. And the lyrics, while bold, honest, loving, and all-around God-honoring, could benefit from some time spent honing the craft. In its current state,
Strong Christian Overtones
is an indicator of the music-loving heart of its creator. With the right producers and some work on the overall songwriting, Jeremy Shorter could create a solid album that I'd genuinely enjoy coming back to. - Review date: 3/1/20, written by
Scott Fryberger
of Jesusfreakhideout.com

Record Label:
None

Album length:
11 tracks: 36 minutes

Street Date:
November 26, 2006

Buy It:
iTunes
Duplicative (4:00)
The Eventual, Inevitable End of the World (3:15)
Non-Compliant (2:38)
Adicta K (3:03)
Ba-Ba-Da (2:58)
People Making Time To Love (2:09)
Quick Buzz (3:56)
Take My Breath Away (3:57)
On Par (3:38)
Word Against (2:59)
I Want To Be Like You (3:25)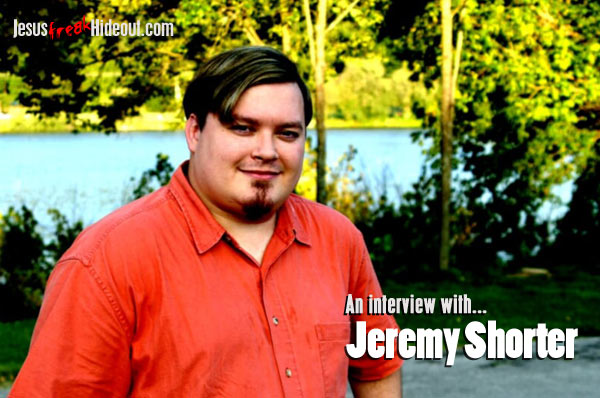 Jesus freak Hideout (Scott Fryberger): Can you tell our readers about your journey into being a musician?
Jeremy Shorter: When I was very little, my dad, who had been the worship leader at his dad's Baptist church years before, played guitar and sang; and my mom (the youngest of 11) who grew up in Missouri as a part of the locally-popular travelling group, The Sharpe Family Singers, encouraged me to begin acting and singing on stage at our church when I was 4 or 5. By the time I was 9 or 10, I was regularly acting and singing in all my school and church plays. I started playing clarinet when I was 11, which caused me to begin encouraging cousins and friends to join me. We'd (try to) cover songs from artists and bands of the few cassettes we had access to. It honestly wasn't very good, though at the time I'm sure I thought it was. But, from that early age, I knew I wanted to sing and play on stage. I still perform on stage at church with the worship band when I am able, and take every opportunity to perform elsewhere, singing, and playing my percussion and clarinet. First Call's "Sweet Love" was the first song I recall hearing on Christian radio, which my mom introduced my sister and me to when I was about 11 or 12, and I fell in love with vocal harmony. Thankfully, my mom was able to teach me how to do that, and from there, I just fell more and more in love with music, and with God.
JFH (Scott): How long had you been writing songs before recording your first album?
Jeremy: I wrote my first song around the time I turned 12 (May 1988). I recorded several songs with my sister and some cousins off and on through the years, but don't know what ever happened to any of them. My first recording session happened in my bedroom in September 1997 while my parents drove my sister to college in Tulsa, OK. It was a dual tape-deck with a $2 microphone from Radio Shack, a tiny used Casio piano from the Walmart "Sample Store" that I barely knew how to play, and me tapping on things to make drum sounds alongside the built-in drum tracks. The audio and background noise was horrible.
JFH (Scott): Strong Christian Overtones was your sixth album in nine years. In what ways did you feel that you grew as an artist in that time?
Jeremy: My first recorded album was at least as bad as any 1980s demo tape, and I really had no clue what I was doing. The only instrument I really knew much about was the clarinet, though my mother had given me some extremely basic training on the piano. My original desire was to play drums. So, what little experience I had with a guitar was just what I heard on other albums, but I didn't have access to one. From 2000 to 2006, I learned about MIDI, and joined a band for about a year which enabled me to learn about how other instruments work. Learning how songs are put together in a band environment was probably where my strongest growth in music came from.
JFH (Scott): Though your main genre is alternative rock, your songs are pretty stylistically diverse. What bands/artists do you listen to that inspire your songwriting?
Jeremy: Lyrically and musically, the artists and groups that really inspired me were Steve Taylor, Charlie Peacock, Carman, early Audio Adrenaline, and dc Talk. Vocally and harmonically, my main inspiration has always been First Call. I've also always been fascinated by very old, traditional hymns.
JFH (Scott): Strong Christian Overtones was released in 2006. Why did you decide to have it reviewed now, fourteen years later?
Jeremy: Admittedly, back then I didn't know I could have it reviewed by anyone. I found out about JFH around 2009 or 2010, but wasn't aware you covered independent artists. When I did discover it, probably about 5 years ago, I didn't have the extra money to put into it. After that, it just became a game of having the money at the time I actually thought to do it.
JFH (Scott): Did you perform all of the instruments yourself in the recording sessions?
Jeremy: Other than the clarinet, a handful of percussion instruments, and the glass (I used a spoon to tap on a literal glass cup in the studio), most of the "instruments" were MIDI (created by me in Cakewalk Music Studio 3 - especially true on Visible Force where there are no other live instruments than the ones I play). For Strong Christian Overtones, I pulled in a few people to come in and play tracks for me: Casey Booth played drums, his sister Kendra played bass on the last track, my co-band member Daniel Newman played guitar on the last track, two guys from Weeping Prophetic (Bryan Ellis & Dustin Roach) played rock guitar tracks on the harder songs, the couple who played guitar (Stewart Betz) and saxophone (Barbara Betz) on "People Making Time to Love" were from the church orchestra I was a member of, and Justyn Horner played piano on "Take My Breath Away" and mastered both albums.
JFH (Scott): Other than sharing the Gospel, what did you want your music to speak to your audience?
Jeremy: I'm a big believer in being honest. I often speak to hypocrisy in the church, of which I am all too often guilty of myself. Most of the time, those songs are meant as much for me as they are for anyone else. They're reminders to behave in a Christ-like way. A lot of times, honesty gets us in trouble with people, but it will never get us in trouble with God. I think if He's going to put together a whole book and honestly expose the guilt of all of the predecessors of our faith, we should at least be honest in return, especially since nothing is hidden from Him.
JFH (Scott): Do you plan to put your back catalog on Spotify, Apple Music, et al?
Jeremy: My first two albums, @ the Jesus Christ Super-Store and Distance & Thyme, will probably never be anywhere, as I consider them learning experiences, though I wouldn't entirely rule it out. And, if someone were to sincerely ask me for copies, I'd be happy to provide them. I still have some original CDs of both somewhere, which I would part with for the cost of shipping. My third album, Recharged, is already available for free on Soundcloud and is a good example of how my music has evolved since then. The 41st & Memorial album is available for purchase on Amazon, but the EP under the moniker manna will probably be posted on Soundcloud at some point. I need to get permission from the other band members first. We've also been discussing making another album.
JFH (Scott): Do you have anything else you'd like to add?
Jeremy: Beyond hoping to put out another album in the next couple of years, I'm a self-published fiction author, and I have produced some short films and one long-form film. I've been working on a non-fiction book about faith and Christianity for a number of years, and hope to finish that this year. Also, if you look me up, you'll want to be careful not to confuse me with the other semi-famous Jeremy Shorter, who is not White/Native American like myself, and writes books about the Jewish Diaspora. He's not me. lol