Jelani Aswad
is a worship leader from the New York tri-state area. Aswad has been working and traveling as a professional vocalist with recording artists for the past 14 years, but just recently released his first solo album,
The Revival Project
, this past October. On top of being a professional vocalist, worship pastor, and licensed minister, Aswad also has his own record label in The Launching Pad Music Group. Jelani's sound is very eclectic and has the ability to reach across genres to meet and minister to people from different backgrounds and walks of life. His lead single, "King of Zion," definitely has a traditional gospel feel, but is pulled off with a calypso musical backdrop. That island sound quickly gives way to more of a standard contemporary song with a little southern influence and topped off with a rapped verse. Genres swap again for the third song as Aswad goes for a reggae jam with "Vanity Vanity!". Jelani, with the help of Alia Akili, also pulls off a really nice rendition of John Mark McMillan's "King of My Heart." Alia's voice is stunning and carries the lead nicely, while Jelani himself joins in during the bridge to make the song a very nice and different cover. The album, as a whole, circles mainly around the calypso/island feel, traditional gospel, and contemporary stylings, but Aswad is able to infuse each song with a little different flare to make the them stand out and not sound alike. The covers are handled well and provide a familiar, but fresh take. The standout song, overall, is very likely the closing track, "Revival," featuring Geoffrey Golden. The piano led track sounds wonderful, and the song features the best of Jelani Aswad's voice as well. Aswad proclaims that we need revival in our souls and sums up the message of the entire project; it's a beautiful and fitting ending.
Jelani Aswad has put together a genre-bending worship project that has the ability to relate and minister to many listeners. The calypso and island feels are a lot of fun, the gospel-centric music is on point, and the more contemporary tunes are impressively done. If you're looking to shake up your worship playlist, Jelani Aswad may be what you're looking for.
- Review date: 12/31/18, written by
Michael Weaver
of Jesusfreakhideout.com
JFH Staff's Second Opinion
The music ministry of
Jelani Aswad
started in his teenage years, as he experimented in both rapping and singing. He soon spent time running from God, but it wasn't long before the prodigal son returned and came back to using music as a means of glorifying the Lord. His latest album,
The Revival Project
, aims to unite the saints of God in praise. The album makes for an interesting listen, particularly because the first half of the album changes genres with each track. It's not like a rock album with an acoustic ballad or a hip hop album with some r&b; each time a new track begins, the listener is exposed to a completely different style of music. It's a bit jarring. For instance, the opening track is a full-on gospel song called "King of Zion." It's lively, upbeat, and features some trumpets and tribal drums. The very next track, "What I Am," is a folk/pop song with a rap bridge. From there, it shifts gears to traditional reggae to pop/r&b before landing on a cover of John Mark and Sarah McMillan's Song "King of My Heart, which is performed in much the same way as the original. "I'm A Soldier" blends together more gospel and reggae, while "YHWH Praise" brings back some of the tribal sound, and the final two tracks find the listener back in the contemporary pop arena. A lot of the sounds you hear on this album go pretty well together, but as mentioned above, some of the genre shifts are a bit too stark (particularly the changes found in the opening trio). That being said, most of the tracks would work very well in your worship playlist. As odd as it may be to mix folk/pop and hip hop into one song, "What I Am" ends up being a highlight, especially for its message of confidence in the Lord. It can be easy for followers of Jesus to give in to being kicked around by the enemy, but this song is a great reminder that we are sons of the living God and we have victory through Him. I also like how well the lyrics of "Vanity! Vanity!" work with the reggae sounds. Reggae isn't usually in my wheelhouse, but Aswad did a fine job on this song, and I would be interested in hearing more. With its cornucopia of genres and its worshipful and triumphant spirit,
The Revival Project
just might have something for everyone. With an open mind, you might have a good experience with it. - Review date: 1/5/19, written by
Scott Fryberger
of Jesusfreakhideout.com
The Revival Project, an album by Jelani Aswad on Spotify

Record Label:
The Launching Pad Music Group, Inc.

Album length:
9 tracks: 42 minutes and 20 seconds

Street Date:
October 26, 2018

Buy It:
iTunes

Buy It:
AmazonMP3
King of Zion (feat. Geoffrey Golden) (3:28)
What I Am (feat. Cliford Gray) (4:04)
Vanity Vanity! (4:34)
Desire (4:12)
King of My Heart (feat. Alia Akili) (5:06)
I'm a Soldier (4:14)
Yhwh Praise (4:28)
We Will Not Be Shaken (7:06)
Revival (feat. Geoffrey Golden) (5:08)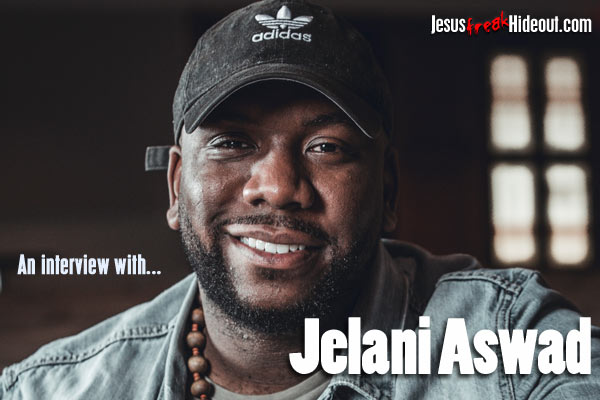 Jesus Freak Hideout (Michael Weaver): I have to imagine, as a professional singer, you've wanted to do your own album for a long time. What's it like to have reached that accomplishment?
Jelani Aswad: Honestly, the process has been incredible; it has been a joy and an honor to see the abilities of so many people fuse into one project--people who I met only 3 years ago after a huge move from the New York City area to Cleveland, OH. After all was said and done, an unexpected feeling I had was that this was a huge relief. It felt something like when I watched my wife carry my first daughter for 9 months. Except, this baby (The Revival Project) took about 6 years of labor and God's timing. This process has stripped me of my ego in thinking I could do this on my own. Now I can truly say, to God be all of the glory.
JFH (Michael): The sounds on the album are pretty eclectic. You've incorporated gospel, contemporary, calypso, reggae, a borderline country sound ("What I Am"), and more… Where does all of this musical inspiration come from? It's extremely multicultural, but has the ability to reach across to those outside of represented cultures.
Jelani: I grew up in a household where we listened to all kinds of music (except Rock n' Roll, honestly). Motown, Roots, Reggae music from the home country of my parents (Jamaica), R&B, Hip-Hop, Instrumental, Jazz, you name it. I also grew up singing in an Assemblies of God youth group and was introduced to Hillsong and Christian Contemporary Rock Music in Middle School. I got a record deal as a rapper when I was 18 years old and I began playing in a 'World Pop Music' multicultural band when I was 20. After learning how to play guitar at 24 years old, I began merging styles of music naturally as I never felt the need to categorize myself or the songs I was led to write. Now, I realize this is just a part of my call and desire to see the nations united in worship--to see worship on earth, as it is in Heaven. Maybe all the styles I love singing sounds like one style to God.
JFH (Michael): I think that "King of Zion" is super fun, "What I Am" was surprising and interesting, the John Mark McMillan and Bethel covers were excellent, but my favorite song is undoubtedly "Revival." Can you talk about the song and what it means to you? You can definitely hear the passion behind the instrumentation and the vocals.
Jelani: Oh man! That song was an honest reflection that led to a transparent set of confessions, topped with an earnest plea for God to do something new in me, and then in the area where I live. "Revival" was one of the first songs, if not the first song, I wrote when I moved to Ohio in 2016. I cried out to God in a way that I had never done before in a song and I did it never thinking about what the song could become. As the album recording process began to draw near, I called up two worship pastor/artist friends of mine, Jake Furman, who helped me finish up the ending as well as turn it into a piano ballad, and Ernesto Alcantara, who produced all the background vocals. I really felt like the Lord wanted to teach me what the word "revival" truly meant for today--not the tent kind, not the 24-hour-service type, but the one that begins in an individual and spreads out to an entire generation. So, stir in us, Lord, and bring revival to our hearts, homes, and this nation.
JFH (Michael): Do you have a favorite song from The Revival Project to perform live? Maybe something that is just fun to play, or something that really resonates with the audience and brings them to a true sense of worship?
Jelani: This may sound surprising, but because of the context of my church, which is mainly CCM, musically, and growing in diversity and multicultural worship, I actually have not performed many of the songs on The Revival Project. On the platform, I have sung "Revival" once, more recently, and "King of Zion" is a song I have led several times on Sunday morning at church. That has always gotten our congregation moving a bit. I would say the song that I dream of performing the most and have had a lot of fun with when I did it years ago at a concert was "I'm a Soldier." I think it says who I am now, it fits the context I am in today, and it has a bounce that would get me moving on the platform.
JFH (Michael): I read in your bio that you are currently serving as a worship pastor, and I'm sure you've introduced many of these songs to your home congregation, but do you have any type of touring plans? Maybe some conferences or something similar?
Jelani: Actually, I have done several conferences, and I have the Moody Walk Worthy Conference for Men that I will lead this coming March of 2019. Our denomination (The Christian & Missionary Alliance), has a huge General Council in Orlando, FL, where I will get to lead and sing some originals as well. I am so grateful and certainly blessed by all the opportunities that have arisen as I worship nationally and in local churches in my area. However, though I do dream of what it would be like to tour, I am fully committed to "equipping the saints" of my home church. That is my main focus. I believe the Lord will continue to work His perfect work and let The Revival Project reach the nations in His prophetic timing. I am open to where He leads me, but I have no formal plans for touring.
JFH (Michael): What are your hopes and plans for The Launching Pad Music Group?
Jelani: The Launching Pad Music Group has a mission and vision, "To use fine arts to impact the local church for global reach." I think myself, and my partner and best friend, Cliford Gray, who is the CEO and rapping half of our label, recognized a few years ago that it was ok to want to serve the local church and seek God for the nations. We did not have to be ashamed of our calling to raise up leaders and empower the communities God has placed us in. Clif and I both serve as Pastors in cities we were not raised in. We trained in college as pastors and became convinced that God is for the local church. However, the local church has not always been for artists. Though the response to artist and various forms of worship through the arts has dramatically shifted in a positive way in the past decade, we realize that not every artist is called to serve in part-time or full-time capacities in our local churches. What we would hate to see is great art used to promote a message that does not honor the Lord because the artist felt they had no place in the "Church." So, our hope is that TLPMG would become a recording/production company that would help to equip, disciple, and launch artists who desire to use their gifts as a springboard to share the Kingdom and the gospel. Then they can freely be the pastors, evangelists, teachers, prophetic voices and apostolic leaders God has called them to be. If that does not include them leading worship in a church on the weekend, but rather on the road, or on YouTube, then so be it. We just want to make disciples, who make disciples, that catch fish through the quality art God has called them to make. I hope that makes sense.
JFH (Michael): Finally, as a worship leader with such an interesting take on worship music, what advice would you give to young, or newer, worship leaders looking to make an impact for the Kingdom of God?
Jelani: I think the best advice I could give is, to be honest, and to be healed. Seek healing in Christ. Healing from past hurts, healing from unmet expectations and healing from our own brokenness. Once we are honest, God can hear us. Once we are healed, we can be free. Once we are free, we can truly become vessels who are poured into and pour out for the Lord with total abandonment. The best creativity is done in the most intimate of spaces and moments. Intimacy only happens when a person can be fully known. That is why King David was a great leader, Kingdom impacter, and worshipper. He allowed himself to be fully known and brought generations of people into intimacy with him through the proverbs and psalms. So being honest and being healed starts that process. Then everything you create after that will be sure to move mountains and compel people to enter the Kingdom of God.