D.J. Ramsay
is a singer/songwriter/instrumentalist and worship leader. Ramsay's background is wide and varied ranging from hard rock, jazz, and even southern gospel. Despite the different influences over the years, Ramsay's preferred musical medium is melodic hard rock and heavy metal. Ramsay combines his love of superheroes and Jesus Christ into his musical output and records music in order to honor Him. Though there are a couple of covers of classic hymns here, most of his newest album,
Warrior King
, falls more on the melodic rock side of things and is strongly influenced by the 90s rock and alternative scene. There's a lot of catchy music here with some really good hooks. "Battle Cry," the punk flavored "Joy Unspeakable," and "Shout With Joy (Psalm 100)" are just a few examples. However, the cream of the crop is undoubtedly "Jesus Reigns (Now and Forever)." The song has such a fun feel, is very melodic, and has a great little guitar hook. On top of that, the lyrics here are all Christ-centered and worship focused. Many of the lyrics are taken directly from scripture -- two songs are directly based on the Psalms. The biggest flaw with
Warrior King
comes in the way of production. Those looking for the crystal clear sound a major label gets you may be little disappointed, but the production is far from bad. The overall mix is good and even, and the album is very listenable. Most importantly, the production is not a distraction from the music or message and that's a win in my book. If you're lost in the 90s like I am, or just enjoy worshipful and scripture inspired lyrics, D.J. Ramsay's
Warrior King
could be the perfect album for you. - Review date: 3/28/21, written by
Michael Weaver
of Jesusfreakhideout.com

Record Label:
None

Album length:
13 tracks: 50 minutes

Street Date:
August 5, 2020

Buy It:
iTunes

Buy It:
AmazonMP3

Buy It:
Distrokid
Warrior King (4:24)
Battle Cry (3:43)
Joy Unspeakable (3:15)
Old Rugged Cross (2:18)
Come Thou Fount of Every Blessing (4:28)
Floodgates (3:44)
Shout With Joy (Psalm 100) (3:55)
I Will Follow You (4:03)
Jesus Reigns (Now and Forever) (3:42)
The Voice (Psalm 29) (3:54)
How Much More (5:17)
Desires of My Heart (4:49)
Cry of My Heart (Bonus Track) (2:44)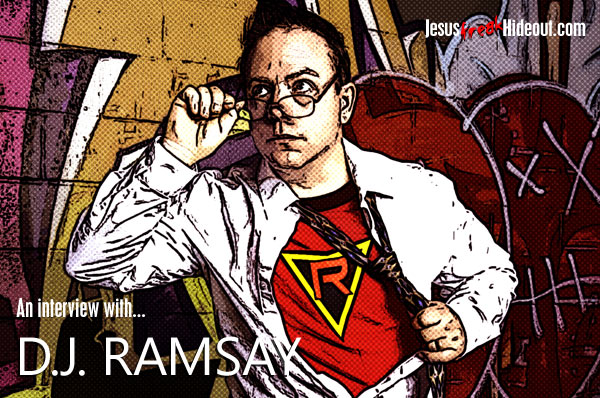 Jesus freak Hideout (Michael Weaver): If I'm right, this is your first new alum of original material since 2000 (the RLE Years was from your 90s band if I remember correctly). What made you decide it was finally time to record some new songs?
D.J. Ramsay: First, I've been recording songs for a while now, just most of it I haven't released. As to why now - I've had these songs ruminating in my head for a while, and my church had been talking about possibly recording a worship CD. It hasn't gone any farther than talk, and I decided if it was ever going to happen, then I needed to do it now. It didn't hurt that because of Covid, I had more time on my hands. This particular project was never really intended as anything more than just a personal thing between me and God. My first worship CD (way back then) was never really what I wanted to record creatively as I was trying to incorporate elements of my church at the time, so this project was entirely, creatively me. I was also part of a Southern Gospel trio during that time and we recorded a couple of CD's, so I wasn't entirely silent. The revisiting of the RLE Years brought me back to my roots.
JFH (Michael): Much like the RLE Years, Warrior King seems to be very rooted in 90s rock and alternative. As a guy in my late 30s I think this is one of the best of most innovative decades for music -- especially Christian music. What is it about the period's music that still draws you to it?
D.J.: Most of my favorite bands come from the late 80's and 90's. I love creative, not always straightforward chords and timing, which I think I got from some of my jazz choir classes in high school. I'm also a big fan of melodic Heavy Metal, so I'm already jazzed for my next batch of recordings. Hopefully they won't take nearly as long to produce!
JFH (Michael): The inclusion of a couple hymns in the middle of the album breaks things up a bit. What lead to your decision to include "Old Rugged Cross" and "Come Thou Fount of Every Blessing" on the album? And "Come Thou Fount of Every Blessing" includes some additional lyrics -- many taken right out of scripture. For instance, "Every good and perfect gift comes from the Father of lights" is taken from 1 Chronicles 16. What went into the process of adding these additional parts to the classic hymn?
"Old Rugged Cross" was just for fun! Thus the campfire vibe. A little bit of my youth in that one. As for "Come Thou Fount," there was, and probably still is, a bit of a trend to bring back some of the old hymns to a modern audience which I am all for! There are so many hymns that it would be a shame to lose, especially with the theology and deeper messages in many of them that sadly is lacking in some modern praise and worship songs. Bringing in a catchy "chorus," as it were, gives it a newness that I think attracts people who might not otherwise approach the old hymns, and this one has proven a favorite when I've lead it at church. On this recording, however, I was able to have some fun playing around with the timing that I hadn't done before, but always intended. D.J.:
JFH (Michael): "Jesus Reigns (Now and Forever)" scratches a musical itch for me personally. It's super melodic and extremely catchy -- I especially like the stops/hits towards the end of the song. I sort of get a The One and Only-era Plankeye feel from it, but I'm sure there are several comparisons that could be made. It's definitely my favorite song from the album. Can you talk a little about writing and composing this song?
"Jesus Reigns" was written while I was driving on the job as a Meter Reader a while ago. I had been thinking about some Psalms I've been reading (I can't remember which ones) and how past tense and present tense somehow seemed to be written in the same verse, or how some are written talking about God and switch to talking to God in the same verse. This song came to me then. It's both to God and about God. In the past/present/future He is! He reigns! He is the only one who can claim I Am all the time. As for the music: Plankeye! Thanks for that! But I don't really know where the music came from. I rarely know the influence that leads to a composition. I just started to sing this one, picked up a recording device my wife bought for me, and sang into it so I wouldn't forget it! I suppose the chorus was influenced a bit by some older Vineyard style songs that have a line alternating from the lead singer to a female singer, but obviously ended up not quite having that vibe as I'm the only vocalist here. D.J.:
JFH (Michael): What do you hope God will accomplish through the recoding and release of Warrior King?
D.J.: My hope for this album was initially just my gift to the Lord, but I would be thrilled if He used it to draw people closer to a relationship with Him. I know that sounds a bit cliche, but truly, if one person is changed, even a little, and drawn closer to Christ, then that would be fantastic.
JFH (Michael): You lead worship and released a new album all in a very different kind of year. What has God been teaching you through this exciting, but certainly stressful time?
D.J.: Let it go. He's still got this! He was not surprised by it. Even during this time, His kingdom is advancing. Perhaps even more than it was before. In the past, Jesus' Kingdom has proven to grow exponentially through trial more so than through easy times. How is this different? I'm actually looking forward to the end of this, not just because I'm tired of wearing a mask, but because I believe God is working and His church, His Bride! will be more beautiful than ever. The best is yet to come!