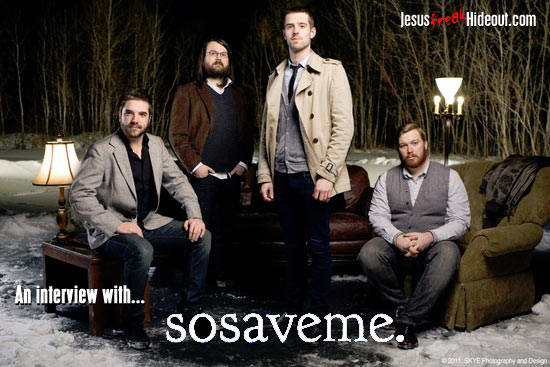 With the band getting ready to release their second independent full length album, indie rockers
sosaveme
took some time out of their everyday lives to speak with JfH's Scott Fryberger about their The Garden, their influences and what they're about...
This interview took place in September, 2011.
Jesus freak Hideout (Scott Fryberger): Go ahead and tell me your names and what instruments you play.
Nicholas Pidek: Yeah, my name is Nicholas Pidek, and I sing and play guitar.
Jon Moore: My name is Jon, and I play the drums and also sing.
Justin Ozanich: And my name is Justin, and I play guitar and auxiliary percussion.
Nicholas: And on behalf of Austin Germain, because he's not here, he plays bass. He also says "hi."
JFH (Scott): My first question is gonna be the obligatory name question: What does the name sosaveme mean?
Nicholas: The name kinda birthed out of a song that we wrote quite a long time ago, and it was kinda like this idea that everybody's got their solution to what actually saves us or what brings salvation. It's kinda like a "put up or shut up" thing, like "alright, well go ahead and save me then." Kinda just like in frustration, throwing your hands up and saying "alright, well let's do this." So it's kinda satirical, but also like a cry out, like to just show me instead of tell me. And I think that kinda matches our vibe now, that we're about honesty and actions being more than just words. So it's not just saying what we are, but showing what we are.
JFH (Scott): And you guys have been together for about six years, is that right?
Nicholas: Yep!
JFH (Scott): How did you guys come together?
Nicholas: In 2000, I started going to a new high school, and I met Jon, and we started playing together. And we were kind of another band at first called Skeeter, and we were like this pop punk band with another friend. Then in about 2004, we kinda switched over to sosaveme, and we changed our style. I met Justin Ozanich in college in 2004, and he joined the band. At first he started out just writing music for a CD that we were recording, and then we kinda made him join the band by just telling him everyday that he was gonna join. So he finally did. So then in 2009, our bassist at the time pursued a different career, and then we got Austin Germain to come and play bass and just kinda intern with us for a while. And then he officially joined in 2011.
JFH (Scott): And are you guys completely independent?
Nicholas: Yep!
JFH (Scott): Do you have any desire to sign to a record label?
Nicholas: Yeah, we're definitely on board for hooking up with anybody that has a like mind that wants to get behind our vision, whether it be a label, management, booking... We're certainly not sold to the idea of being independent forever. But also, at the same time, we don't want to sacrifice the reasons we do this or our business - our goals or objectives or our aesthetic, or why we do what we do. So, we're definitely for starting conversations and seeing what people or organizations wanna get behind us.
JFH (Scott): Have you talked with Come&Live! at all?
Nicholas: A little bit. Not directly. We kinda befriended a guy named Nathan Mallon who was working for them at the time. He's a really cool dude, and heard Come&Live!'s vision from him and heard what they were about and what they're doing. We certainly appreciate everything that they do, but nothing really progressed as far as us talking with them further.
JFH (Scott): Now speaking of Come&Live!, I was listening to The Garden, and in the song "Sender/Receiver," I was pretty sure that I heard Micah [Boyce] from so long forgotten, who is a Come&Live! artist. Did I hear that right or is that someone else?
Nicholas: Close. It's actually a guy named Mikey Mains, from a band called Mike Mains and the Branches. (Scott: Oh okay!) That whole band is a bunch of really, really good friends of ours. They live in the same town as us, Owasso, Michigan, and Mike actually lives at Jon's house. So we're pretty close with those guys.
JFH (Scott): I've been meaning to check them out. I've heard really good things about them.
Nicholas: Yeah they're definitely worth checking out.
JFH (Scott): Now this new album you guys have coming out, The Garden, how does it compare in sound to former sosaveme albums?
Jon: I feel like we've just matured quite a bit. We've really started to find our niche, so to speak. Even though we've been a band for quite a while, I'm really hesitant to tell people how long we've been together because it seems when bands start out they're usually pretty close to what they are now. But we really morphed into what we are, and it took a while to find it, but it's a little more serious, a little darker - musically and lyrically - not in a negative, but it's just kinda being honest, and sometimes when we're honest with ourselves, we don't only find good things, but we find negative things. And that's kind of a reflection on all that. And musically, we're more well-rounded, more thought out, and I guess just more mature. And we're still progressing. We're still feeling that we're gonna be changing slightly in the future.
JFH (Scott): And do you think working with the same producer as As Cities Burn was helpful there?
Jon: Yeah, he kinda picked up on what we were trying to do, and since he was familiar with them he kinda understood what we were going for a little bit better. I mean, it's not that we wanna rip anybody off or copy anybody. But I mean, yeah, he understood what we were doing and the sound we were going for.
JFH (Scott): And going back and listening to The Garden, did it meet your expectations?
Jon: Definitely. I mean, with four guys in the band, there's gonna be things that everyone has to sacrifice, but overall, I can honestly say that I'm proud of every song on this CD. Even the weakest song that I wasn't really excited about at all, after playing and hearing it more, it's a really solid song. So yeah, I'm really, really happy. I know that future projects will be better than this one, but this one is by far better than all the albums we've done before.
JFH (Scott): That's really encouraging.
Jon: Yeah, for sure.
JFH (Scott): What bands do you guys usually listen to?
Justin: We listen to a variety of music, honestly. I'd have to say probably our largest influence collectively is Brand New. We all really like what they do. Also, As Cities Burn has, in recent years, become a pretty heavy influence, musically. Maybe not so much vocally and melody-wise, but definitely where music is concerned, I've listened to them quite a bit and have definitely drawn off of them for inspiration. And then Kings of Leon, all the guys are saying. Kings of Leon, mewithoutYou - probably percussively more than anything - all have influenced what we do.
JFH (Scott): Pretty solid line up of bands there.
Justin: Yeah!
JFH (Scott): Have you gotten an opportunity to play with any of those bands?
Justin: No, we have not, but we'd absolutely love to. That's kind of a dream of ours; to play music with any of our influences would just be amazing. Just to be able to kinda share that moment with them, knowing that they've had such an influence on what it is we do musically. That would be a pretty special day.
JFH (Scott): Definitely. Have you gotten to play with any bands that people might recognize?
Nicholas: We've played with so long forgotten - it's funny you mentioned them earlier - The Ember Days, Sherwood, Deas Vail, Ocean Is Theory, Haste the Day, Inhale Exhale, Spoken, Sleeping At Last, Mike Mains and the Branches...that's all I can think of off the top of my head.
JFH (Scott): Going back a little bit to The Garden; I know you talked a little about it earlier, but what can people expect as far as lyrical themes?
Nicholas: The best way I guess I can describe it is almost like holding up a mirror. And just kinda like a self-reflection. I've pretty much written about 95% of the lyrics, and I strived to write an honest portrayal of what I see in myself and in situations, and just addressing issues that I think don't get addressed, whether that be when it comes to life, when it comes to situations, when it comes to church, when it comes to fitting into this world through an identity - an identity in Christ or an identity not in Christ. It's looking at all the elements and saying "What is the purpose? Why am I doing this?" And starting with myself. You know, we're not necessarily pointing fingers. I know a lot of people want to point fingers at other people, and I'm one to say that I have to start with myself. And if there are some similarities in myself that are happening around me, then so be it. But that's just really kinda how I write, and I guess what this CD lyrically turned into. It's just like "What's going on? Who am I? What direction am I heading? Do I like the direction that I'm heading?" It's just asking a lot of questions. I feel like this album is a question - it ends on a question, it starts on a question.
JFH (Scott): And have you gotten a lot of positive feedback on the album? I'm not sure who all it's been serviced to yet, but have you heard good things back from people?
Nicholas: Yeah, it's been a really good response from fans. Fans have messaged us, and friends that hadn't even heard the song, but when they did they texted us and called us. But the press has been super kind. HM Magazine just called us Pick of the Litter for October, November and December, which is pretty sweet. It's really cool to us that a magazine like HM would recognize our album. It's one that they picked out out of a bunch of bands. Relevant Magazine has put us on The Drop, which is on their website where you can stream the whole album. They've been really into it. Substream Magazine is doing an article on us. So there's been a really good response without the CD even actually being out. And we're really looking forward to some album reviews coming out, which should be coming in the next week or so. So we're excited to hear those, and see what the response is. But so far, it's been great for not having the album out.
JFH (Scott): Another question I wanted to ask you: You guys chose the song "Gentle Slope" as the lead single. To me, it almost feels like somewhat of a different style than the rest of the album. Like it seems more A Rotterdam November style rock. Is there a reason you went with that song instead of something else from the album?
Nicholas: We thought that it was a strong foot forward melodically and lyrically. And we just thought it was single-worthy. We thought it was something that people would play on the radio and get kind of attached to. It was kinda one of those things where we just wanted to, not disassociate ourselves, but to kinda show that we've progressed from our last album. And we had a really difficult time choosing; we had three songs that were in the running. We had "Gentle Slope," the song "Wasteland" and another song called "Wake Up." It took us quite a long time to decide. And basically Tyler Orr, our producer, said "If you don't pick 'Gentle Slope' I will be forever mad at you, and I won't be your friend anymore." *laughter* So yeah, we really trusted his opinion and we wanted to send it out and ask what people thought, and some people would respond "Wake Up" and some people would respond "Wasteland." Then some people would respond "Gentle Slope." So we just had to decide, so we thought about it and we finally made the decision to go with "Gentle Slope" and I think it was a good decision. I think we all agree that it was the right choice. So hopefully other people like it.
JFH (Scott): It is a good track. One that will probably grab people's attention. Well, that's all the questions I had for you guys, unless there's anything that you wanted to add.
Nicholas: Just that we have some cool dates coming up. October 4 is the release date, and we've got a music video premiere for "Gentle Slope" coming up this Saturday. It'll be on our YouTube [youtube.com/sosavemetheband]. We're going on tour October 16 to November 4, through the Midwest, down to Florida and back, and all the states in between.
JFH (Scott): And where can people buy a copy of The Garden?
Nicholas: We have an online merch store, which is easy to find at sosaveme.com. You can also buy it on iTunes, Amazon, pretty much all the digital distribution stores. You can stream it on Rhapsody. Pretty much everywhere as far as digital distribution goes. Because we're independent, we don't have outlets as far as physical distribution goes...yet. But we can ship to pretty much anywhere.
sosaveme's The Garden released October 4, 2011 and is available now!