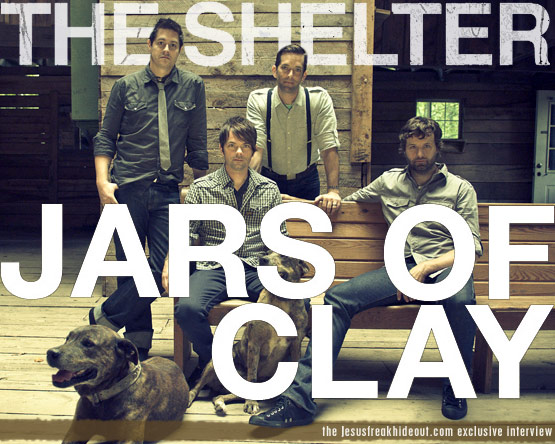 While on the second date of their Fall "An Evening with Brandon Heath and Jars of Clay" fall Tour, we caught up with Jars Of Clay keyboardist Charlie Lowell to discuss their new collaborative project, The Shelter, as well as their live studio digital EPs, and more...
This interview took place on: 10/8/10.





JFH (John DiBiase): How did the idea for The Shelter originate? When I talked to you guys last October, you said it was kind of like a Redemption Songs II?
Charlie Lowell: Yeah. We were talking about doing some sort of, not really a follow-up to Redemption Songs, but that kind of a focused project. A little more focused on songs for the church. We loved doing that record and our fans loved it. It just had a special thing to it. So we've been wanting to something in that vein. And this friend, an Irish poet friend, shared with us these old Irish words - almost like a Proverb in Ireland - and the words are "It's in the shelter of each other that the people live." He shared them with Steve [Mason] and Steve brought them to the rest of us and we just kind of lit up, like "Wow! That's what we've learned in the past five or six years." Like Good Monsters, I think you can see it in the songs, kind of peeking up here and there -- just learning how important it is to have people around us that really know us and care about us...
JFH (John): It's cool, because [on that record] you have the song "Work" which is all about loneliness...
Charlie: Yes! Yes, isolation and "I don't want to be alone, but how do I do this?" And, I think, logistically for us, how do we travel most weekends and not physically be in church and yet find ways to be rooted at home? So that's happened in really life-giving ways and so those words were like, "Yeah! Let's write that song!" So we wrote that song and it's "Shelter." That was the first song we wrote when we heard those words. It was a special song. We knew there was something special about it. We just kept going, "There's something bigger here. What is it? What if it's a concept record about community? Or what if it's a project that pulls in different concepts about community in a celebratory way that's encouraging and hopefully challenging?" And then, as we wrote more songs, we realized we can't make this record the way we normally do - just lock the door and turn our phones off and just find it together. We needed to open the doors up and call some friends and do some co-writing and let the process embody community. And that was really different. We've done a little bit of co-writing in the past. That was good for us. We had one day at our building, which is very rough and not polished, and we brought in Laura Story who we'd just met once or twice and she co-wrote on "No Greater Love." But we left the heat off overnight and it was in February. It was freezing and we're all bundled up and shivering and poor Laura was in there with us. It was horrible to make her sit in there.
JFH (John): So you guys co-wrote or wrote all of the songs except for one song, right?
Charlie: Yeah, Sara Groves wrote one track ["Lay It Down"]. Because we've traveled with her in the past, we talked about doing stuff together and we haven't had too many opportunities to. We talked to Derek [Webb] and Sara and Steven of Burlap [To Cashmere]... One day we want to do a record where we each sing like three of each other's songs. Like the four of us artists interpreting each other and harmonizing together and stuff. So it was like, "well, this is kind of like that. Let's throw it out to Sara and see if she has any songs she's written or if she's in town, we'll co-write with her." She sent us that demo and she sent us a really organic, Emmy Lou Harris version of it and then we tweaked it pretty bad. Y'know, we messed it up.... in a good way. Her version is very pure and very gorgeous, unlike what we did to it.
JFH (John): You should do another EP where you have her version and your version, like you did with her version of "Flood."
Charlie: We should! Yeah. Her "Flood" was cool. So we co-wrote like three or four of the songs and then we wrote a handful of the rest of them.
JFH (John): Yeah, when looking at the credits, I liked how you guys had a lot of involvement in the writing process. Because most projects for the church or worship end up being a lot of covers or co-writes or songs written by other people than the artist. So this record sounded more like Jars because you wrote guys it.
Charlie: Yeah! There were funny lines we had to find the balance on. We joke about it. One of them was "We don't want these songs to sound like 'We Are The World'... where a different voice takes every line." It's like Guestapalooza.
JFH (John): Yeah, it's too much.
Charlie: Yeah! So we knew we didn't want to do that and we wanted it to sound like Jars but we wanted it to be bigger than just a Jars record in the sense that it has this collective voice on it that sounds like community and that you can sing along with in your church or in your car.
JFH (John): Did you guys write specifically with guests in mind?
Charlie: Not really. No, we would throw out ideas. Maybe Leigh could sing the song. Burlap's back together and they were in the studio. We caught wind of that and we thought, "maybe Steven could sing that line, he would sound really cool on it." So as we wrote them, Dan would sing them and we would do backgrounds and we almost kind of finish them like a Jars record and then we would go, "OK, let's send this song out to Mike Donehey or Thad [Cockrell] and see who's interested." And, for the most part, people were into it. Crowder was an interesting one because we sent him "No Greater Love." He sings on "Lay It Down." We sent him "No Greater Love" and he said, "Man, I LOVE the verse. It kills me! But the chorus... I'm just really not feeling it." And we were like, "OK, well, if you want to take a crack at writing a new chorus, this is 'The Shelter,' that's what we're talking about! Go for it." And we co-wrote some of it with Laura Story and then we passed it on to David and he wrote that new chorus that's on the record, which we love and it totally made the song better. So I like that that process is kind of what community is about: We make each other better. And we don't always hear what we want to hear. Like, it kind of stung a little bit that he didn't love our chorus, but once we kind of got over it, "OK, this is what we're saying we want to do." So yeah, he wrote the new chorus and then sang on another song. It was cool!
JFH (John): Why were there no guests on "No Greater Love?"
Charlie: We had asked Crowder to sing that one. I don't think we gave it to anyone else. I think Dan just owned that one so well and the chorus was in flux for so long, that we couldn't quite nail it down because we were waiting on Crowder's chorus and then we kind of had to back in to this new chorus and shift what was around it to make it work. So it was a little bit of a science [project]... a little 'Franken-song.' But "Shelter," Dan sings most of, and "No Greater Love" and when we were talking with the label about really wanting it to sound like Jars with friends, we just decided to leave that one alone.
JFH (John): And then it's almost like you're a guest on your own record. *laughs*
Charlie: Right. Yeah. And there were some lines that Dan wrote and sung in such a way that it was like I don't want anyone else to deliver that line. It's so Dan at his best. "No Greater Love," those verses are really great.
JFH (John): Do you have a favorite track on the record?
Charlie: I think "We Will Follow" is my favorite. I keep coming back to that one. It's so anthemic and when I hear it, I usually picture the Exodus story and sort of this wandering, kind of like "We know we're doing something here, but most days it doesn't feel like it" and I think I often forget that I'm part of a bigger story and that it's going somewhere and that I'm a small part of it but I am part of it.
JFH (John): Is there perhaps a particular collaboration on the record that you're most proud of, too?
Charlie: I really like the Sara Groves stuff ["Love Will Find Us"]. She did it in Minneapolis and sent it down to us, but we felt like that song was kind of done, but needed a bit more work and when we got her vocals back, and we turned them all up, it was like she did all the rest of the work for us. She did vocal effects in these little holes where we needed to figure out "something was happening here." When we sent it to her, Matt Maher had already sung, so she totally played along with his vocals and it just came to life in a way that we weren't expecting.
JFH (John): You said last year you guys were hoping that The Shelter would become a series of releases. Are you guys still considering that?
Charlie: I don't know. I think it's a little hard to look there yet, because this one just released and, like Redemption Songs, it's a little bit of a detour. It's definitely on the map, but it's a little specialized. I think we love doing those occasionally, so I think down the road, yeah, but I think we'll be anxious to jump in and do kind of like a follow-up to The Long Fall when this cycles out.
JFH (John): Are you guys already giving thought to that?
Charlie: Just that we'll be ready in half a year to start writing. And then I think by next summer we won't tour as much and start writing and thinking about it.
JFH (John): Can you tell us about the digital Live At Gray Matters EPs? What are volumes three and four going to be?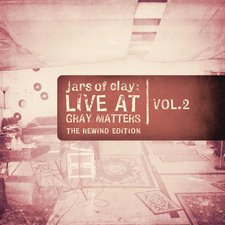 Charlie: Three is Christmas, which will come out in November, I think. And then the fourth one is one microphone. It's basically like there's just one mic in the room and we're all around it. We picked five songs that speak well that way. So it's kind of like bluegrass Jars, sort of.
JFH (John): Oh nice. What songs?
Charlie: I think I'll let that one be. Honestly, I can only remember one of them. "All My Tears," we did. We've been wanting to record that acoustic. And we did a hymn song, that we don't play very often, on it.
JFH (John): Those in-studio EPs have been cool. How badly damaged was your studio in the Nashville flooding from earlier this year?
Charlie: It was pretty bad. It wasn't like a structural damage thing. The studio is upstairs, it's just two levels, concrete. It's like a trapezoidal building. It's a funny little building. And the downstairs is where we keep our equipment when we're not touring, and all of our merch. And we rehearse down there. It had three and a half to four feet of water in it. So a lot of rope cases... I mean a lot of more expensive stuff was upstairs - like Steve's Telecaster, irreplaceable stuff like that was up. Some of the amps had water up to the tubes where they could either be dried out or order a new speaker cab for them. We lost like a nice, wooden pump organ that we used on Much Afraid. It had water stains by the keyboard. That's how high the water came up. It was crazy. And then TONS of merch. There were just piles of wet merch, like t-shirts... and CD's, there was just enough moisture that got into the leaflet to warp it a little bit. We could have done like a flood sale for like two bucks, but it was just easier to start over. So, it could have been a lot worse and a lot of people had it much worse.
JFH (John): Are those your dogs in the promo photos for The Shelter?
Charlie: No. Those dogs live in that tree house.
JFH (John): That's a tree house?!
Charlie: That's a five story tree house that this sixty-year-old hippie minister built. God told him to build a tree house. It's in Crossville, Tennessee. And the dogs have lived there since he built it. So we tried to get them in a shot or two. Sweet little rottweilers.
***For Charlie's advice for new parents, visit our spin-off site for parents, LittleJesusFreaks.com!***
Jars Of Clay's new album The Shelter is available now!