Alice In Wonderland


- for fantasy action/violence involving scary images and situations, and for a smoking caterpillar.
Director:
Tim Burton
Starring:
Mia Wasikowska, Johnny Depp, Helena Bonham Carter, Anne Hathaway, Crispin Glover
Running Time:
1 hour, 48 minutes
Theatrical Release Date:
March 5, 2010
Blu-Ray Release Date:
June 1, 2010 (
Amazon.com
)
Official Site
Plot Summary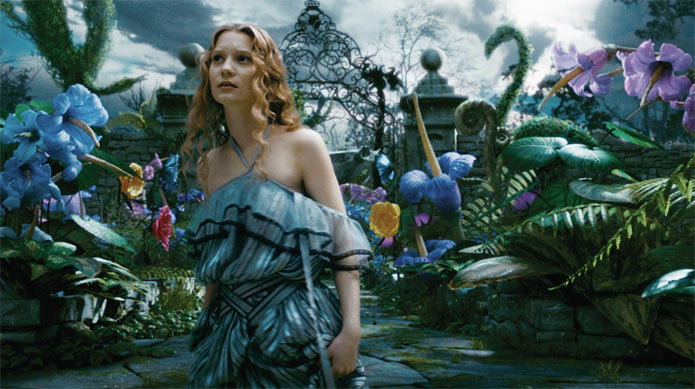 From Walt Disney Pictures and visionary director Tim Burton comes an epic 3D fantasy adventure "Alice in Wonderland," a magical and imaginative twist on some of the most beloved stories of all time. Johnny Depp stars as the Mad Hatter and Mia Wasikowska as 19-year-old Alice, who returns to the whimsical world she first encountered as a young girl, reuniting with her childhood friends: the White Rabbit, Tweedledee and Tweedledum, the Dormouse, the Caterpillar, the Cheshire Cat, and of course, the Mad Hatter. Alice embarks on a fantastical journey to find her true destiny and end the Red Queen's reign of terror. (from MovieWeb.com)
Film Review
For as long as I can remember, director Tim Burton has been making fantastical films with a dark signature feel in a way that few other directors can deliver. Burton's latest big screen venture reunites him with actor Johnny Depp for a fourth time in their careers, in the form of a live action sequel to the classic story, Alice In Wonderland. Maintaining the same title, the story revolves around a 20-year-old Alice who returns to Wonderland at both a crucial point in her life as well as the magical place's.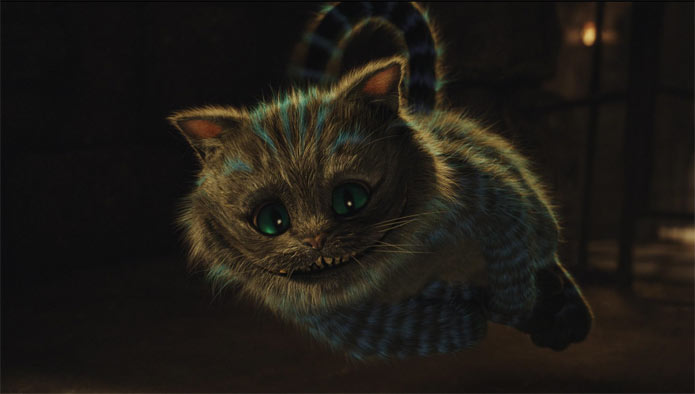 We've seen Johnny Depp portray colorful characters in the past as Jack Sparrow and Burton's reimagination of Willy Wonka, so having Depp perform as the mentally adrift Mad Hatter shouldn't be too tall of an order. And within the first few moments Depp is seen as the looney hero, it's confirmed that the actor is an inspired choice for the role. Depp performs the Hatter with believability, charm, and a whimsical charisma that may even best his previous stint as Wonka. The cast that surrounds the enchanting actor is just as strong. Crispin "George McFly" Glover returns to the big screen as Stayne, the creepy righthand man of The Red Queen, who is marvelously portrayed as a bigheaded menace by the always reliable Helen Bonham Carter. Anne Hathaway seems to tap into her childhood Princess fantasies for The White Queen, serving as an adequate foe for Carter (who is never outshined by Hathaway). A strong array of voice actors round out the rest of the cast, including wonderful performances from Stephen Fry as the Cheshire Cat, Michael Sheen as White Rabbit, and Alan Rickman as the Caterpillar.
Burton has a knack for telling imaginative stories and so he makes a great fit as director for Alice In Wonderland. But as with most of his films, his take on Alice In Wonderland is mostly very, very dark and rather twisted. While it's probably closer to the likes of Annie when compared to the brutally dark and macabre Corpse Bride, Burton's Alice is almost not kid friendly. I do remember seeing films of this nature as a kid and liking them - although being a bit terrified of certain aspects - however Alice In Wonderland is not suitable for the younger audience. There's a decent amount of violence and some creepy creatures, including menacing giant vulture-like birds, a huge dog-like beast, and the dragon-like Jabberwocky which probably gives the film its most intense moments. There's a little bit of blood when Alice gets scraped on the arm by a beast, and we see dismembered fingers get pulled out of a jar and dumped into a potion brew. A character also slices off a monster's tongue, and we see an eyeball get plucked from another creature's face by way of a small sword. Finally, we see a monster's head get sliced off and roll down a large flight of stairs (yeah, it's as gross as that might sound).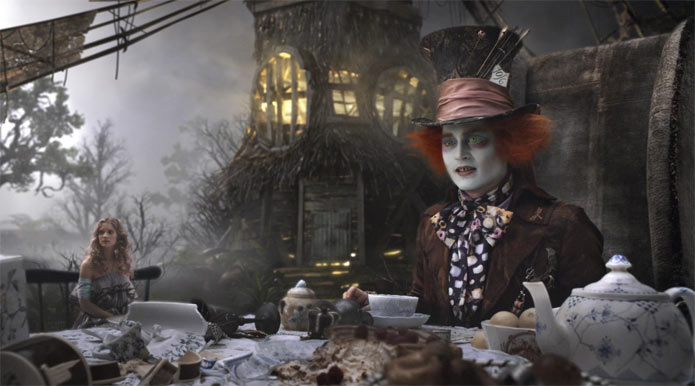 One gripe I had with Burton's Alice In Wonderland is that, in order for the filmmaker to create the Wonderland he wanted, much of it is entirely computer generated. Many similar fantasy films that I grew up on - The Neverending Story, for example - seemed to go to great lengths to ground the setting in a tangible way. With most CGI-heavy films, a certain element of realism is always lost, and I feel that Burton's Wonderland suffers some from this. Whether he wanted it to be as dreamlike as Alice believes it to be or not, there seemed too many times when the effects seemed to rob some scenes of maybe further potency. This may largely be due, however, to the 3D element that some theaters will have. Because it makes a lot of the characters and scenery pop out, it makes it a bit more obvious that the real-life actors aren't actually part of the fantastical world that the movie places them in. It makes me wonder how the film would look in 2D instead, without the effect. The film does play up some of the 3D aspects as well, giving the audience a short scene where we follow a giant bird swooping through the sky, and of course, things do tend to fly towards the screen at us. It wasn't the worst 3D out there, but it's not a film that really needed this effect at all.
Overall, I thought Burton did a great job bringing a lot of life and character to the story. He spends a great deal of time developing the characters which helps draw the audience in and make things more relatable. The fairly unknown Mia Wasikowska does a great job as Alice, sort of coming across as a younger Gwenyth Paltrow in the process. Mia was a great choice for the lead and she helped carry the story along nicely.
Although I can't recommend this Alice In Wonderland story to all ages, it is indeed an entertaining and enjoyable fantasy that older children and fans of the original should enjoy. It's a well-directed, well-played, and imaginative film that certainly isn't for everyone, but is likely to especially appease the most devoted Burton fans.
-
John DiBiase
,
(reviewed: 3/5/10)
Blu-Ray Special Features Review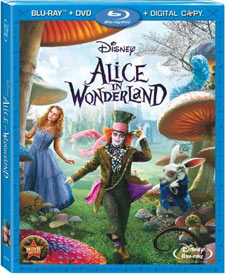 When I first saw Tim Burton's Alice In Wonderland in the theater, I was a bit overwhelmed with how synthetic a lot of the CG effects looked. But because the showing we were seeing was in 3D, it seemed to especially force the real life actors out of their fabricated settings and, therefore, also force the viewer out of the titular wonderland. I was curious if seeing the film in 2D would help mesh things a bit better and upon viewing it a second time in blu-ray, I found that to be true. First off, the HD quality of the blu-ray is pretty solid. The colors are lovely and the clarity is impressive. Burton's style is unmistakable in this version of Alice and the HD presentation is still the best way to view it. The almost entirely CG world is a bit too obviously fake at times, but it also tends to aid to the dreamlike feel of Wonderland. The story itself is a dark one - sort of a Return To Oz kind of revisitation of a beloved fairytale. But it serves as a fun fantasy story with a good theme about fulfilling your calling and sacrificing for others.
Wonderland Characters (27:56) - The first bonus feature is broken down into six chapters, each focused on central characters (or characteristics) in the film, beginning with the title character, Alice (called "Finding Alice" - 5:25). For our heroine, we get a great deal of behind-the-scenes glimpses into the production of the film (and the immense amount of green screen that was utilized to generate the Wonderland experience). It's also here where we get to hear Burton, Mia Wasikowska, Depp, and Helena Bonham Carter talk about Alice, Burton's vision, and the choosing of Mia for Alice. "The Mad Hatter" (6:02) is the ideal segment for the Johnny Depp and Mad Hatter fans. Depp and Burton talk about their vision for the character and we get to see Depp transform with the make-up into the Hatter. We also see plenty of behind-the-scenes on-set filming and a look into the details of his costume. The Futterwacken dance (3:23) reveals just how they managed to get Depp to dance as eccentrically as he does in the film -- revealing that they had found a professional dancer on YouTube and had him perform his style of dance in Depp's stead (and apparently Johnny was very reluctant to dance on screen). The highlight here is watching some of the dancer's takes against the green screen before they were edited for the film. The Red Queen (5:58) delves into Carter's character and her design - costume and make-up - with quite a bit of Carter talking about the character and what she went through to perform as the queen (including losing her voice almost every day of filming!). Afterwards, we see a Time Lapse of Helena becoming the Red Queen (2:40) as the make-up application process is shown at high speed. It's cool, but we only see her make-up application up until she needs the wig, but not including the wig application. Various people from production, including Burton and the make-up artists, talk about the process over the time lapse featurette. Lastly, we have The White Queen (4:27), performed by Anne Hathaway, which takes a thorough look into her costume and make-up as well. In addition to hearing Hathaway talk about her character and her own ideas for the personality of the White Queen, we're given insights from various people in the production, as well as Depp. Overall, this featurette is a great, in-depth inside look to the characters in Burton's film.
Making Wonderland (19:29) - "Making Wonderland" takes you a bit further into the actual making of the film. Composer Danny Elfman has been scoring some incredibly memorable films for decades, especially those from Tim Burton, and the first segment of this featurette (3:10) specifically features Elfman talking about writing and composing the Alice In Wonderland music. "Effecting Wonderland" (6:53) delves further into the effects of the film, showing lots of on-set footage of the green screens and motion-capture technology. It's here we get to see Crispin Glover as Stayne, dressed in an entirely green suit while up on green stilts to capture his peformance as the elongated villain. "Stunts Of Wonderland" (2:34) goes more in depth, too, focusing on the physical performances of the actors, with Mia expressing how surprised she was at how many stunts she had to perform. "Making The Proper Size" (2:13) addresses the effects of the varying sizes of characters and actors throughout the production. It's neat to see how they enlarged the queen's head or made someone look larger than another person while in the same frame together. The last two segments - "Cakes Of Wonderland" (2:34) and "Tea Party Props" (2:04) focus first on the "Eat Me" cake prop and then the different pastries and set pieces on the tea party table. You really can't appreciate the detail of the tea party table until you watch this little segment. All in all, this is twenty minutes of insight into how Wonderland was generated for the big screen.
Unfortunately, that's it for the bonus features, but any fan of Burton's latest venture will be pleased to at least have these informative production featurettes. Also, the best buy, if you're planning on getting a home video copy, is the blu-ray, DVD, and digital copy combo. Blu-ray is still the top means for viewing the film at home, and it'd be worth purchasing the combo if you haven't upgraded to HD yet but hope to eventually.
-
John DiBiase
,
(reviewed: 6/22/10)
Parental Guide: Content Summary

Sex/Nudity: Alice stumbles upon her brother-in-law briefly making out with another woman at a party


Vulgarity/Language: None.


Alcohol/Drugs: The Caterpillar is usually seen smoking some kind of device which makes lots of smoke surround him and those around him


Blood/Gore: We see three bloody scratches on Alice's arm, which later are seen again and look more severe; We see a mouse stick a monster's eye with a small sword and pluck the eye from the creature's head. We later see the eyeball by itself; We see a jar of severed fingers and The White Queen takes two of them out of the jar (we see the severed part of the finger, too) and put them into a potion; We see a sword slice off a monster's tongue; A monster's head is cut off and we see the decapitated head fall off and flop down a long flight of stairs before landing on the ground below. We later see a closeup of the monster's head again.


Violence: The Red Queen uses the phrase "Off with their head!" a lot, and while we don't actually see any beheadings, we do see and hear her send several characters to be executed; A large beast chases Alice; The Red Queen plays a kind of golf with a live flamingo as a club and a tied up porcupine as a ball; We see a flashback where the Jabborwocky and Stayne torch The White Queen's place and steal her crown; Two small characters are snatched up by a giant bird and carried off to The Red Queen; We see a large battle between the people of the Red and White Queen while someone battles the Jabborwocky; A monster's head and tongue are cut off; A mouse stabs Alice in the foot with a tiny sword to help her realize she's not dreaming; A crazed rabbit throws stuff
Disclaimer: All reviews are based solely on the opinions of the reviewer. Most reviews are rated on how the reviewer enjoyed the film overall, not exclusively on content. However, if the content really affects the reviewer's opinion and experience of the film, it will definitely affect the reviewer's overall rating.
To find out why we don't typically review R-rated movies,
click here